Create Greeting Cards with Your Digital Photos
At Shutterfly we know that part of the fun of digital photography is getting to use your photos in unique ways. That's why we offer a variety of options for displaying the photos you take. One option that we offer is digital photo Greeting Cards. Creating a photo Greeting Card with your digital pictures is easy. From selecting the right photos to putting your Greeting Cards in the mail, Shutterfly walks you through every step of creating your digital photo Greeting Cards. Personalized photo Greeting Cards are a great way to announce a wedding, say happy birthday, send holiday greetings, or simply let someone know you are thinking of them. We have dozens of colorful card styles to choose from, with single picture or multiple picture collage layouts. It's fun and easy to share your memories with collage Greeting Cards from Shutterfly.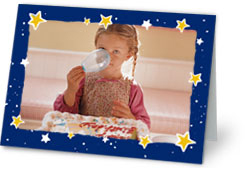 While Shutterfly makes it easy to create photo Greeting Cards using your digital pictures, we can help you do much more. Shutterfly is your one-stop resource for storing, organizing, enhancing, sharing, and printing your digital photos. You can store your photos in a free online account. You can invite family and friends to view your pictures. You can enhance the appearance of your pictures using our online photo enhancement tools, and eliminate unwanted images or red-eye from your pictures. Your pictures can also be made more festive with the addition of a colorful style. Shutterfly lets you view everything you create before making a purchase. Whether you're removing red-eye from a photo or creating digital photo Greeting Cards, you will know you're getting only the pictures that you want. We also offer a variety of print sizes, from wallet size to poster size, so you can display your photos any way you want.
Creating digital picture Greeting Cards is a great way to display your favorite photo or make a meaningful gift for a loved one or friend. Shutterfly also offers a variety of methods for displaying your treasured images, one of which is sure to suit your needs. Shutterfly can help, whether you're looking for the perfect frame to set off your favorite photo, or you want to display a priceless image on a Mug or in a Photo Book. Learn more about how we can help you display your digital photos by visiting the Shutterfly Store. We pride ourselves on being your one-stop online service for all of your digital photo processing needs.