Why Use an Online Service to Print Your Digital Photos?
There's no doubt about it, the reason you take a photo is because you want to preserve a certain moment in time. Long after your exact memory of that moment fades, your photos will be there to remind you. Digital cameras have become great tools for easily capturing memories. They allow you to select the pictures you want to keep before the development process. But how do you know your digital pictures will last a lifetime once they are developed? Do-it-yourself digital photo printing can be expensive, time consuming, and the results can be uncertain and may fade over time. You can store your digital picture files on your computer but computers can crash. Digital photos are great for capturing and preserving memories, but memorable moments aren't very memorable if your photos yellow or can't be easily shared with others. One way to solve these problems? Use a digital photo printing service.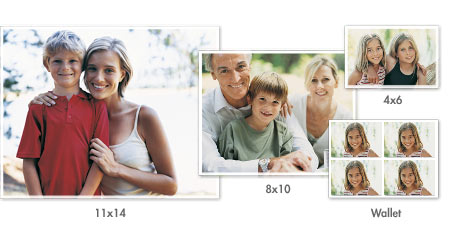 A digital photo printing service is a company that takes your digital photos and prints them for you. Shutterfly provides this service. Once you transfer your digital pictures to your personal Shutterfly account, you can:
Choose the digital photos you want printed
Make changes to your photos with our easy-to-use fix and enhance tools
Select the size, quantity of each print, and where you want the prints sent
Our digital photo printing service provides you with the flexibility and creativity needed to make quality digital photo prints. Put aside the worries, expense, and hassle of home printing; Shutterfly has the tools you need to help you turn your photos into lasting memories.
Not every digital photo printing service is created equal. Shutterfly has been printing crystal clear, film-quality prints, delivered to your home, since 1999. Our online digital photo printing service offers options that home or retail digital photo printing can't offer. We allow you to share photos with family and friends online, and allow them to select the photos they want to have prints of. Shutterfly also offers online tools to enhance and display your digital photos. Take your digital photos to the next level by exploring the possibilities of the Shutterfly Store. Your digital photos are a visual record of the special moments in your life. Don't they deserve the best digital photo printing service available?