Shutterfly Offers Free Online Photo Sharing
A photo is a memory and memories are best when they're shared. Before online photo sharing and digital cameras, the most popular way to share photos was to get double prints at the store and give or mail a set to the person with whom you wanted to share the photos. If you wanted to share your photos with more than one person there was an additional hassle and expense for getting more photos developed. Plus, if the pictures went through the mail, the recipient had to wait to get the pictures you wanted them to see. Free online photo sharing has changed all that.
With Shutterfly's free online photo sharing, sharing pictures among several people is as easy as clicking your mouse.
First, create a free Shutterfly account.
Upload your digital pictures into an online photo album.
Give Shutterfly the names and e-mail addresses of the people with whom you want to share your pictures.
Free online photo sharing allows your friends and family, no matter where they are in the world, to see your photos just minutes after they are uploaded. Shutterfly's free online photo sharing service also allows your family and friends to order prints of the photos they like, and have those prints delivered to their door. With free online photo sharing, you can also present your photos in their best light. Shutterfly allows you to correct your photos before offering them for viewing. Fix red-eye, crop unwanted images, add borders and special color effects, all with the click of a mouse.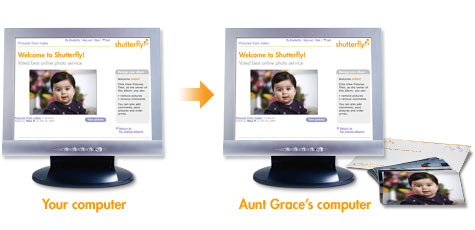 Shutterfly is your one-stop resource for managing and sharing your digital pictures online. Our online photo albums allow you to store and organize your pictures. Our free online photo sharing lets your family and friends view your pictures, whether they live across the street or across the ocean. Shutterfly's online photo enhancement tools allow you to present your photos in their best light. We also offer many ways to create unique and personal photo gifts from your favorite pictures. Whether you're looking for the perfect frame for your favorite photo, or looking for a way to put your child's picture on a coffee mug, we can help.
Free online photo sharing is a great place to begin exploring what Shutterfly has to offer. We know that being able to share your memories with your family and friends through our free online photo sharing service is a great benefit. We invite you to explore all the other benefits that being a Shutterfly member can offer.