Share Pictures Online to Keep in Contact with Family & Friends
It used to be that new family pictures went out once a year with the Christmas cards. Vacation pictures were generally shown once at a party, which may be months after the vacation was over. If family members or friends lived far apart, it might be years before special photos could be shared. With the advent of digital photography, sharing photos is simpler. Online photo sharing is easy when you put your photos in a free online Shutterfly account and invite others to view them. Using Shutterfly's online photo sharing, Grandma and Grandpa in Phoenix can see pictures of the new baby the day they were taken, not weeks or months later. Online photo sharing is a great way to keep in contact with loved ones, whether they live across the street or across the ocean.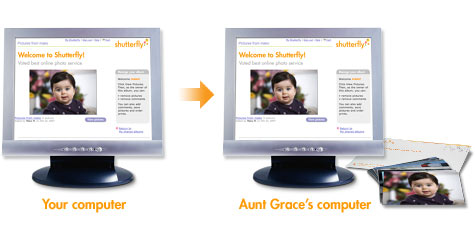 Shutterfly's free online photo sharing service allows you to share your photos with your loved ones all over the world, at no cost. All you have to do to use this free service is become a Shutterfly member and upload your photos to your personal account. Then tell us who you want to share your photos with and we will send an e-mail invitation to view your pictures. Anyone who participates in online photo sharing can also purchase prints of the pictures they view. Online photo sharing allows everyone to get prints of the pictures they want, without waiting for the annual Christmas card or family visit.
Online photo sharing is just one service that Shutterfly offers. We also offer tools to enhance the appearance of the pictures that you store online. Using our tools you can remove red-eye and crop unwanted images from your photos. We also offer borders and color effects, which can take your photos to the next level of creativity.
Creating a Shutterfly account also allows you to store and manage your photos, completely free of charge. Online photo albums give you the option of storing photos by date or by subject. You can also add photo information and captions to the photos stored in your online albums.
In addition, Shutterfly offers many ways to print your pictures. From putting your photo in a simple frame to placing an image on a mouse pad or a mug, Shutterfly can help. To explore our photo gift printing options, please visit the Shutterfly Store.
Online photo sharing is a great way to keep in contact with family and friends. Shutterfly's online photo sharing, along with all the other products we offer, makes Shutterfly a great choice for managing your digital pictures. Try Shutterfly today and experience the benefits of online photo sharing and more.