Our online photo share services are second to none. With unlimited storage, you can share all of your digital and 35mm images with whomever you wish. Friends and family from all over the world will be able to access the memorable moments of your life quickly and easily. Choose to share individual photos or entire albums. Best of all, our photo share services are free. Store and share as many photos as you like at no cost to you. All of the photos you share with us are stored safely and securely. To sign up for your free Shutterfly account, please follow this link: Free Photo Share Services.
By using our online photo share services to set up access to the images you wish to share, a link (or URL) is created that others can use to view your shared images. This link can be sent out from Shutterfly, copied and pasted into your own e-mail message, or posted on a website. Our photo share services do not require that those viewing your images be Shutterfly members, however, those that are will be able to save the images to their own albums and have the same options that are available to you.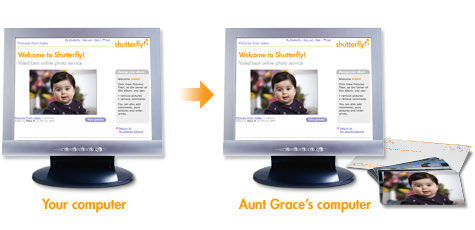 Our photo share services are just part of the quality products and services we offer. We have a wide variety of merchandise available for photo gift ideas. From photo aprons to photo mouse pads, we've got a unique gift idea for you. While others can view your images using our photo share services, only those with a free Shutterfly account are able to order high-quality prints from them. Shutterfly members can order wallet-size to 20×30 poster-size prints. Discover the many unique and creative ways to share your photos at our Shutterfly store or sign up today to begin using our free online photo share services.