Pictures, like memories are better when you can share them. At Shutterfly, our main priority is helping you to share your digital pictures with the people that matter the most to you. From seasoned pros to novice users just beginning to familiarize themselves with digital photography, Shutterfly makes it easy for you to share photos online.
To learn more about sharing digital photos online, or the other services Shutterfly offers, see: Sharing Photos Online With Shutterfly.
Sharing Photos Online: Bridging the Technology Gap
Sharing photos online can be a very exciting and enjoyable who are familiar with the technology, however for many it is a new way of doing things. At Shutterfly, we are committed to making sharing photos online easy for you. That is why we created Getting Started. Within the Getting Started section of our site you will find a number of helpful resources designed to help you learn more about sharing photos online.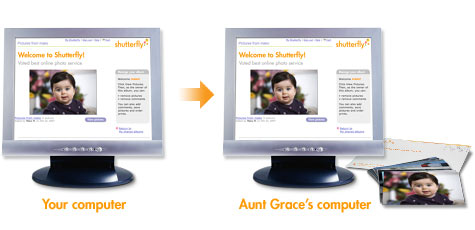 Shutterfly makes sharing photos online fun and easy. In addition, our Photo Gifts can help you turn your favorite digital pictures into lassting memories that you can share with others. From coffee mugs and T-shirts to photo calendars and greeting cards, our personalized photo gifts are perfect for birthdays and other special occasions.
For sharing photos online, personalized photo gifts, and getting the most from your digital pictures, the choice is Shutterfly. Take sharing photos online to a whole new level and visit our Online Photo Gift Center.