Photo Pride Greeting Cards
Celebrate Pride Month With Custom Photo Cards
Say Happy Pride Month with one-of-a-kind custom photo cards designed by you. Shutterfly's Pride greeting card collection features photo cards that celebrate the LGBTQ+ community. This Pride Month, send personalized note cards to your family members, friends, and loved ones to say Happy Pride Month and show your support. With photo greeting cards that feature the pride rainbow and card templates that say "Love Wins," you'll be able to design the best pride cards that your recipients will appreciate and cherish. Customize your greeting cards with your favorite photos, images of the pride flag, or more celebratory Pride Month images from the Shutterfly art Library. Your loved ones will feel special when they receive your thoughtful pride card in the mail this June.
Pride Greeting Cards for the LGBTQ+ Community
Personalized Pride greeting cards are an amazing way to share your support for your friends in the LGBTQ+ community. Whether you're sending a pride card as a same-sex anniversary card, inviting loved ones to a Pride Month celebration, or simply want to send someone a thinking of you card, you can create the perfect correspondence with Shutterfly. Say, "I love you" with a rainbow love card or send a congratulatory coming out card to a friend or family member. No matter what you design, your recipient will appreciate the thought and effort that went into making a one-of-a-kind Pride greeting card from the heart.
How to Make Pride Cards
Creating your own gay Pride greeting card is easy with Shutterfly. Start by browsing through our collection of Pride Month cards and pick the photo card that you want to customize. Our Pride greeting card templates feature rainbow hearts, neon letters, and loving phrases like "Love is Love." Once you've chosen your card, personalize it by choosing the cardstock style, trim, and uploading a favorite photo. Next, add a custom message or more photos to the back of your card. You can even use the Shutterfly Art Library to include Pride Month artwork that would look great on your card. Your loved ones will smile when they open this unique, celebratory Pride card designed by you. If you're looking to send any gifts along with your card, consider customizing canvas wall art, water bottles, puzzles, or making the best photo books for your loved ones.
Related Products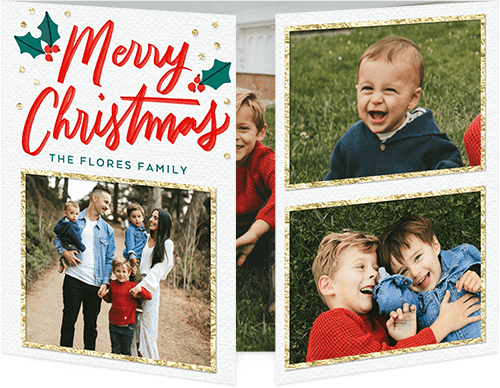 Rollicking Happy 5x7 Gate Fold Card by Yours Truly. Let your story unfold with this unique card that opens up from the middle to reveal your photos like a present. Enjoy more room for photos and text than a standard ...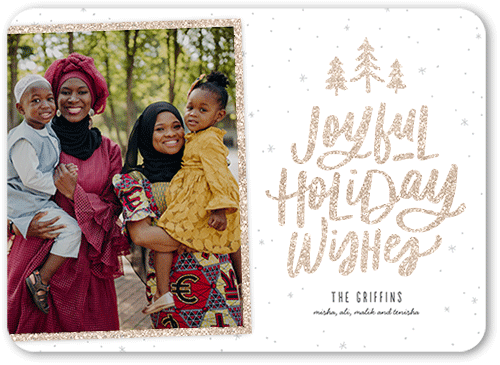 Happy Hopes 5x7 Glitter Card by Petite Lemon. Send a holiday card friends and family will love. Add your own greeting and everyone's names. There's room for more photos and wishes on the back, too.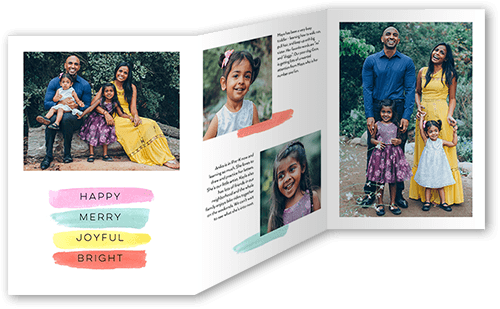 Happy Paint Stripes 5x7 Tri-Fold Stationery Card by Yours Truly. Send a holiday card friends and family will love. Add your own greeting and everyone's names. There's room for more photos and wishes on the back, too.