What customers have to say about our Thank You Cards
January 27, 2019
Grateful for my thank you cards
"I ordered these cards to give out with my closing gifts to my buyers and I am so glad that I did. The quality is amazing and the print was perfect. Can't wait to use them!"
"Love the size, love the card stock, love how our photo fit so nicely."
January 27, 2019
Love these cards.
"Shutterfly always does a great job."
"Once again, Iove my end result from Shutterfly. The people love their personalized cards too."
January 26, 2019
These turned out so CUTE!!!
"The card stock is very heavy and makes it a nice writing experience. Quality, thick, great bright colors on the card. This is a great product and a wonderful purchase."
3x5 Thank You Cards
Tell your family and friends how much you appreciate them with a heartfelt 'Thank You' card that offers more than the everyday store-bought card! Bring your own flair and creativity to any thank you card and personalize it with your words, accent colors or a special photo. Whether the occasion is a birthday party, graduation thank you, or a baby shower, your thank you card will mean a lot to whomever you send it to. With Shutterfly, you can design and customize your own 3x5 'Thank You' card with our wide selection of customization options. While you're at it, you can pair your thank you card with a variety of perfect Shutterfly thank you gifts.
Standard-Size Thank You Card Themes
Our luxe 'Thank You' cards are printed on premium cardstock and can be positioned in either a portrait or landscape orientation. Add your own personal sense of style by uploading photos, adding text and choosing your favorite colors. Blank thank you cards let you write whatever you want. Show the person you're thanking how much you mean it. Really make your thank you cards stand-out when you choose card designs that feature foil accents or mess-free glitter! It's your thank you card, so design it with a personal touch or choose templates.
Wedding Themed Thank You Cards
A perfect way to share favorite wedding photos while thanking your loved ones for being part of your special day! Our wedding themed 'Thank You' cards feature elegant and sophisticated layouts with room for photos and messages. Cap off all your wedding planning with thank you cards that leave a lasting impression with heartfelt words of appreciation and showcase photos of your special day. These kinds of thank you cards make great keepsakes for your wedding guests.
Kids Themed Thank You Cards
Help your child get into the habit of sending out 'Thank You' cards with a card that stirs their imagination with kid inspired designs and watercolor flair. These fun and playful thank you card sets feature graphics like colorful sea creatures, confetti, chic ice cream cones, silly monsters, princess castles, wild animals, and rocket ships.
Religious Themed Thank You Cards
These thank you cards are perfect for christenings and communions! Available with elegant crosses, religious symbols, and space for customizing with your most cherished holy verses, tell family and friends how much of a blessing they are to you and how much you appreciate them with this special thank you card theme. These thank you cards are ideal for sending after religious themed occasions and for those who have provided support during difficult times.
When you've finished designing your one-of-a-kind 'Thank You' cards, take a moment to look at some of Shutterfly's other personalized items like stationery and vintage address labels.
Related Products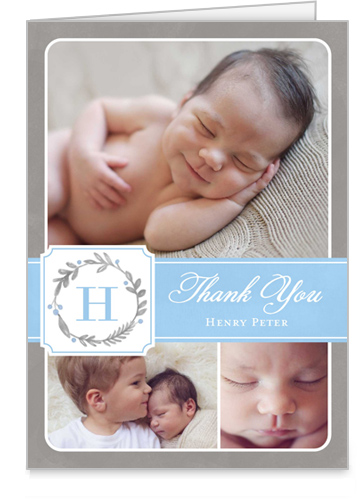 Wreath Monogram Personalized Thank You Cards. Show just how much you appreciate them with this stylish thank you card. Add your favorite photos and a message of thanks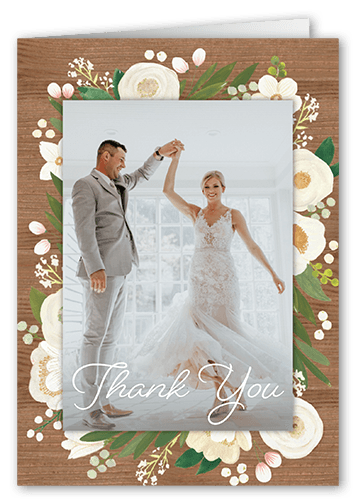 Elegant Bouquet 3x5 Folded Card by Petite Lemon. Because they deserve it. Give them a personalized thank you card to express your gratitude.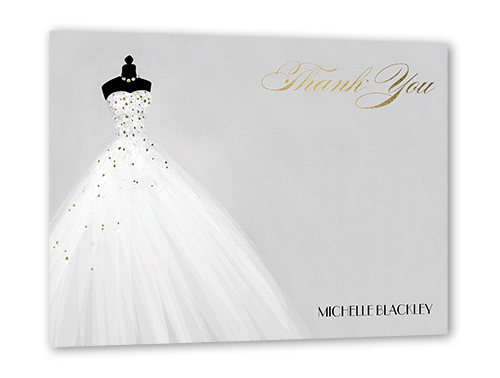 Exquisite Bride 3x5 Folded Wedding Thank You Card. Show just how much you appreciate them with this stylish thank you card. Add your favorite photos and a message of thanks