4x5 Baby Shower Invitations
What customers have to say about our Baby Shower Invitations
January 26, 2019
I would buy this again definitely!
"This invitation is beautiful I just wish the liners that came with it stuck better"
January 25, 2019
Perfect invite
"These are so cute and came exactly as I expected. Love them!"
January 24, 2019
In love with the shower invites
"These invites are so cute. They came just as ordered. I love shutterfly. They never disappoint."
January 22, 2019
I would buy this product again.
"Bought this for my baby shower invitations and it exceed my expectations."
January 21, 2019
I really liked my purchase experience
"I needed to order baby shower invites. I was pleasantly surprised to find out I could have Shutterfly take care of the invitees addresses, return addresses, and stamps! What a time savor! And the invitations are adorable!!"
4x5 Baby Shower Invitations
Want to send unique baby shower invitations that express the excitement you're feeling about your soon-to-arrive new family member? Our 4x5 baby shower invitations are the perfect way to let loved ones know about this special event to celebrate a precious baby who is on the way! Shutterfly makes it easy to create one-of-a-kind invitations that match your style and personality. Customize each baby shower invite with a photo or play with the fonts, colors, and designs to make it completely yours. When your friends and family members receive your personalized invitation, they'll immediately be excited to celebrate with you.
How to Make Custom 4x5 Baby Shower Invitations
Shutterfly's 4x5 baby shower invitations are quick and easy to personalize. Get ready to celebrate the mom-to-be and her little one with custom baby shower invitations perfect for any theme or style. Browse our custom baby shower invitation designs and, once you've selected your favorite, simply upload your own photos to our template and then use our online customization tool to further personalize your invitation. Enjoy getting creative when choosing from our array of color options, font styles, and sizes and more. Then add your own custom message and important details about your shower or sprinkle. You'll love the process we offer for creating baby shower invitations that reflect your unique style and personality.
Personalized Stationery for Your Baby Shower Invitations
Complete the overall package of your invitations by adding some flair to your envelopes. It's simple to create coordinating return address labels, self-inking rubber stamps and stylish custom stickers that will add some personality and color to your envelopes - and ensure your invitations stand out in the mail. Pair your baby shower invitations with custom thank you cards to send to friends and family members when the celebration is over. Then, when the time comes, welcome your little one to the world by sharing the wonderful news with birth announcements designed by you. If you're looking for a personalized baby shower gift, browse our lovely collection of baby friendly toys and gifts to find a special item for your baby's nursery. You can choose from an array of adorable gifts to customize, such as a cozy fleece baby blanket, a fun personalized storybook and much more.
Related Products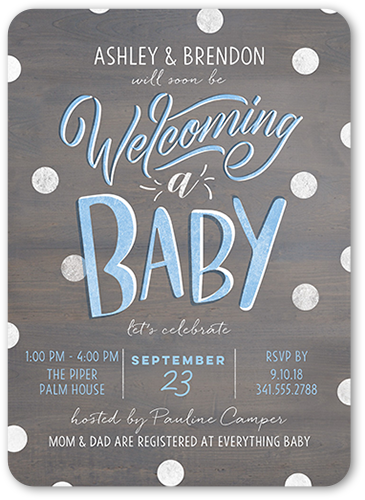 Amazing Type Boy 5x7 Baby Shower Invitation Cards. Shower her with love and a stylish baby shower invitation. Personalize it with the party details.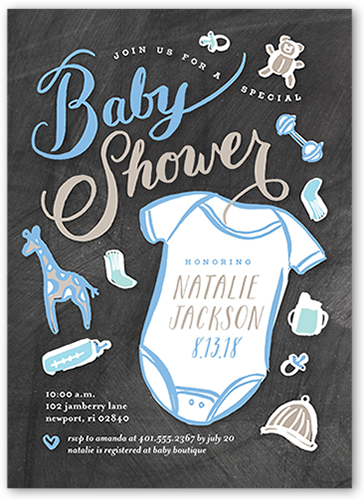 Chalkboard Arrival Boy 5x7 Baby Shower Invitation Cards. Shower her with love and a stylish baby shower invitation. Personalize it with the party details.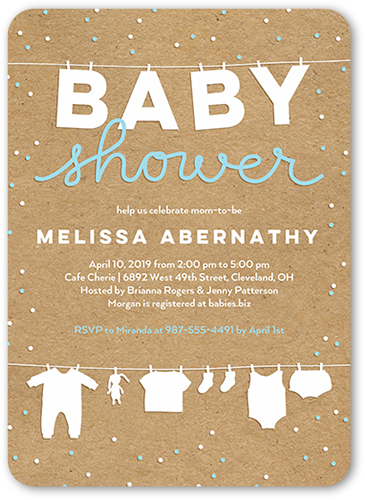 Cute Linens Boy 5x7 Baby Shower Invitation Cards. Shower her with love and a stylish baby shower invitation. Personalize it with the party details