What customers have to say about our Holiday Cards
January 27, 2019
I highly recommend this card!!
"Absolutely love this card they came out perfect!"
January 23, 2019
good purchase
"Paper is excellent quality as is the envelope. Shipping can be high unless you are ordering a larger number of cards but I only bought one."
January 23, 2019
I will absolutely use this product again.
"The first time I have used Shutterfly for our annual greeting card. Very pleased and will use again."
January 22, 2019
Chinese New Year
"Christmas came too soon. No cards went out. New Year's came and went! Still no cards were sent out. But thanx to Shutterfly, made it for a Chinese Greeting! Beautiful cards front and back with pictures of family sent! Halleluah!!!!!"
January 22, 2019
I looved these cards and they arrived so quickly!
"Shutterfly makes last minute projects easy .. I love these holiday cards and continue to make photo books each month with their app as well as edits on desktop site. I love Shutterfly!"
Plan on Sending 4x8 Holiday Cards This Year
When you've had an amazing year, you need to share it with everyone come holiday time. Selecting 4x8 holiday cards to send to your friends, family, neighbors, colleagues, and anyone else on your list is such a simple way to highlight your family's joy while wishing the same to everyone else. The size is great for hanging on refrigerators, leaning up against the wall on mantles, or decorating shelves. Just a little bit bigger than your average photo prints, these holiday cards are easy to drop in the mail, easy to display, and easy to love.
Picking Photos for Your Holiday Cards
The nice thing about 4x8 holidays cards is that you have plenty of space to show off one beautiful focal photograph. Maybe it's a portrait or a favorite memory, but it's definitely a keeper that you can pull out for years to come. Or if you've had such an incredible year that you know there's more than one special situation to treasure -- and maybe show off, just a little -- you still have room to create a collage or photo story. Some holiday cards have easy template options where you select the photos you want and the rest is done for you. Some have a couple options for your favorite design, so you can play around and see how it looks with anywhere from two to four photos. Borders can make your pics pop, too.
What's Your Holiday Card Message This Year?
There are so many fabulous sentiments to share around the holidays. Some families stick with the basics. After all, does "Happy Holidays" or "Merry Christmas" ever really go out of style? You can customize your 4x8 holiday cards with your family's names underneath a unique greeting, too, that incorporates Christmas, the New Year, or simply shares the values, like peace, joy, and love, that matter to everyone, no matter which winter holidays are traditions.
Don't Forget to Keep Photo Cards for Yourself, Too.
Get in the habit of sending 4x8 holiday cards every year. Eventually, you'll realize you have a stack of memories that shows your family's joy and celebration over the years. You can keep these keepsakes with Christmas cards that other friends and their families send you, too, for a box of memories and a surprising time capsule you'll love as much as any photo books. You might even frame your favorites.
Related Products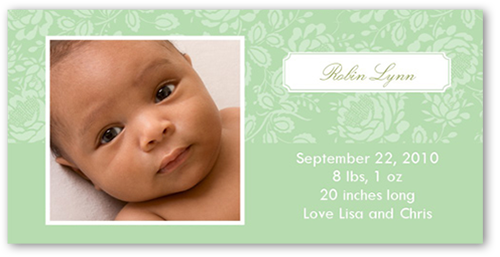 Blossom Mint 4x8 Photo Card by Shutterfly. Floral silhouettes give a feminine accent to this lovely photo card. A nameplate and framed photo keep the layout structured and elegant. Designed in mint green.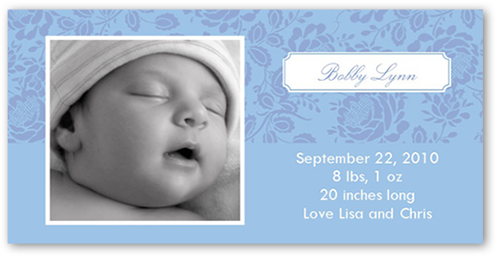 Blossom Sky 4x8 Photo Card by Shutterfly. Floral silhouettes give a feminine accent to this lovely photo card. A nameplate and framed photo keep the layout structured and elegant. Designed in sky blue.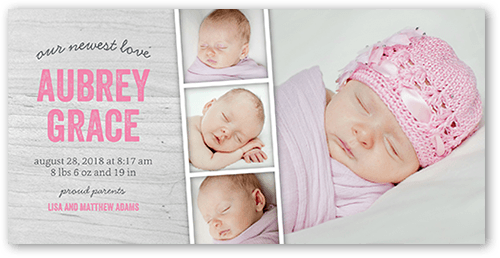 First Photos Girl 4x8 Photo Card by Shutterfly. Announce your newest arrival with this stylish birth announcement. Add your baby's name, a favorite photo and the news everyone's been waiting for.