What customers have to say about our Holiday Cards
January 27, 2019
I highly recommend this card!!
"Absolutely love this card they came out perfect!"
January 23, 2019
good purchase
"Paper is excellent quality as is the envelope. Shipping can be high unless you are ordering a larger number of cards but I only bought one."
January 23, 2019
I will absolutely use this product again.
"The first time I have used Shutterfly for our annual greeting card. Very pleased and will use again."
January 22, 2019
Chinese New Year
"Christmas came too soon. No cards went out. New Year's came and went! Still no cards were sent out. But thanx to Shutterfly, made it for a Chinese Greeting! Beautiful cards front and back with pictures of family sent! Halleluah!!!!!"
January 22, 2019
I looved these cards and they arrived so quickly!
"Shutterfly makes last minute projects easy .. I love these holiday cards and continue to make photo books each month with their app as well as edits on desktop site. I love Shutterfly!"
Go Modern with 5x5 Holiday Cards
You've probably sent hundreds of traditional cards in your life. You know the kind -- bifold, with a seasonal greeting inside, and everyone you know gets hundreds of them, too. Or maybe you've always sent updated photo cards, so it's time to maintain your place in the halls of holiday card cool with 5x5 holiday cards. These square cards let you select photos that encapsulate your family's joy while wishing the same to others. The 5x5 size is totally unexpected, so it should inspire a big smile. Inspired by how much we all love photo-sharing social media sites that let us look at grids or streams of photos in square sizes, these holiday cards are an awesome way to make your holiday modern and fun.
5x5 Cards Still Let You Stay Traditional
Even if you're ready to experiment with this hot card style, you still might want to stick to traditional messages or include a collage-style layout of photos like you have in other years. You definitely can with selections that offer you the ultimate in personalization. Pick one photo to show off in a bigger size and then create a border of smaller, square photos around it. Some styles let you pick up to six photos, so there's no shortage of good times to share on your holiday cards this year! But if you're back to feeling like you want to play around with the coolest cards out there, you can pick a bracket, ticket, or scalloped silhouettes. Even rounded corners are interesting. No matter what you choose, these aren't your old-school cards.
Holiday Cards Can Use Any Photos These Days
Ever get one of those Christmas cards with everyone in Santa outfits or pretending to take part in a Nativity play? Some Hannukah cards see families pull out the dreidels for playful photos. Those can be a hilarious and super-fun way to make memories with your family, but, these days, holiday cards can feature any photo style you like. If you're going with modern 5x5 holiday cards, you could also consider using an atmospheric black-and-white photo or a cinematic shot with lots of foregrounds to make your cards unique and memorable.
Related Products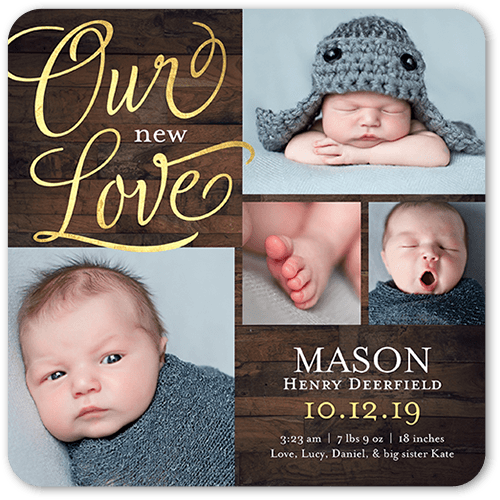 Newly Loved 5x5 Flat Stationery Card by Stacy Claire Boyd. Announce your newest arrival with this stylish birth announcement. Add your baby's name, a favorite photo and the news everyone's been waiting for.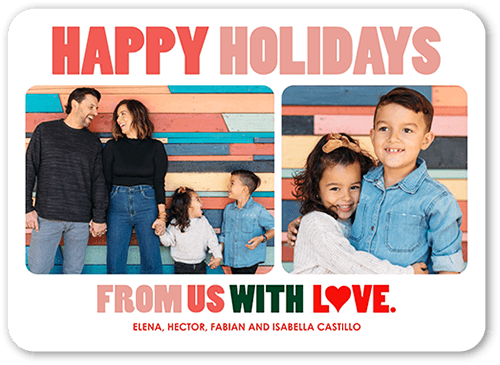 Bright Holiday Love 5x7 Stationery Card by Robyn Miller. Send a holiday card friends and family will love. Add your own greeting and everyone's names. There's room for more photos and wishes on the back, too.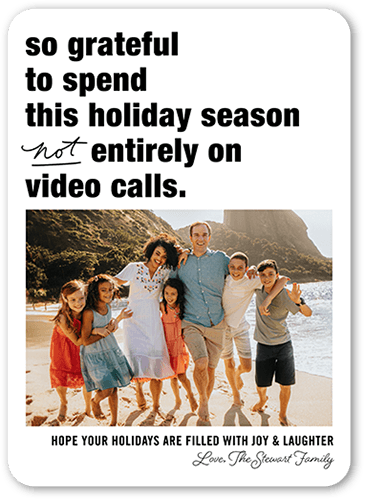 Grateful Holiday 5x7 Stationery Card by Blonde Designs. Send a holiday card friends and family will love. Add your own greeting and everyone's names. There's room for more photos and wishes on the back, too.