Merry Christmas Invitations
What customers have to say about our Christmas Invitations
January 23, 2019
good purchase
"Paper is excellent quality as is the envelope. Shipping can be high unless you are ordering a larger number of cards but I only bought one."
January 22, 2019
Chinese New Year
"Christmas came too soon. No cards went out. New Year's came and went! Still no cards were sent out. But thanx to Shutterfly, made it for a Chinese Greeting! Beautiful cards front and back with pictures of family sent! Halleluah!!!!!"
January 22, 2019
Cool Invite
"Cool design. Nice quality card. Much nicer than the cards with photos."
January 15, 2019
I have so much fun using my pictures on products.
"I have so much fun making unique gifts with my pictures. It makes me feel professional when I am very much an amateur."
January 14, 2019
Outstanding customer service
"The customer service agent who helped me with order 003086838129-9000112 was extremely helpful. I had problems making a Christmas card and she solved all of them. The Card was perfect with her changes. She was very kind and patient. I had an unavoidable interruption while we were working together and she assured me that she would wait on the phone until I could continue. She was committed to help me in every way she could. This was a unique customer service experience! Please thank her for me."
Merry Christmas Invitations
Planning a Christmas party requires determination and thoughtfulness. Many people have work, church, family and friend parties they must attend throughout the season. With so many parties taking place, weekends are sure to fill up fast. That is why it may be a good idea to send out your merry Christmas invitations early in the season. Here are a few tips that may help your invitations get noticed.
Tips for Holiday Party Invitations
Sending an invitation to a Christmas party is one thing, but how can you be sure that your guests will open it in a timely manner? You need to make your invitation unique and exciting from the envelope. You can create customized postage stamps and address labels to give your recipients a hint about what may be inside. If your Christmas party has a theme, you could incorporate that on the outside of the envelope.
The invitation itself has to be informative. It should be easy for readers to figure out where the party is, when they should show up, when they should RSVP by, what they need to bring and if they're allowed to invite anyone. A clean layout may make it easier to fit all of this important information. Make sure everyone knows how to get ahold of you, so they can ask questions if needed.
Not only does the invitation have to be informative, but you also have to make sure it fits with the theme of your party. Are you throwing a formal cocktail party or a kid-friendly bash? The style of the invitation may help guests realize what type of party they could attend.
Get Other Supplies
As the day of your party approaches, you may realize you need a few other important supplies, such as cups, dishes and placemats. Depending on the formality of your get-together, you may need party favors or home décor items. Search through the other great products available at Shutterfly to get some inspiration for your snowflake Christmas invitations and the corresponding party.
Related Products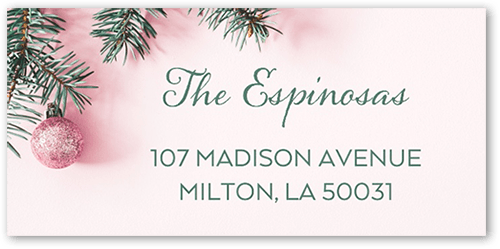 Pretty Pink Baubles Address Label by Stacy Claire Boyd. Address your envelopes with stylish address labels. Corresponding invitations, gift tags and thank you cards are also available.
Jingle Mingle 5x7 Stationery Card by Stacy Claire Boyd. Invite everyone to a holiday party with this stylish holiday invitation. Just add the event details.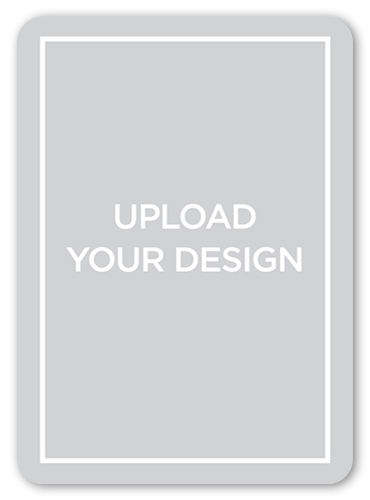 Upload Your Own Design 5x7 Invitation Card by Yours Truly. Send a Christmas card friends and family will love. Add your own greeting and everyone's names. There's room for more photos and wishes on the back, too.