Sweet Blooms Address Label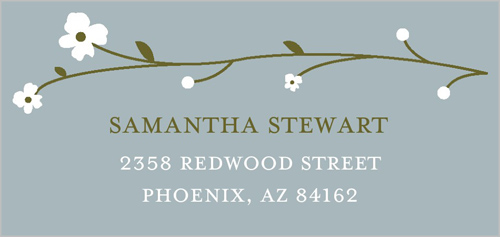 Sweet Blooms Address Label
Address your envelopes with stylish address labels. Corresponding invitations, gift tags and thank you cards are also available.
Size:
1 1/8 x 2 3/8 inches
Mail Options:
Send back to me
Address Labels pricing
Item
Price
Set of 24 Address Labels

$9.99

$7.99

Shipping & handling


not included
Special offers
Free upgrade to expedited shipping on orders of $39 or more (pay for economy) Enter code: UPGRADE

Free economy shipping on orders of $39+ Code: SHIP39
Touch of Elegance with Classy Address Labels
Add that touch of class to your invitation and announcement envelopes with Classy Tag Address Labels. Use these stylish return labels to embellish your name and address with sophistication. Choose from a wide selection of font styles, sizes, and colors to personalize your labels. These sleek, versatile return labels are great for use with graduation announcements, wedding invitations and Christmas cards. Labels measure 1 1/8 x 2 3/8 inches in size.