Animal Birth Announcements
What customers have to say about our Birth Announcements
January 25, 2019
A Hit With All the Family!
"We used this card as a birth announcement and thank you card for our baby shower attendees. It's on a nice heavy cardstock, and the print was super clear. With my first order there was a smear on the return address on the back of the envelope, but no big deal. With the first order I also didn't receive the blank envelopes I ordered. The second order everything was perfect. I would highly recommend!"
January 24, 2019
Very nice cards
"Super classy cards"
January 24, 2019
Great buy
"Looks and feels great. Came so quickly and is such great quality!"
January 22, 2019
So sweet
"Easy to create!sweet design"
January 22, 2019
Love this product!!
"I love the simplicity of this birth announcement, it was easy to make and arrived on time!"
Birth Announcements Up the Ante on Adorable
Adorable animal babies might be the only things that make adults melt as much as human babies do. Those of us at Shutterfly have been known to look at photos of tiny giraffes and mice on occasion, so we get it. What better design theme for a DIY birth announcement than baby animals?
Our cute template featuring tweeting birds and tiny turtles will work well with multiple shots of your bundle of joy. Plus, you can add information to your animal birth announcements such as your baby's name, birth date, length and weight if desired. Or you can include the parents' names and siblings' names instead.
Getting Great Shots
Parents with a new baby tend to be a camera-happy bunch, especially when every moment seems to be worth capturing. But like most things in life, timing can be everything when getting great photos of newborns. We created this helpful guide to assist you in getting the best photos to add to your 5x7 birth announcements.
Age: The ideal time to take sleep-time newborn shots is when your infant is five to 12 days old. That way, your baby likely will have adjusted to a rough feeding and sleeping schedule so that you can get snoozing shots if desired. Poses that require no clothes or special limb placement are easier with babies who are fast asleep.
Older babies: For photo sessions after 14 days of age, you'll probably have to switch your pose plan up a little. Your baby is more likely to be awake and moving while you are snapping away, so be prepared to take a lot of shots. Some parents prefer active shots to sleeping poses, so it is just a matter of preference.
Props: You can use all sorts of items, but try to keep it minimal for your baby's comfort. Fluffy blankets, lined baskets and soft cushions are ideal. For an animal birth announcement, a blanket with a jungle-themed print would match perfectly.
Clothes: Most newborn shots are taken with babies wrapped in blankets or simply naked. Many parents like to put floral headbands on their daughters, and those with boys often prefer textured hats. No matter which clothing option you choose, be prepared to adjust it often if your baby is moving a lot.
Design an Animal Birth Announcement Now
After you've used our tips to get some great shots, choose your favorites for inclusion in your animal birth announcements. Recipients will get a double dose of cuteness from your creation! Read our guide to help create your birth announcements.
Related Products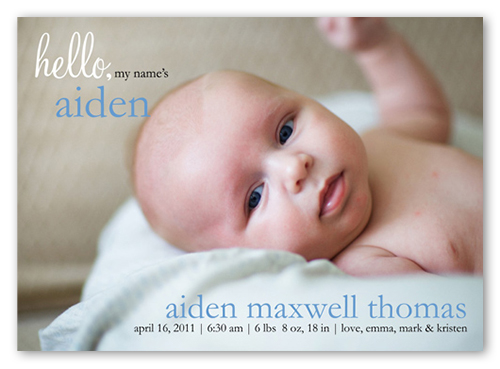 Blue Note Birth Announcement 5x7 Stationery Card by Stacy Claire Boyd. Hello, my name is. Add your baby boy's name and favorite photo to this modern birth announcement to let the world know he is finally here.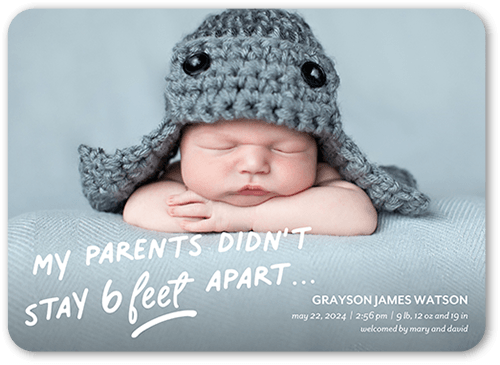 A Little Memo 5x7 Stationery Card by Yours Truly. Announce your newest arrival with this stylish birth announcement. Add your baby's name, a favorite photo and the news everyone's been waiting for.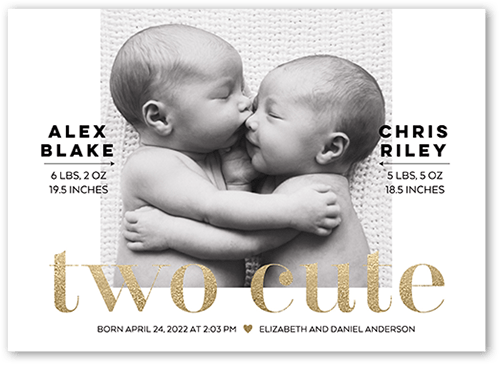 Two Cute 5x7 Stationery Card by Éclair Paper Company. Announce your newest arrival with this stylish birth announcement. Add your baby's name, a favorite photo and the news everyone's been waiting for.