4x8 Graduation Announcements
What customers have to say about our Graduation Announcements
January 10, 2019
Great quality and affordable.
"I was able to use a 50% coupon and saved a lot of money on my purchase!"
January 10, 2019
Would repurchase
"My daughter's graduation announcements came out lovely, just as we expected."
January 5, 2019
Beautiful quality cards
"I love these cards and have ordered many over the years. The paper is very nice and heavy for both the cards and envelopes."
December 27, 2018
Yippee Skippee!
"Just PERFECT as to what I wanted... Brilliantly depicted. Graciously received..."
December 23, 2018
This website for placing a simple card order is the worst.
"Impossible. All the other reviews that express frustration with using the Shutterfly website are correct. It is worse than frustrating."
Make the Big Day Interesting with Custom Graduation Announcements
You've studied hard, passed your tests, and finally earned your diploma. Whether it's high school or college, graduating is a true achievement. Make sure the ones you love know how special it is with help from Shutterfly. We have a beautiful selection of custom 4x8 graduation announcements to choose from. With so many layouts and designs, you'll love what you create. Send your announcement to family and friends so they can see what you dream up!
Spread the Joy
Everyone you know is as proud of your achievements as you are. Spread the excitement when you add some of your favorite photos to make it personalized. Upload your senior picture, shots with friends, or family photos. Remember, your graduation is all about you. Whether you like a classic design or an edgy look, there's something for all types of grads here. Browse these graduation invitation wording ideas to give you some inspiration to find the right words. You can add a favorite quote, hashtag, or even an inside joke to make it truly unique.
Design Your Announcements with Style
No matter which template or layout you select, it's important to add a piece of your personality to the invitation. Important information should also be a part of your final look. Read on to see some suggestions to ensure it looks perfect:
• Make it your year: Be sure to add your class year to the announcement. Highlight that you're the "Class Of" this special year. Add it to the center or put it on the top in a banner style.
• Highlight your talents: Do you play sports? How about other school activities? Showcase your talents with photos of you in action. Take a picture of yourself on the soccer or football field. If you help with the yearbook, add a photo of you writing or working with classmates so it focuses on your special talents.
• Be bright: Shutterfly allows you to choose a custom color palette. Make your special day a reflection of you and pick your favorite color whether it's red, blue, green, or more.
Sending Your Grad Invitations
You're sure to adore your modern graduation announcements, and you can have them shipped right to your door. Get ready to celebrate in style when you see the famous orange box arrive. You'll love the look of your invitations, guaranteed. Shutterfly also offers an incredible selection of gifts to say thank-you like custom canvas prints, home décor, and lots more. Come and see what your genius mind can create!
Related Products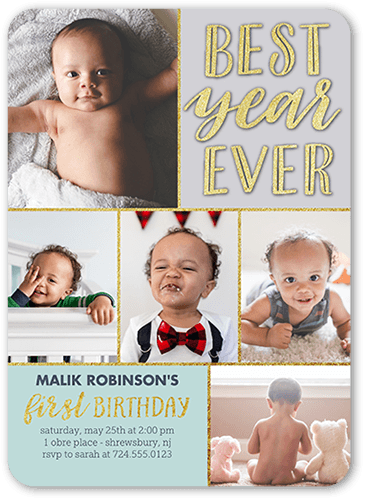 The Best Boy 5x7 Photo Card by Shutterfly. Another year older. Another year of fun. Invite all the guests with this stylish birthday invitation. Just add your favorite photos and all the event details.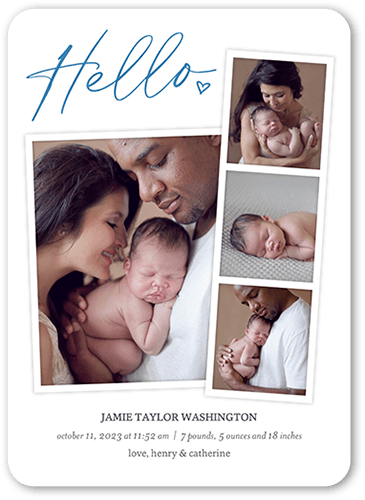 Hello Filmstrip 5x7 Photo Card by Shutterfly. Announce your newest arrival with this stylish birth announcement. Add your baby's name, a favorite photo and the news everyone's been waiting for.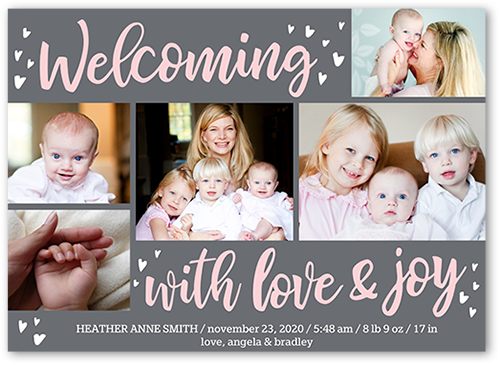 Scripted Gallery Girl 5x7 Photo Card by Shutterfly. Announce your newest arrival with this stylish birth announcement. Add your baby's name, a favorite photo and the news everyone's been waiting for.