What customers have to say about our Save the Date
January 26, 2019
Loved them!
"Our save the dates turned out amazing! We are excited to send them out."
January 24, 2019
Love shutterfly
"Loved my save the dates!"
January 22, 2019
Excellent Quality
"Great quality paper and image. Worth every penny."
January 21, 2019
Super easy and was just what we were looking for.
"This was just what we wanted, a good selection and examples to check out."
January 20, 2019
I would buy this again
"We ordered save the dates for our wedding. Love that we were able to personalize."
Save the Date in Style
Sending out your save the date cards is one of the most exciting and important parts of planning for your wedding. When you decide on the date for the big day, we at Shutterfly understand the thrill of sharing the news with all of your friends and family in anticipation of your impending nuptials. Black save the date cards can announce the news in style.

When you send these notices, you are doing more than just notifying loved ones to mark a day on their calendar. You are inviting them to participate in the story of your love, and you deserve stationery that reflects this. Skip generic cards and opt for save the dates that convey the personal touch that will make it special.
Share Your Story
As you write the story of your union, every detail becomes part of it. This includes the black save the date cards that you send to family and friends. Though something like this may seem small, it only is if you treat it as such. Rather than neglecting details, invest in them through personalization.

Shutterfly enables you to easily do so by giving you the tools to customize the save the date cards you select. Among the details that you can customize are these:
Paper type
Size
Theme
Format
Features
All of these details make your black save the date cards that much more special. Your family and friends will be thrilled to receive a uniquely crafted card, and every personal touch adds to the anticipation building for your big day. If you truly want to convey how special your upcoming wedding is, add your personal touch to the other wedding stationery you select.
Planning for the Big Day
Planning for your big day involves more than just sending your black save the date cards. You need to make arrangements with the venue, decide how the ceremony will be officiated and plan a reception, too. In addition to all of this, you will be juggling guests and gifts.
You can handle the latter by ensuring you send out thank you cards to express your gratitude. It can be overwhelming to remember all of your responsibilities throughout wedding planning, but Shutterfly makes it easy to communicate with loved ones beautifully with meaningful stationery and personalized details. If you're in a rush, we also offer super rush and next day delivery to make ordering convenient and easy. We are devoted to helping you along every step of the process, and you can reach out to us at any time.
Related Products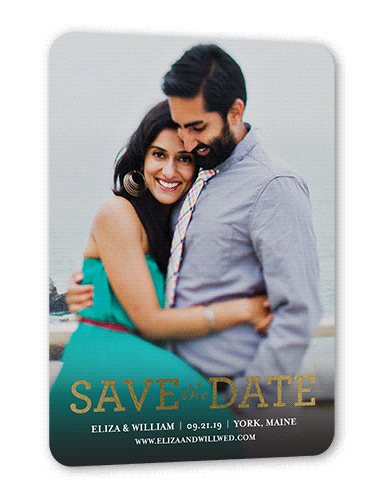 Forever Love Save The Date Cards. Make sure they mark their calendars with this stylish Save the Date card. Modern fonts create a clean, crisp design with a lovely pictures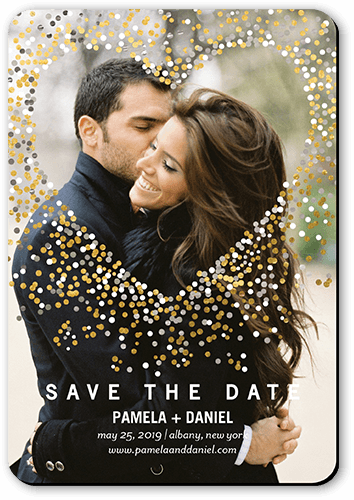 Glimmering Hearts Save The Date Cards. Make sure they mark their calendars with stylish Save the Date card. Modern fonts create a clean, crisp design with lovely pictures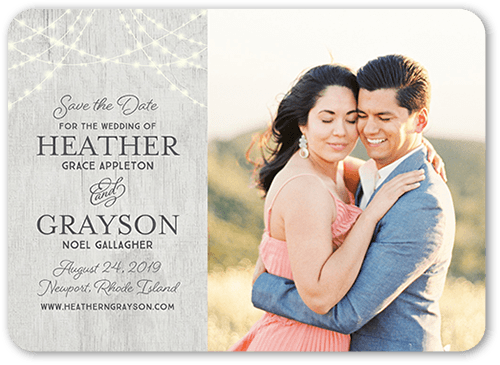 Glowing Ceremony Save The Date Cards. Make sure they mark their calendars with stylish Save the Date card. Modern fonts create a clean, crisp design with lovely pictures