What customers have to say about our Save the Date
January 26, 2019
Loved them!
"Our save the dates turned out amazing! We are excited to send them out."
January 24, 2019
Love shutterfly
"Loved my save the dates!"
January 22, 2019
Excellent Quality
"Great quality paper and image. Worth every penny."
January 21, 2019
Super easy and was just what we were looking for.
"This was just what we wanted, a good selection and examples to check out."
January 20, 2019
I would buy this again
"We ordered save the dates for our wedding. Love that we were able to personalize."
Blue Save the Date Cards Are a Lovely Reminder
Save the date cards are an exciting part of the wedding stationery suite. The couple is happy to share the big news, and guests get a fun celebration to look forward to. At Shutterfly, we share this excitement and want to help you spread the wedding announcement to all your loved ones. We have an extensive line of save the date cards, and each is customizable for your wedding style, color, and theme.
One of the most popular colorways among couples is blue in its many shades: cornflower, royal, pastel, and periwinkle. Navy, in particular, has enjoyed a resurgence in the past three years or so, but it is just one of the lovely colors of blue save the date cards we offer.
Stately Designs
Many hues in the blue family provide a feeling of calm, such as pastel blue, aqua, and cornflower. On the other hand, there are blues that evoke high energy, such as royal blue. Finally, navy feels just a little bit nautical and can be synonymous with traditional luxury. Here are some great ways to use blue to share your personality as a couple.
Combine various shades of blue together, such as pastel blue on a navy background.
Pair black-and-white photos with a light hue to create a beachy feel.
Use a dark shade as a backdrop to vintage-style handwritten fonts.
Save the Dates and Timelines
The whole idea of save the date cards is to announce the engagement and request that recipients mark the wedding date on their calendar. They are not formal invitations but merely a heads-up that guests' presence will be appreciated at the nuptials. If there will be travel involved for some invitees, the save the date card is their notice that they may need to start shopping for flights and hotel reservations.
That means the cards should be sent out at least nine months before the wedding. For weddings that will be nearby with mostly local attendees, mailing the save the date cards about six months in advance should be sufficient.
Match 'Em Up
Blue save the date cards are just the first part of all the wedding stationery you will need. Be sure to keep future mailings in mind when choosing the theme for your save the dates. You likely will want to carry the same theme throughout the process for continuity and ease. Once you are ready to order your cards, Shutterfly is here to help. We offer flexible shipping, and our representatives are happy to be part of your big day!
Related Products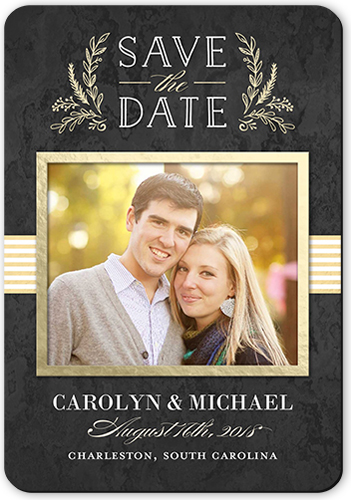 Elegant Affair Save The Dates. Make sure they mark their calendars with this Save the Date magnet. Modern fonts create a clean, crisp design with a lovely pictures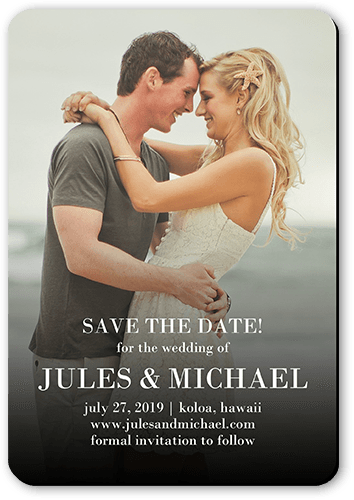 Enchanted Ending Save The Date Cards. Make sure they mark their calendars with stylish Save the Date magnet. Modern fonts create a clean, crisp design with a lovely pictures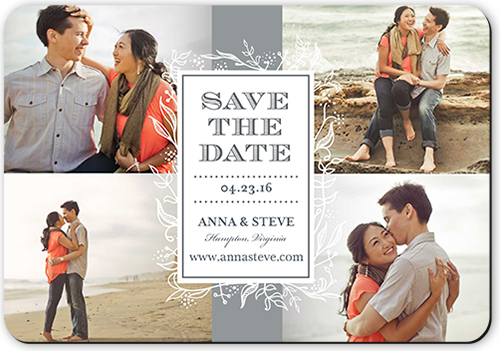 Fanciful Floral Save The Dates. Make sure they mark their calendars with stylish Save the Date magnet. Modern fonts create a clean, crisp design with lovely pictures