Classic Graduation Announcements
What customers have to say about our Graduation Announcements
January 10, 2019
Great quality and affordable.
"I was able to use a 50% coupon and saved a lot of money on my purchase!"
January 10, 2019
Would repurchase
"My daughter's graduation announcements came out lovely, just as we expected."
January 5, 2019
Beautiful quality cards
"I love these cards and have ordered many over the years. The paper is very nice and heavy for both the cards and envelopes."
December 27, 2018
Yippee Skippee!
"Just PERFECT as to what I wanted... Brilliantly depicted. Graciously received..."
December 23, 2018
This website for placing a simple card order is the worst.
"Impossible. All the other reviews that express frustration with using the Shutterfly website are correct. It is worse than frustrating."
Classic Graduation Announcements
Create traditional graduation announcements perfect for your student with Shutterfly. The graduation of your son, daughter or other young family member is a bittersweet time. Whether it's a high school or college graduation, it's a major milestone in his or her life, a great source of pride as a parent and a wonderful opportunity to celebrate the journey into adulthood. There's no better way to announce your son or daughter's graduation than with beautiful, classic graduation announcements. However, you may be wondering about etiquette when it comes to designing and writing formal announcements for this important occasion. To create classic graduation announcements that are stylish, sophisticated and impactful, there are two elements to consider: design and etiquette. We'll take a look at several ideas and suggestions to help you check both boxes.
Formal and Traditional Graduation Announcement Designs
With Shutterfly, you can make personalized graduation announcements perfect for any type of celebration. First, it's important to choose a custom graduation announcement design that celebrates the grad's style yet offers a timeless look. If you like the formal, elegant style of traditional graduation stationery and you're looking for custom-made designs, personalized classic announcement cards are a good choice. These graduation announcements feature a traditional design style but offer plenty of personalization options to make your cards unique and expressive. Work with your grad to choose which elements you'd like to feature on the announcements and experiment with our customization tools. Do you want to include a photo? A well-chosen professional portrait (or several photos) of the proud graduate can elevate the look of the grad announcement instantly. Don't forget about colors; many designs can also be customized to match your grad's school colors for a personalized touch. When your traditional graduation announcement is complete, you can hold on to it as a special keepsake you cherish for years to come.
Traditional Graduation Announcement Etiquette & Wording
Wording is a major aspect of what constitutes a classic, formal graduation announcement. Even if you customized a beautiful, traditional graduation card design, the formal effect will be lost if the announcement's wording is overly casual or relaxed. While many of our classic announcements already include suggested wording to make the process easier for you, you may wish to customize the text or write your own from scratch. If that's the case, begin by determining what information you want to include in the announcement. To start, you should include the following:
Graduate's full name
School name
Date, time and location of party or commencement ceremony (if applicable)
Future education plans (such as college attending or degree pursuing, if known)
Degree obtained (if college graduation)
Classic Finishing Touches to Your Photo Graduation Announcement
Remember that the design of your custom graduation announcement doesn't stop at the card itself. It is traditional to include other customized stationery elements to achieve a professional-quality, formal graduation announcement. Finish your envelopes with classic address labels and consider opting to have your envelopes addressed by us to avoid the stress of hand-writing each one. Add your monogram and favorite photo so your envelopes are instantly recognizable. Your friends and family members will be excited to receive a graduation announcement or graduation party invitation from you to celebrate your incredible achievements.
Related Products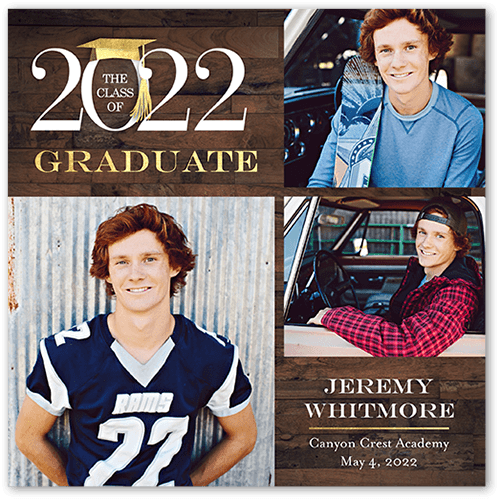 Woodgrain Class 5x5 Flat Stationery Card by Stacy Claire Boyd. Celebrate the new graduate with this unique graduation announcement. Personalize with the graduate's name and the event details.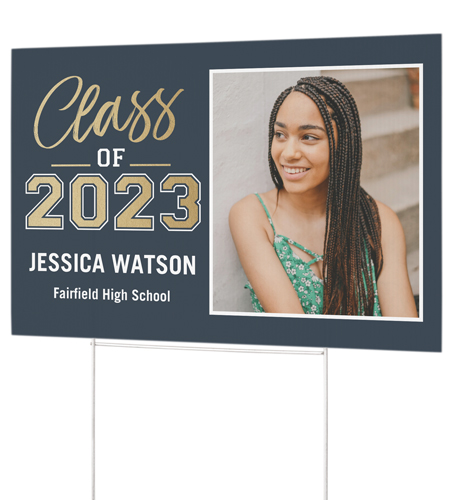 Classic Class Spirit Yard Sign by Shutterfly. Celebrate what you love with this personalized corrugated yard sign, which is great for honoring your grad, announcements, weddings, parties and more. Double-sided printing makes your sign easy to spot from either direction. ...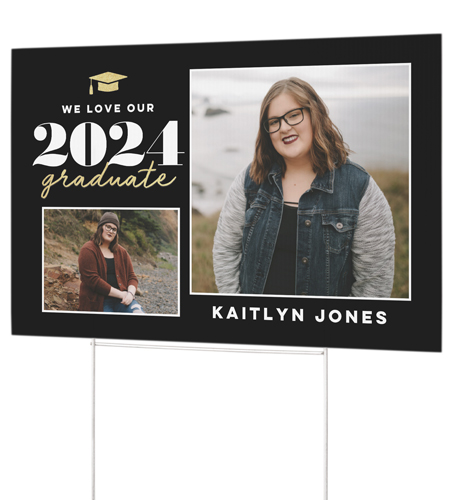 Grad Hat Celebration Yard Sign by Shutterfly. Celebrate what you love with this personalized corrugated yard sign, which is great for honoring your grad, announcements, weddings, parties and more. Double-sided printing makes your sign easy to spot from either direction. ...