College Graduation Announcements
What customers have to say about our Graduation Announcements
January 10, 2019
Great quality and affordable.
"I was able to use a 50% coupon and saved a lot of money on my purchase!"
January 10, 2019
Would repurchase
"My daughter's graduation announcements came out lovely, just as we expected."
January 5, 2019
Beautiful quality cards
"I love these cards and have ordered many over the years. The paper is very nice and heavy for both the cards and envelopes."
December 27, 2018
Yippee Skippee!
"Just PERFECT as to what I wanted... Brilliantly depicted. Graciously received..."
December 23, 2018
This website for placing a simple card order is the worst.
"Impossible. All the other reviews that express frustration with using the Shutterfly website are correct. It is worse than frustrating."
College Graduation Announcements
Design personalized college graduation announcements with Shutterfly. Your years of hard work are finally paying off with a degree, and it's time to let everyone know the big news! College graduation announcements are a great way to celebrate a big milestone and keep your loved ones up-to-date on your latest academic achievements. Share your joy and success with loved ones, family members, and teachers with a photo graduation announcement. Whether you're throwing a graduation party or simply want to send a photo card to share the big news, you can add your personal touch and easily create custom college grad announcements that are perfect for you.
How to Design Custom College Graduation Announcements
Making personalized college graduation announcements is simple with Shutterfly. Use your graduation card design to highlight your achievements throughout the years. To get started, choose a college graduation announcement template that suits your style. Choose trifold designs to flat cards, photo collages, and more. Whether you prefer a card with shiny gold foil that will make your announcement pop or something more simple, the options are endless with our personalization tools. Customize your card's size, cardstock paper type, and trim style to make it your own. Upload your photos and use them as your starting point. Our wide selection of photo enhancement options, colors, and themes make it easy for you to find the custom design you want for unique graduation announcements.
Show School Spirit With Your Grad Announcements
To show your school spirit for graduation, use your school colors for your cards. You can also customize the message and wording to convey how proud you are. Include a number of photos in your cap and gown, add your monogram, and include details about the ceremony and your school experience. You can even add beautiful silver, rose gold, and gold foil to your grad announcements to make them stand out among the stack. If you are also hosting a get-together, send graduation party invitations to your guests to celebrate with you. After the big day don't forget to send thank you cards to your guests to show your gratitude and appreciation.
College Graduation Announcement Wording
In general, your college graduation announcements will be similar to the announcements you made when graduating high school. There are so many ways you can customize your college graduation announcements, but there are some key messages you'll want to get across for your recipients. A typical announcement template includes the following information:
Graduate's full name
Name of school
Graduation year and/or date
Date, time and location of graduation party, if applicable
For the purposes of your college graduation announcement, you will also need to include another important piece of information your recipients will want to know: the degree you received. Your announcement wording should complement the card's design. Above all, you'll want to keep your announcement clear, straightforward and expressive. Keep your personality a part of it even if you opt for a formal, traditional tone. To add some of your own personal expression, a meaningful graduation quote or saying makes a great addition. Once you've chosen a personalized design and decided on the tone you prefer, you can begin working on your wording. You can also send photo graduation invitations to friends and family to celebrate your achievements with them.
Related Products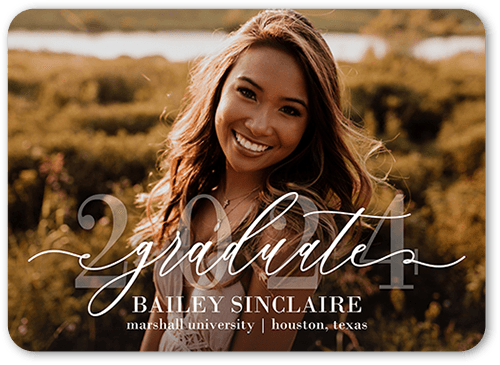 Elegant Script Grad 5x7 Card by Float Paperie. Celebrate the new graduate with this unique graduation announcement. Personalize with the graduate's name and the event details.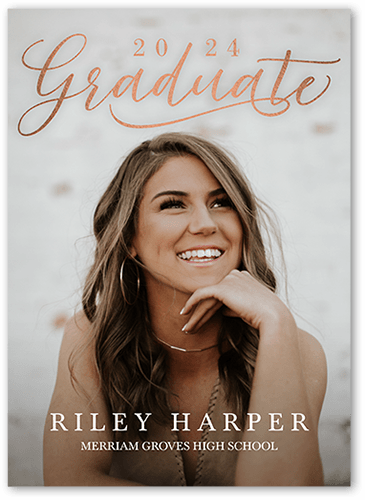 Jubilant Grad 5x7 Stationery Card by Float Paperie. Celebrate the new graduate with this unique graduation announcement. Personalize with the graduate's name and the event details.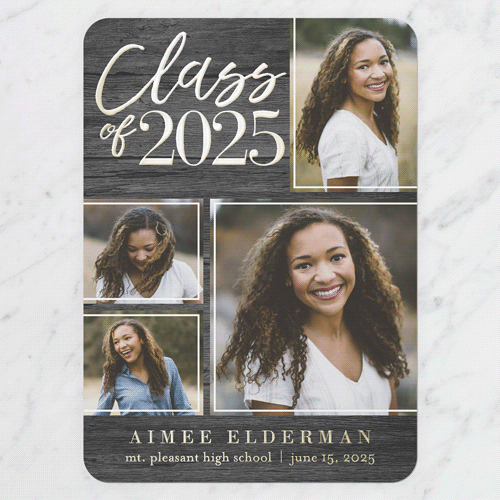 Rustic Class 5x7 Stationery Card by Yours Truly. Celebrate the new graduate with this unique graduation announcement. Personalize with the graduate's name and the event details.