What customers have to say about our Save the Date
January 26, 2019
Loved them!
"Our save the dates turned out amazing! We are excited to send them out."
January 24, 2019
Love shutterfly
"Loved my save the dates!"
January 22, 2019
Excellent Quality
"Great quality paper and image. Worth every penny."
January 21, 2019
Super easy and was just what we were looking for.
"This was just what we wanted, a good selection and examples to check out."
January 20, 2019
I would buy this again
"We ordered save the dates for our wedding. Love that we were able to personalize."
Modern Save the Dates for Your Big Day
Save the date cards offer your wedding guests a glimpse into the style and mood of your big day while reserving the wedding date. When you're ready to make the announcement and start the rsvp process, do it in a stylish way with modern save the dates from Shutterfly. Whether you want to make a bold impact, go the minimalist route, express your chic style or capture contemporary elegance for your modern wedding, this collection of beautiful save the date designs can help you achieve the perfect look for your wedding invitations for your guest list.
Modern Save the Date Ideas
Need some inspiration to help you create modern save the dates that capture your style? We make it easy. From classic wedding ceremonies to exotic destination weddings, Shutterfly has you covered. Let's take a look at some tips and ideas to help you get started:
Choose a template. First, browse the collection to find your favorite design. If you're having a difficult time deciding, try the "Show with my photos" feature to see each template automatically displayed with your engagement pictures as you browse. From eye-catching foil-stamped cards to simply elegant and minimalist modern designs, you'll find a save the date template that suits your style.
Upload your photo(s). Whether you have a single favorite photo to showcase or you want to include several portraits, upload your pictures to the template. Professional engagement photos are a great choice for your save the dates.
Personalize the design colors. As a modern couple, you should have the freedom to get creative and fully customize your wedding stationery. That's why many of our modern save the date cards are available in multiple different colors, and many even feature a Custom Color Palette that you can personalize to your heart's content.
Add your information. Only a few pieces of information are essential on your save the dates: who, when and where. Personalize your chosen design with your names, the date of your big day and the city it will take place in. From calligraphy fonts to monogram styling, you choose the typography. If you wish, you can also include your wedding website URL.
Finish your cards. It's time to add the finishing details to your modern save the date cards. Choose from a variety of fonts, colors, cardstock types and trim options to make a design that's truly yours. You can also choose from optional add-ons like slip-in liners, custom wedding address labels and more.
More Save the Date Wedding Ideas
Shutterfly has all the wedding planning ideas and inspiration you're looking for. If you're looking for the perfect design concept or platform for your save the date, check out our save the date magnets, save the date postcards, or traditional wedding cards and stationery. Shutterfly has a lovely collection of wedding invitations and photo cards for your big day. While you are designing unique save the date cards, you can prepare your wedding invitations. We also have everything you need for planning your bachelorette party, bridal shower, and sending thank you cards for after the wedding day.
Related Products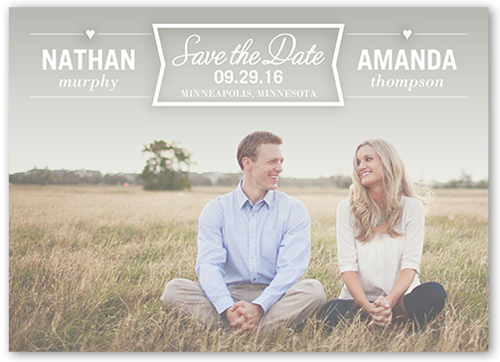 Everlasting Love Save The Date Cards. Make sure they mark their calendars with this Save the Date card. Modern fonts create a clean, crisp design with a lovely pictures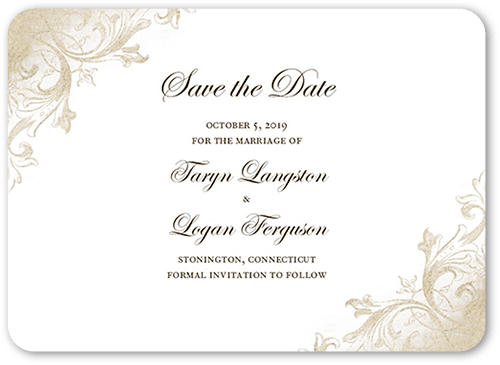 Faded Scroll Save The Date Cards. Make sure they mark their calendars with this Save the Date magnet. Modern fonts create a clean, crisp design with lovely pictures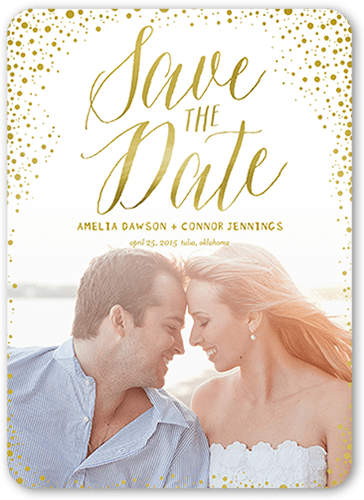 Fond Forever Save The Date Cards. Make sure they mark their calendars with this stylish Save the Date card. Modern fonts create a clean, crisp design with a lovely pictures