What customers have to say about our Save the Date
January 26, 2019
Loved them!
"Our save the dates turned out amazing! We are excited to send them out."
January 24, 2019
Love shutterfly
"Loved my save the dates!"
January 22, 2019
Excellent Quality
"Great quality paper and image. Worth every penny."
January 21, 2019
Super easy and was just what we were looking for.
"This was just what we wanted, a good selection and examples to check out."
January 20, 2019
I would buy this again
"We ordered save the dates for our wedding. Love that we were able to personalize."
Rustic Save The Date Cards
The most amazing day of your life has happened - you have gotten engaged and it's time to start thinking about sending rustic save the date cards. Now the fun of planning the wedding begins, and the first decision you are likely to make is the celebration date. At Shutterfly, we can help you spread the word to your friends and family so they block out time for your big shindig. Because the save-the-date postcards are one of the first steps in your wedding-related mailings, they set the tone for the rest of your celebration before sending rustic wedding invitations. Because of this factor, you'll need to think carefully about which template you choose. Save the date magnets are also a popular option. Picking a rustic wood save the date design that expresses your personality as a couple will be an important first step.
Rustic Save-the-Date Cards
Nearly every couple today chooses a foil save-the-date card that includes pertinent information along with a photo of the pair. When it comes to choosing a design, therefore, it really comes down to what background image you'd like to feature. A popular approach is a rustic design, one that features wood grain or wooden planks, chalkboards, lace or a burlap/linen look. However, there are other features you can choose that kick up the rustic factor on our save the date card designs, including:
Scalloped edges: There is something about scallops that seems to lend them a boho rustic air. Could it be their lace-like vibe? Or, floral save the date style? Whatever the reason, scalloped edges are a cool design feature.
Bracket edges: Whether they are reminiscent of embroidery samplers or Wild West birch tree store signs, bracket edges add a distinctly old-fashioned, country wedding feel to your magnet save the date cards.
"Handwritten" fonts: This type of calligraphy includes things like chalkboard writing or flowery typefaces, and they make your save-the-date cards seem as though each one was written by you personally. The beauty is in the imperfections.
What to Include in Rustic Save the Dates
Of course, the date you would like your vintage wedding guests to mark on their calendar should be the most prominent feature on your rustic save-the-date cards. But there are some other wedding announcement details you could include, such as:
Your name and that of your partner
Your parents' names, if desired
The location of the wedding so people can book travel if a destination wedding is the plan
Additional info, such as a wedding website URL or hashtag
Get Your Rustic Save the Dates Started Today
Your rustic save-the-date cards will get the ball rolling on your wedding theme and all subsequent stationery designs like a guest book. When you choose your template, be sure to bookmark the wedding invitation style that matches so you will have a head start on the next step. While you're at it, choose an engagement photo that works with your design ideas. Check out Shutterfly's exclusive offers to find the best save the date wedding rsvp cards and stationery options for all your wedding planning needs.
Related Products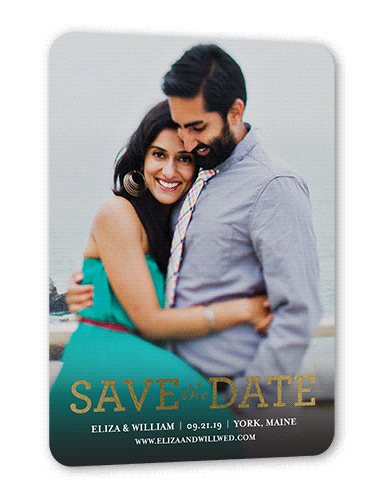 Forever Love Save The Date Cards. Make sure they mark their calendars with this stylish Save the Date card. Modern fonts create a clean, crisp design with a lovely pictures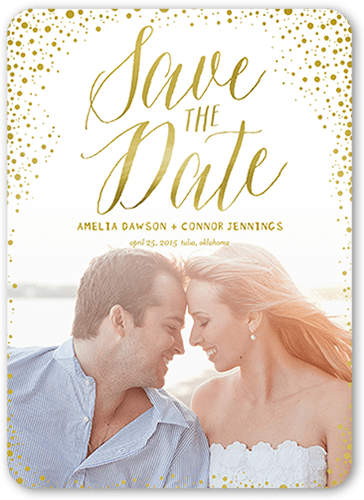 Fond Forever Save The Date Cards. Make sure they mark their calendars with this stylish Save the Date card. Modern fonts create a clean, crisp design with a lovely pictures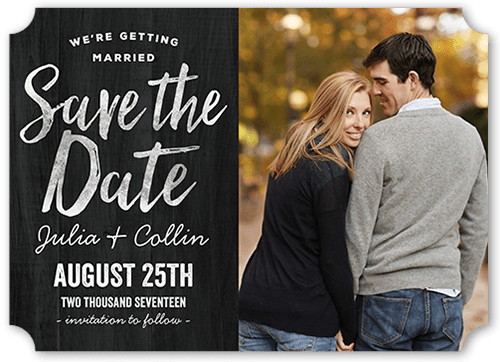 Getting Married Save The Date Cards. Make sure they mark their calendars with stylish Save the Date card. Modern fonts create a clean, crisp design with lovely pictures