What customers have to say about our Save the Date
January 26, 2019
Loved them!
"Our save the dates turned out amazing! We are excited to send them out."
January 24, 2019
Love shutterfly
"Loved my save the dates!"
January 22, 2019
Excellent Quality
"Great quality paper and image. Worth every penny."
January 21, 2019
Super easy and was just what we were looking for.
"This was just what we wanted, a good selection and examples to check out."
January 20, 2019
I would buy this again
"We ordered save the dates for our wedding. Love that we were able to personalize."
Create Custom Save the Date Cards for Your Wedding
Share the big news with family and friends with custom save the date cards. A save the date card is the best way to let those closest to you know that you're engaged and are planning a wedding. Start your planning off right with custom save the date cards from Shutterfly. With Shutterfly, you can personalize a photo card or save the date magnet that perfectly represents the personalities of you and your future spouse. From watercolor designs to save the date cards with elegant greenery or beautiful foil colors, you can make a personalized save the date that will wow your recipients.
Announce Your Engagement with Save the Date Cards
While you may have already proudly displayed your engagement ring on social media, now is the time to let your loved ones know they need to reserve time on their calendars for your big day. Shutterfly makes it easier than ever to turn your favorite photo or photographs of the two of you as a couple into one-of-a-kind save the date cards. Choose from our vast collection of save the date photo cards and choose one that matches your personalities or the theme of your wedding. You can send a save the date card whether you're throwing a destination wedding, at-home elopement, or an extravagant ceremony. Include your wedding website on the save the date postcards so guests can find more information about your big day. Upload a favorite photo of you and your fiance to the card to announce when you'll be celebrating your wedding day.
Designing the Save the Date Cards
With Shutterfly, it's easier than ever to upload your favorite photograph and turn it into beautiful wedding stationery for every occasion — from rehearsal dinners and RSVP cards to bridal shower invitations, wedding thank you cards, and more. First off, you need to let your desired wedding guests know when their presence will be expected with a card that asks them to mark their calendars for your wedding date. Designing the save the date cards should be the easiest step in your wedding planning process, especially compared to picking the day. Once the date is figured out, all you need to do is upload your favorite photograph into the save the date template that best captures you and your loved one's personalities. Whether you're a minimalist or prefer your cards more extravagant, we have save the date designs for every style. The design assistant will help you arrange your photo cards, and you can pick your favorite fonts and colors to make the messaging look perfect. Custom save the date cards are a beautiful way to feature your best photograph and truly declare you as a couple.
Custom Wedding Stationery and Gifts
Shutterfly is here to help you in every step of planning your wedding. Looking to take out two birds with one stone? Shutterfly has a lovely collection of wedding invitations for your big day. While you are designing unique save the date cards, you can prepare your wedding invitations. You can create your perfect wedding invitation suites, and can receive 5 free samples to make sure you get the right invitations for your nuptials. Shutterfly has a design for every style. With the pre-wedding paper products, you can focus on the important wedding planning projects. We also have everything you need for planning your bachelorette party, bridal shower, and sending thank you cards for after the wedding day. You can outfit your guests and bridal party with bridal party gifts to thank them for sharing in your joy. Wedding planning can be fun, and Shutterfly is here to help with the good times. Custom save the dates will have you on the path to ever after bliss.
Related Products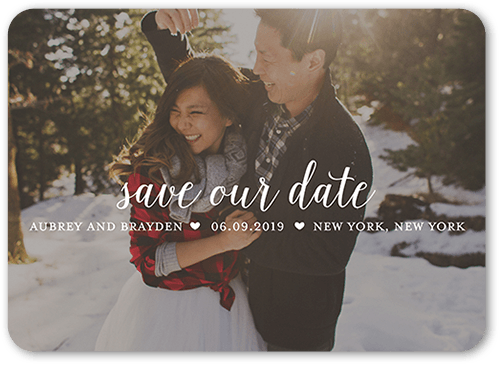 Eternal Moment Save The Dates. Make sure they mark their calendars with this Save the Date card. Modern fonts create a clean, crisp design with a lovely pictures