Sparkle & Shine Wedding Announcements
What customers have to say about our Wedding Announcements
January 22, 2019
Personalized Card Bliss
"Great quality card made from personal photo and personalized captions. Sometimes a store bought card doesn't capture the sentiment you're trying to portray. This is a fantastic option to create your own!"
January 12, 2019
Shutterfly products always look great!
"If you love one of your photos, turn it into a card! Whether it's a Thank you card, a sympathy card, a birthday card or any other kind of card, it'll turn out great!"
January 10, 2019
It exceeded my expectations
"Great, professional results"
"Purchased this recently to announce my son and daughter in law's wedding. All recipients have commented on how beautifully done the cards were. The paper and picture quality were perfect. Dealt with customer service on this order. Their promptness and undertanding were superb."
"quick and easy. Great pricing."
Make Your Announcement Sparkle With These Beautiful Wedding Announcements
If you're having a classic and beautiful wedding ceremony, try a sparkle and shine wedding announcement alongside it. Sparkle and shine announcements are perfect for all types of wedding styles, from rustic barn to chic glam. No matter your style, sparkle and shine announcements will make your wedding stand out.
Your marriage announcement or elopement announcement is such a special way to let loved ones know you tied the knot with your partner, so it's important to make sure everything is perfect on your card. From multi-page flourish cards to vintage cardstock announcements, adding sparkle and shine will make your wedding announcement stand out.
Perfect Wedding Announcement Ideas for Your Big Day
With options to customize the color, design and trim of your card, you can create a beautiful wedding announcement tailored to your style. Elevate the wedding by matching your wedding announcement to the theme of your ceremony like with a sparkly just married card, which goes alongside a fairytale wedding perfectly.
For a unique touch, try adding in a personalized anecdote or phrase that's special to you and your significant other. Whether you include the coordinates of where you first met, a favorite quote, or even a line thanking your loved ones for helping make your big day possible, personalizing your wedding announcement is a great way to make it stand out.
Sparkle + Shine Wedding Announcement Wording
Wedding announcement wording is an important factor when determining which card to pick. You should consider the size of the text you want to use and the type of font you want to use.
You should take into account the size of your marriage announcement. Do you want to include a personal anecdote, or go minimalistic with just the basic details? If you plan to include a decent sum of information, opt for a larger wedding announcement so you can fit all the information necessary while ensuring your card looks nice and neat.
Planning your wedding ceremony is such an exciting time in your life. From finding the perfect wedding announcements to determining your wedding reception decor, you want to make sure every little detail is perfect for your special day. With Shutterfly, you can customize your wedding announcements to make sure they are perfect for sending out to your loved ones.
Related Products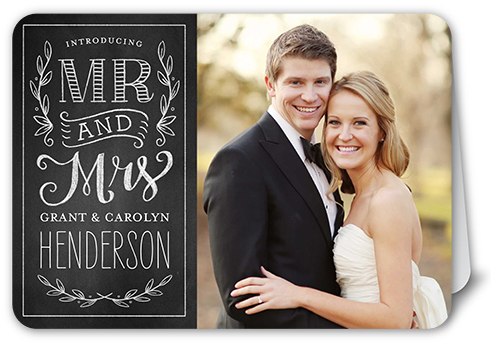 Fun Chalkboard Type 5x7 Folded Wedding Announcement Cards. I thee wed. Announce your wedding in style with a favorite photo and the celebration details on this wedding announcement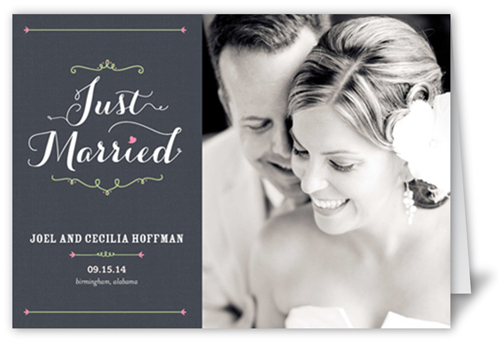 Precious Moments 5x7 Folded Wedding Announcement Cards. I thee wed. Announce your wedding in style with a favorite photo and the celebration details on this wedding announcement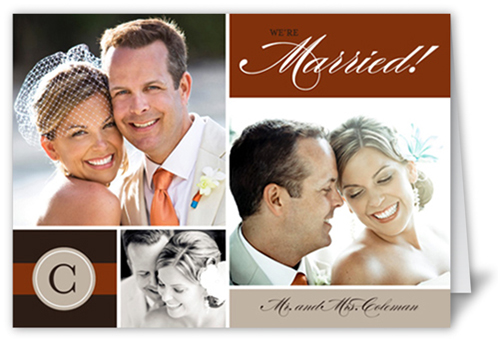 Such Happy Moments 5x7 Folded Wedding Announcement Cards. I thee wed. Announce your wedding in style with a favorite photo and the celebration details on this wedding announcement