Baby Note Cards
What customers have to say about our Folded Note Cards
January 26, 2019
These turned out so CUTE!!!
"The card stock is very heavy and makes it a nice writing experience. Quality, thick, great bright colors on the card. This is a great product and a wonderful purchase."
January 21, 2019
Great Quality
"Thank you notes are a nice idea and shutterfly makes it easy. The ability to personalize each side of the card is nice as well. Now its not just some cheesy card but a photo update on how life is going."
January 14, 2019
I love the cards.
"Shutterfly products are excellent! I love them very much."
"I had made and ordered the note cards once before and everyone liked them."
January 12, 2019
Amazing quality!
"Easy to make, edit & personalize these high quality cards! This was actually a reorder - changed a bit this time around after the 1st set were all sent! I Love Shutterfly!"
Show Off Your Bundle with Baby Note Cards
When friends and family gather to celebrate your bundle of joy, it's because they treasure your new child almost as much as you do. Send baby note cards to everyone you know to announce a birth, say thank you for an incredible baby shower, or just to keep in touch with loved ones who are far away. Your regular correspondence is so much more meaningful when it comes with a delightful photo of your little one on the front of a folded note card.
Select Folded Notes Cards to Suit You and Your Baby's Style
A new baby gets their style from mom to start, but you probably know how you like to dress together and you've already decorated a room with decals, personalized frames, photo blankets, and more. Now, your baby note cards can line up with that style! If you're the modern type, select a card design with white borders that lets you frame a contemporary collage. For a more classic look, select a design that features a big photo with a text border or striped accents. As you send cards to loved ones and order new sets with updated pics of your baby, you can start a little cork board or ribbon that displays each card as a memento, too. Your cards will match the room and, as the years go by, your child will love seeing his or her first note cards.
Picking a Picture for Note Cards
When you select the image for your baby note cards, think in terms of milestones. A first bath can make an adorable, intimate photo. A new knack for smiling or teeth growing in are other memorable moments to capture. And when you compare birth photos to even three months old, the difference is crazy! If you like collages, it can be fun to highlight baby in your arms or next to a beloved family pet that is ready to watch over the new addition, too. Don't forget to get siblings in on the fun with matching outfits and more.
Related Products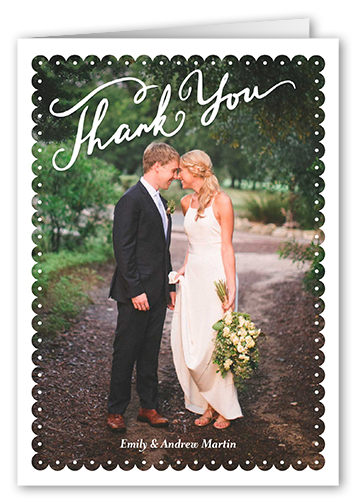 Sweet Scalloped Thanks 3x5 Custom Thank You Cards. Show just how much you appreciate them with this stylish thank you card. Add your favourite photos and a message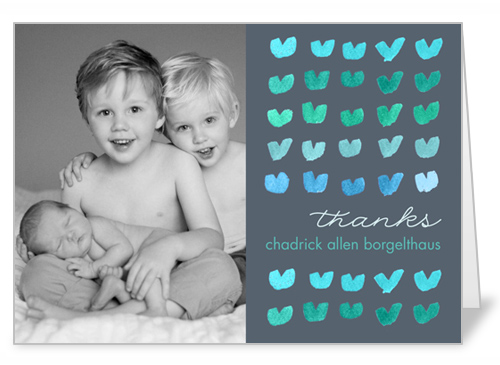 Watercolor Hearts Boy 3x5 Thank You Cards. Show just how much you appreciate them with this stylish thank you card. Add your favorite photos and a message of thanks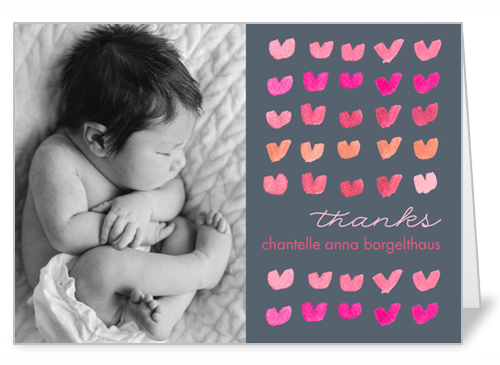 Watercolor Hearts Girl 3x5 Thank You Cards. Show just how much you appreciate them with this stylish thank you card. Add your favorite photos and a message of thanks