What customers have to say about our Baby Shower Invitations
January 26, 2019
I would buy this again definitely!
"This invitation is beautiful I just wish the liners that came with it stuck better"
January 25, 2019
Perfect invite
"These are so cute and came exactly as I expected. Love them!"
January 24, 2019
In love with the shower invites
"These invites are so cute. They came just as ordered. I love shutterfly. They never disappoint."
January 22, 2019
I would buy this product again.
"Bought this for my baby shower invitations and it exceed my expectations."
January 21, 2019
I really liked my purchase experience
"I needed to order baby shower invites. I was pleasantly surprised to find out I could have Shutterfly take care of the invitees addresses, return addresses, and stamps! What a time savor! And the invitations are adorable!!"
Plan a Shower or Sprinkle in Style with Baby Shower Invitations
There is nothing more exciting than the arrival of the newest member of the family. No matter what style of baby shower you are throwing, it is essential to get your cards out with the important details, so that your loved ones are sure to make it to the party. Follow our guide to baby shower invitation wording and rest assure that your attendees won't miss any of the important shower details. The planning might require a lot of preparations—thanks to Shutterfly, making the invitations is a simple and fun part of the job.
Designing the Invitation
First things first… decide on the guest list. What kind of baby shower do you want to throw the new parents? Will the shower be attended by ladies only, or is it a Jack and Jill party? Is the baby shower going to be a casual, family-only get-together, or will it be an elegant affair with plenty of guests?
Shutterfly has dozens of designs and templates to help you pick the perfect card such as elephant and gender reveal invitations. Be sure to send out the invites a few weeks in advance to allow everyone ample time to make arrangements. Be sure to include the day, time and place of the shower and include your information as well for RSVPs. If there is a registry, be sure to include that information on the invitation so guests know what the soon-to-be parents want most.
Planning the Party
Baby showers have all sorts of baby shower food and fun games to play, usually at the humorous expense of the soon-to-be mom. Decorations are playful and can be themed to match the personality of the parents. Everyone can have fun and the new parents will surely appreciate all the baby shower wishes and messages, presents and advice. Crafting a personalized greeting straight from the heart is never easy, it can be tough to determine just what to write in a baby shower card for the parents-to-be. Add a personal touch to your greeting and make sure to say it sweetly with our fun collection of cute baby shower quotes. In addition to baby shower greetings, soon to be parents will be receiving a handful of gifts as well. Although the new parents may have registered somewhere for gifts, the chances are that they will take photo after photo of their new baby. You really can't go wrong with a personalized photo frame as a baby shower gift for the new mom and dad.
After the Baby Arrives
Once the new baby comes, the parents will probably have their hands full. A great gift for new parents post-birth is a set of thank you cards for boys or girls (as well as a "coupon" to babysit their new bundle of joy). As soon as the photos start coming (and they will) you can use Shutterfly to turn all of the precious memories into beautiful decorations like custom canvas prints, engraved photo frames and other personalized pieces.
Related Products
Cute Cradle Boys 5x7 Stationery Card by Hello, Kelle. Shower her with love and a stylish baby shower invitation. Personalize it with the party details.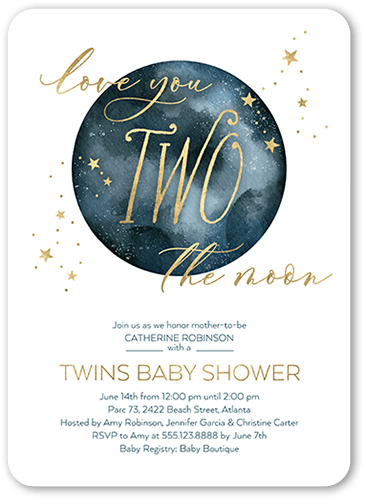 Moonlight 5x7 Stationery Card by Stacy Claire Boyd. Shower her with love and a stylish baby shower invitation. Personalize it with the party details.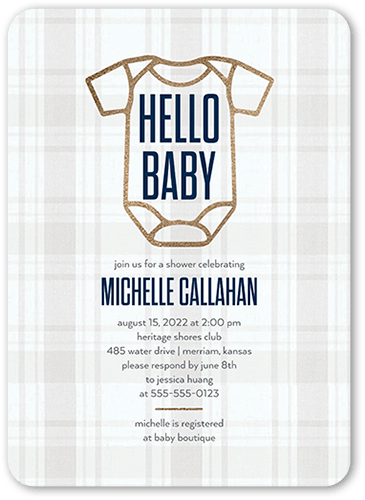 Onesie 5x7 Stationery Card by Éclair Paper Company. Shower her with love and a stylish baby shower invitation. Personalize it with the party details.