What customers have to say about our Birth Announcements
January 25, 2019
A Hit With All the Family!
"We used this card as a birth announcement and thank you card for our baby shower attendees. It's on a nice heavy cardstock, and the print was super clear. With my first order there was a smear on the return address on the back of the envelope, but no big deal. With the first order I also didn't receive the blank envelopes I ordered. The second order everything was perfect. I would highly recommend!"
January 24, 2019
Very nice cards
"Super classy cards"
January 24, 2019
Great buy
"Looks and feels great. Came so quickly and is such great quality!"
January 22, 2019
So sweet
"Easy to create!sweet design"
January 22, 2019
Love this product!!
"I love the simplicity of this birth announcement, it was easy to make and arrived on time!"
Custom Birth Announcements
Tell everyone your big news with custom birth announcement cards! With a new bundle of joy to celebrate, your loved ones will enjoy seeing photos on baby announcement cards. With Shutterfly, you can customize your newborn announcement so it shows your favorite photos along with the best colors and fonts. Customize your cards to include your baby's name as well as a sweet message for family and friends.
How to Create a Personalized Birth Announcement
To create your birth announcements, start by searching through all of Shutterfly's template options. For a new baby girl, you can choose floral baby announcements or birth announcements with a hearts theme. For boys, consider a whimsical animal-themed announcement card that's both fun and cute. Keep in mind that all of Shutterfly's birth announcement styles can be gender neutral or styled with the typical pink and blue colors for girls and boys. Along with the design, you can also choose between a flat birth announcement card or a gate fold baby announcement and larger card styles to have more space for photos and text.
More Ideas for Baby Announcements
Make your baby announcement as fun and visual as possible. Though you'll be sending it out to loved ones, you can always keep one for yourself to add to a baby book and cherish forever. Once you enter the design template for your baby birth announcements, you'll be able to choose photos and organize the card layout so it shows exactly what you're envisioning. You can style a single-photo card or create a multi-photo baby announcement for when you just can't decide between all the photos of your newborn. Add their name, birth date and time, and a sweet message from your family. If you've had the time to do a photoshoot with your newborn baby, now is the perfect time to show off the shots on your birth announcement. Choose multiple shots and place them in a photo gallery card for a modern and elegant design. After you're done designing your card, you'll have the change to review your birth announcement and use Shutterfly to send it off to your address list for an extra postage fee.
Shop Keepsakes to Match a Baby Birth Announcement
Now that you've seen how easy it is to create a personalized birth announcement, turn more of your precious baby photos into photo gifts! You can customize a baby blanket that keeps them warm and serves as a touching keepsake to keep in a baby box even as they grow out of it. After their first birthday, consider putting all your favorite memories from the year into a photo book too. Rather than a DIY baby book, a photo book is durable and looks professional. Even though you're in control when it comes to designing the book, it'll look like you hired someone to put it together for you. When you're searching for the perfect baby gift, look no further than our selection of baby shower gifts perfect for the newborn and new parents in your life.
Related Products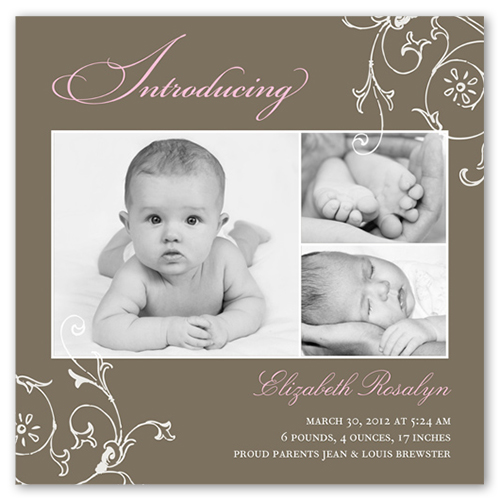 Introducing Flourish 5x5 Flat Baby Girl Birth Announcements by Stacy Claire Boyd. A charming brown backdrop and pretty pink hues bring a newfound elegance to this lovely birth announcement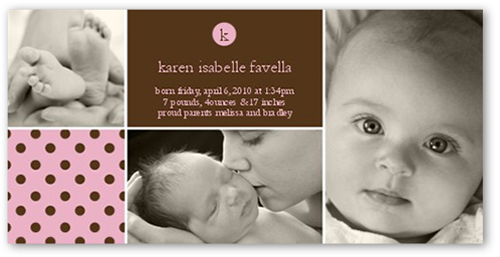 Andante Dots Pink 4x8 Photo Card by Shutterfly. One part sweet and one part modern. Pretty polka dots in pink and brown gives this baby girl announcement stylish appeal. Add baby's initial to this collage photo card to create something ...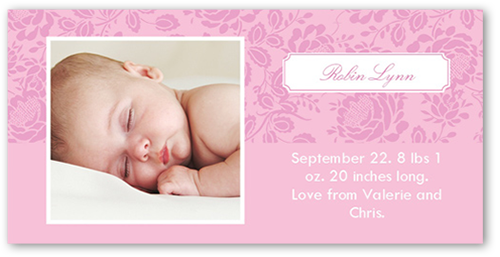 Blossom Rose 4x8 Photo Card by Shutterfly. Floral silhouettes give a feminine accent to this lovely photo card. A nameplate and framed photo keep the layout structured and elegant.Designed in petal pink.