What customers have to say about our Stickers
January 24, 2019
Turned out Great!
"I had made some labels with my various forms of contact info. I decided that if the print was diagonal, it would show up larger. So I wrote out the info on several lines, then turned that into a .jpeg format. I was happy to find that the print was centered perfectly & no print ran outside or off the labels, and was very clear to read."
January 23, 2019
Just what I wanted
"Very good quality and came earlier than expected. Love them! Good price too."
January 23, 2019
Cute stickers
"Stickers of my kitty. Fun for teens."
January 14, 2019
Just Lovely!
"A nice elegant look. Customization is convenient However, I did not receive my free new user items. Please make sure my account is secure. I am a good customer and there are some recent errors that have never been experienced before. Thank you."
January 14, 2019
Beautiful
"These stickers are so nice but only the sale price makes them affordable."
Have Even More Fun with Birthday Stickers
Celebrate your way with birthday stickers that commemorate your favorite birthday boy or birthday girl. There's already a lot to enjoy when someone's special day comes around, and birthday stickers are a perfect, affordable way to add personalized fun to a party.
Pick the style you love best to use an awesome gift tag. If you want to feature faces, take a goofy pic for fun or select one that shows off your loved one's best angle (don't forget the flattering light) and personalize stickers that you can stick on everything from party invitations to presents.
Giving Gifts with Stickers
When you show up to the party, you know it's about to get started. Surprise your host with a kids gift decorated with birthday stickers that leave room for you to write their name in your best handwriting, while your name is already printed on the sticker. They'll never forget who came with the coolest looking package, customized just for them. Personalize yours with a silly nickname or go for first, middle, and maybe even last. Families get in on the fun, too, with stickers that showcase your surname.
Stickers for Birthday Invitations
Whether your birthday party theme is Pretty Princess or Over The Hill, birthday stickers look festive and personal on your envelopes. You have a range of colors to choose, so the hard part is actually just deciding. Slap stickers on the backs of envelopes to help seal invites, just like you would with a wax stamp or personal embosser -- only these leave no question as to who everyone is gathering to celebrate! Their beloved latte mug is right on the sticker before the birthday invitation is even opened!
Make Birthday Cards Extra Special with Custom Stickers
Birthday cards get a dose of extra love from you and your family when you put custom stickers on the envelopes. You've taken the time to create a thoughtful message of well wishes for the coming year. Now, take the extra step and let them know how much they mean to you with birthday stickers that you have made just the occasion.
Related Products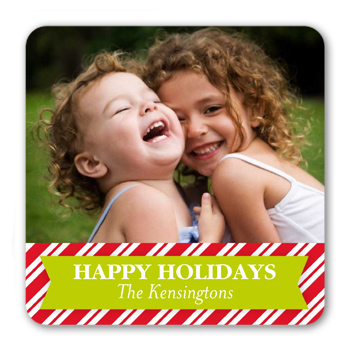 Diagonal Stripes Custom Stickers. Sealed with a smile. These stickers are a great way to add a personalized touch to your greetings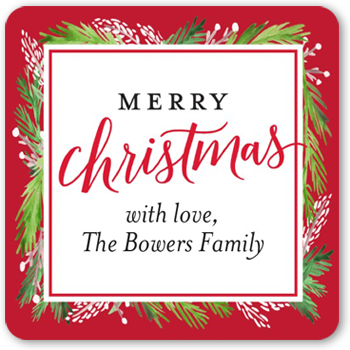 Merry Painted Border Custom Stickers. Sealed with a smile. These stickers are a great way to add a personalized touch to your greetings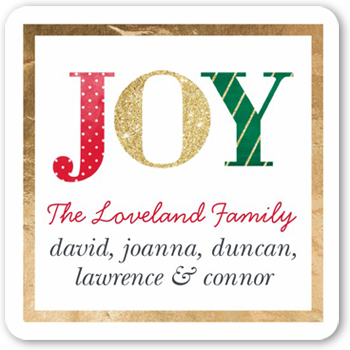 Merry Seasonal Bling Personalized Stickers. Sealed with a smile. These stickers are a great way to add a personalized touch to your greetings