What customers have to say about our Birthday Greetings
"Once again, Iove my end result from Shutterfly. The people love their personalized cards too."
January 25, 2019
Plan on making cards for all my family
"Used old pictures to make a fun unique birthday card for my dad"
January 24, 2019
These cards are amazing!
"I'm blown away by the quality of these hand designed Birthday cards! It's a great deal too in terms of cost. Thank you for making these personalized cards possible! I would give this product a 10 on a scale of 5"
January 23, 2019
I would buy this again!
"The card turned out great!"
January 23, 2019
Great eye catching card
"I love all of the color, it made this card pop!"
Personalized Birthday Cards
Few things show how much you care more than a custom birthday card from Shutterfly. Our fast, high-quality printing ensures that your happy birthday card goes out in time with exactly the message you want. Unlike stock messages in store-bought birthday cards, we make it easy for you to personalize a birthday card into a meaningful memento that your friend, family member, coworker, or acquaintance will love. And if you're looking for gifts to accompany your birthday card, browse more Shutterfly gifts you can personalize with your favorite photos. Whether you're bringing a card to a birthday party or sending birthday wishes to a faraway friend, you can create the best happy birthday greeting cards that are perfect for your special recipient.
How to Make Custom Birthday Cards
Say "Happy Birthday to you" with a one-of-a-kind birthday card designed by you. With Shutterfly, it's easy to make birthday cards for your friends and family that fit their personality. Whether you're looking for birthday cards for kids, a card for your partner, or a long-distance friend — there's a happy birthday card for everyone in your life. You can even make a funny birthday card to make your recipient smile. To start making your custom birthday cards, browse our collection, and choose your favorite. Shutterfly offers both flat and folded cards, with the latter offering more room for customization. Once you've selected your happy birthday card design, upload the pictures you want to showcase on your photo card. Next, choose your cardstock paper type and trim style. You can then customize the birthday greeting as well as the font style and color. You can bring your custom greeting card with you to the birthday celebration or send it to your friend on their special day to bring them joy.
Sending Your Happy Birthday Cards
To make your birthday cards extra special, personalize the envelope with standout colors and unique liner patterns. Shutterfly gives you the option to order blank envelopes to send yourself, or we can send them for you with our free return address and recipient address printing. If you're hosting a birthday celebration for yourself, create custom birthday invitations with fun themes, playful colors and unique designs. Happy birthday cards deliver a smile every time. Send birthday wishes to that friend, relative, child, or that special someone and make their day. Birthdays are never complete until the people celebrating their special day receive their happy birthday cards.
Birthday Cards and Personalized Birthday Gifts
In addition to personalized photo birthday cards, we offer an array of heartfelt personalized gifts – and the process of creating these gifts is just as simple as creating custom happy birthday cards. For the techie in your life, a custom iPhone case or Samsung Galaxy case might be a perfect gift. Does the birthday boy or girl love game nights? How about a photo puzzle to add to their collection or more unique kids gifts? The opportunities to customize birthday cards are endless. For little ones with family members far away, a personalized memory game is a great way to remember loved ones near and far. The possibilities are endless when designing happy birthday cards and birthday gifts. Begin designing and creating meaningful birthday cards and keepsakes today.
Related Products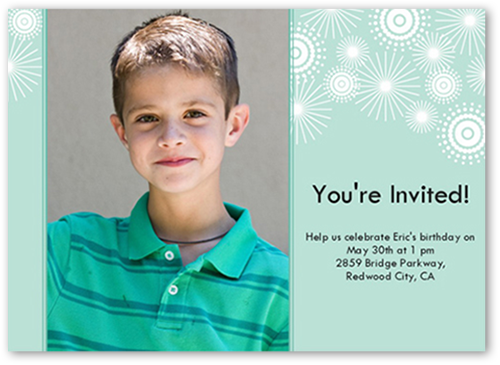 Sprinkle Sea Foam Swimming Party Invitations. Dazzling swirls pop against a seafoam background. Highlight your favorite photo beside important event details
Happy Bunny 5x7 Stationery Card by Blonde Designs. Another year older. Another year of fun. Invite all the guests with this stylish birthday invitation. Just add your favorite photos and all the event details.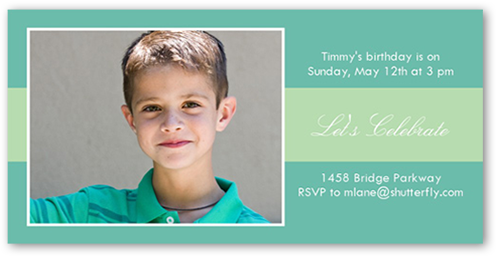 Cookie Sea Foam 4x8 Photo Card by Shutterfly. Capture elegance for any occasion with ornate lettering and a two-tone green background. Room for one special photograph.