What customers have to say about our Baby Girl's 1st Birthday Invitations
January 25, 2019
Great products
"Amazing product fast turn around"
January 18, 2019
Turned out perfect. Love it
"The 6x8 size is perfect to still be able to see the border of photos."
January 18, 2019
Birthday invitations
"I wasn't expecting the thickness of the card or the texture. They turned out amazing !"
January 11, 2019
Beautiful!
"I love everything from Shutterfly! These invites looks beautiful. Great quality paper and printing. I'm a returning customer and have never been disappointed with anything I ordered on this website. Highly recommend."
"Used the silver glitter template for my daughter's 16th birthday invites. They turned out amazing."
First Birthday Invites for Girls
When it's time for a happy first birthday, designing the best girl's first birthday invites can be fun and special. Your baby girl's first birthday is a huge milestone for the parent. Though she might not remember the day as the years go on, the baby girl birthday invitations will be something to add to the scrapbook and revisit as a great memory. Shutterfly makes it easier than ever to create the custom invitation that suits your little girl and can help you plan a party to build more memories.
Designing 1st Birthday Invitations
When designing your 1st birthday girl invitations, photo invitations are the best way to go. Chances are, you have an overflow of photos of your baby girl on your phone or computer. With Shutterfly, you can easily upload all your photos and create a custom photo invitation with the best pictures. We also offer a wide variety of themes for your baby girl first birthday invitations, making it easy to choose an option that matches your party theme and decor. Choose a single photo of the birthday girl or create a fun photo collage on the party invite. There are dozens of design templates from which to choose. Simply upload one or a few of your favorite pictures to create invitations that are as adorable as your little one. Be sure to order the invites early enough to send out and allow friends and family time to make arrangements to come to the party. Important information to include in your invitations includes time, date and place of the first birthday party. Make sure that you include a date and way to RSVP to make party planning easier on yourself. Shutterfly has everything you need to design the perfect invite.
Throwing a Baby's First Birthday
To make the day feel seamless, pair your 1st birthday invitation card for baby girl with a fun first birthday theme. Shutterfly's invitation options come in a variety of colors and different themes, including Disney invitations. By picking a theme, it can be easier to plan the day and gather the party decorations that you need. Everyone will love celebrating the birthday girl with a fun photo plaque centerpiece that you can put next to the cake. To show off your darling little girl's first year, you can display personalized photo cubes around the party. On the day of the gathering, make sure that your camera is charged and ready to go, so that you can capture the memories as you make them. Encourage guests to take photos and to share with you as well. Throwing your baby girl a first birthday party is a time you will remember forever. Shutterfly has everything you need to plan and execute a perfect day, from invitations to party decorations. Turn your favorite photos from the big day into a custom photo fleece blanket that doubles as the perfect gift for your daughter and her grandparents.
First Birthday Gift Ideas
If you're attending a baby girl's first birthday party, most of the best gift ideas will be products that her parents will love. Everyone knows how fast baby's grow, so commemorating their time now with a custom gift is a great idea. You can't go wrong with a beautiful framed print of the birthday girl, especially if you're close to the family and have your own photos that the parents haven't seen. If you have a lot of photos, consider also turning them into a touching baby photo book.Other gift ideas include things that the baby girl can enjoy as well. Create a custom baby blanket that's as cute as it is functional - it'll help keep them warm at night while looking great inside the home!
Related Products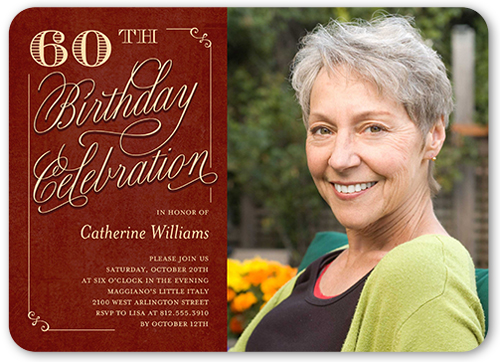 Rustic Elegance Surprise Birthday Invitation. Invite all the guests with this stylish birthday invitation. Just add your favorite photos and all the event details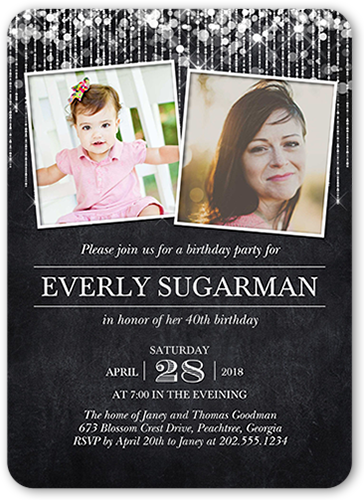 Streaming Celebration Surprise Birthday Invitation. Invite all the guests with this stylish birthday invitation. Just add your favorite photos and all the event details
Chalkboard Celebration Baby Boy First Birthday Invitation. Invite all the guests with this stylish birthday invitation. Add your favorite photos and all the event details