What customers have to say about our Birth Announcements
January 25, 2019
A Hit With All the Family!
"We used this card as a birth announcement and thank you card for our baby shower attendees. It's on a nice heavy cardstock, and the print was super clear. With my first order there was a smear on the return address on the back of the envelope, but no big deal. With the first order I also didn't receive the blank envelopes I ordered. The second order everything was perfect. I would highly recommend!"
January 24, 2019
Very nice cards
"Super classy cards"
January 24, 2019
Great buy
"Looks and feels great. Came so quickly and is such great quality!"
January 22, 2019
So sweet
"Easy to create!sweet design"
January 22, 2019
Love this product!!
"I love the simplicity of this birth announcement, it was easy to make and arrived on time!"
Announce the Big News in a Special Way
At Shutterfly, we're just as excited about the news of your newborn baby as you are. In fact, we want to help celebrate the occasion. Choose from our selection of elegant gold, white and black birth announcements and spread the joy with all your loved ones. Putting together stylish, personal stationery is simpler and more affordable than ever. We can even guarantee delivery time.
Style Is Everything
Announcing your new bundle of joy to the world should be done in style. We offer a huge selection of pre-designed templates, each unique in their own right. First, when choosing your design, find one that closely reflects your aesthetic. We offer classic and contemporary birth announcements as well as whimsical themes, all of which offer their own unique style. Many templates include additional features as well, including
Our templates are some of the most inspiring available and are created by leading stationery designers, including Petite Lemon, Yours Truly, Float Paperie and Vanilla Print. We make room for customization every step of the way, from selecting colors to writing your personal message. Whether you choose blue, green or black birth announcements, we want you to make them your own.
Upload, Design and Send
Getting started on your next Shutterfly project is easy. Begin by signing up for your My Shutterfly account, where you'll be able to upload and store as many photos as you'd like. Once enrolled, you can quickly swap different photos into our templates and save your works-in-progress. Additionally, you'll be able to manage your projects, track your shipments and create new orders on one simple platform. Whenever inspiration hits, you'll be ready at a moment's notice to create something wonderful.
As you begin designing your new birth announcements, keep in mind that you want them to reflect the individuality of your family, encapsulating a bit of your personality. Make your black birth announcements truly unique with inspirational quotes or phrases. You can also opt for premium photo paper and let your baby's picture be the star of the show. Need a break? Take our baby gender predictor quiz.
When your stationery is ready to be sent, we help you save bundles in shipping costs. Our delivery options include
Super rush next day delivery
Expedited shipping
International rates
Standard ground
To simplify things even more, we offer the option to have your cards mailed either to you or directly to the recipients, saving you a trip to the post office. What are you waiting for? Let's create something inspirational today.
Related Products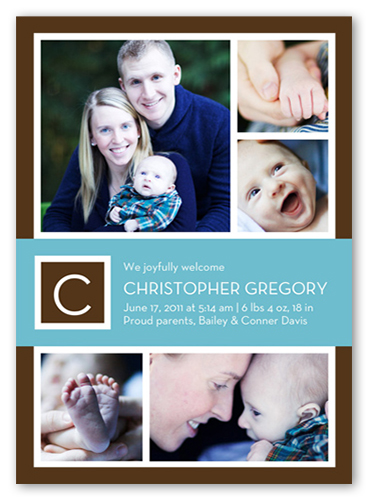 Modern Teal Birth Announcement 5x7 Stationery Card by Stacy Claire Boyd. What a stylish way to be welcomed into the world. A chic cocoa-brown border frames your favorite photos while a teal ribbon holds your baby boy's name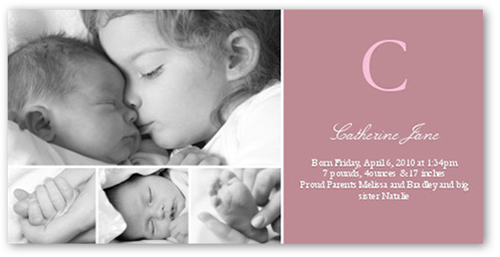 Initial Impression Pink 4x8 Photo Card by Shutterfly. Tell the story of your daughter's first moments with a beautiful collage girl birth announcement. Add your baby's name and a favorite photo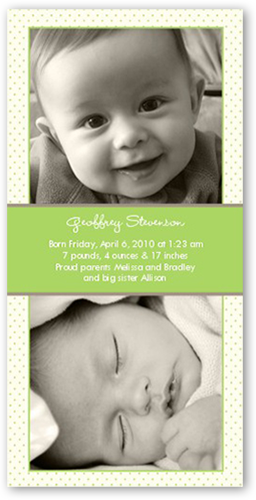 Swiss Dots Green 4x8 Photo Card by Shutterfly. Twice the love. A handsome dotted sage-green ribbon frames two pictures in this sweet baby announcement. It's perfect for twins or any two favorite pictures.