Black Halloween Invitations
What customers have to say about our Halloween Invitations
January 22, 2019
Personalized Card Bliss
"Great quality card made from personal photo and personalized captions. Sometimes a store bought card doesn't capture the sentiment you're trying to portray. This is a fantastic option to create your own!"
January 12, 2019
Shutterfly products always look great!
"If you love one of your photos, turn it into a card! Whether it's a Thank you card, a sympathy card, a birthday card or any other kind of card, it'll turn out great!"
January 10, 2019
It exceeded my expectations
"Great, professional results"
"quick and easy. Great pricing."
January 4, 2019
I love these Birthday Invitations!
"These invitation look even better than I expected. The Pearl Shimmer added a nice touch to it!"
Get Scary with Black Halloween Invitations
You've been waiting for this since last Halloween! It's time to throw another party, and the best way to get a jump on all the fun is to send out scary black Halloween invitations to all your friends. Is September too early? Nah, go for it! This year promises to be the most scary-awesome year yet when you send out customized paper invitations to let your friends know you're taking this season seriously. And, yes, Halloween is a season, even if it's just officially one day. It's one day you are ultra-prepared for with awesome invites in advance.
Find Halloween Invitations for Any Theme
Halloween parties are the perfect chance to pick a theme - or just let your friends go wild! Maybe you want to invite your whole gang over for apple bobbing, candy corn, and horror movies. Or maybe your crowd loves the '80s or can't get enough of animals, so you all dress up in retro-cool outfits or creature costumes. This time of year lets you unleash your creativity, and you can start by selecting Halloween invitations that are customized for exactly what you want to do.
Match Your Halloween Invites with Your Decorations
Whatever you decide, you have to make sure your place is 100% party-ready. Try the Halloween party classics, like cold spaghetti in a bowl to feel like brains and peeled grapes as eyeballs, and have everyone plunge their hands in and see what happens. Expect a few blood-curdling shrieks. Dress up your walls with soft lighting from sconces or candles and don't forget to find a cool soundtrack of howls and ghost noises for the ultimate in the atmosphere. Keep it spooky with special touches everyone will remember, including invitations that match the decorations.
Let The Kids Pick The Invitations
You'll have lots to do when you throw a Halloween party for little ones. Get the kids in on the fun by having them select custom invitations. Your little monsters might love a little monster theme or show them black Halloween invitations with flashes of orange or other colors. The fun is at your place when you involve the whole family.
Related Products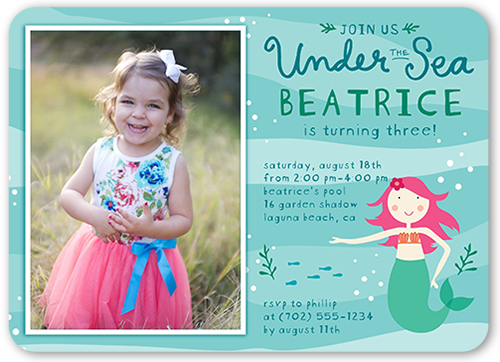 Marvelous Mermaid 5x7 Girls Party Invitations. Invite all the guests with this stylish birthday invitation. Just add your favorite photos and all the event details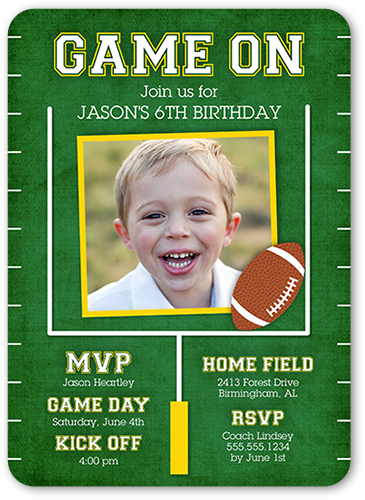 Game On Party 5x7 Custom Birthday Boy Invitations. Invite all the guests with this stylish birthday invitation. Just add your favorite photos and all the event details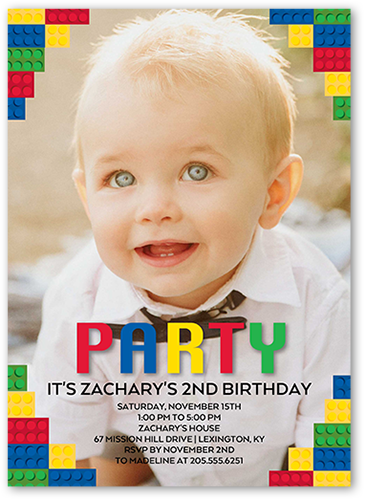 Terrific Party Blocks 5x7 Boys Birthday Invitations. Invite all the guests with this stylish birthday invitation. Just add your favorite photos and all the event details