What customers have to say about our Stickers
January 24, 2019
Turned out Great!
"I had made some labels with my various forms of contact info. I decided that if the print was diagonal, it would show up larger. So I wrote out the info on several lines, then turned that into a .jpeg format. I was happy to find that the print was centered perfectly & no print ran outside or off the labels, and was very clear to read."
January 23, 2019
Just what I wanted
"Very good quality and came earlier than expected. Love them! Good price too."
January 23, 2019
Cute stickers
"Stickers of my kitty. Fun for teens."
January 14, 2019
Just Lovely!
"A nice elegant look. Customization is convenient However, I did not receive my free new user items. Please make sure my account is secure. I am a good customer and there are some recent errors that have never been experienced before. Thank you."
January 14, 2019
Beautiful
"These stickers are so nice but only the sale price makes them affordable."
Get Personal with Black Stickers
If you're the type who loves to make everything you do just that little extra bit of special, then customized black stickers that feature your name, initials, or photos are just for you! A personalized sticker gives everything you send an extra-special touch, so that your recipients know you care about what you're sharing with them. After a while, they'll become a form of special signature. Everyone will know there going to love what's inside when they see your smiling photos or bold, elegant initials.
Use Your Stickers for All Your Correspondence
There's no limit to what you can do with personalized stickers. If you know you're moving soon, they can replace address labels until you're ready to send a moving announcement. They make beautiful seals for envelopes, like a modern version of an ornate wax seal used throughout history. You can even use them in place of having the whole family sign cards by placing one at the bottom after a message. Put them on beautifully wrapped presents, so your recipient knows who gave them such a thoughtful, lovely gift at parties where lots of gifts pile up, like birthdays or baby showers.
Customize Photo Stickers
Deciding on black stickers still leave many avenues for unique customization. Adding photos is a fun way to create stickers that are instantly recognizable - who could forget your smiling face? Select a simple white border around a portrait on a sticker with rounded corners for a contemporary look or try something a little more stately with a ticket-inspired frame inside your stickers. For an ultra-modern look, let your photo fill the whole sticker edge-to-edge while a neat border embellishes the bottom with your name and initial.
Make Stickers For Special Occasions
You'll get the most out of your stickers when you make new versions for the holidays, too. What a surprise that will be for everyone who gets your cards! They're used to your family's signature sticker on most of your correspondence, but you've taken the time to make Christmas or other winter holiday cards special. Create versions with snowflakes or holly for even more fun.
Related Products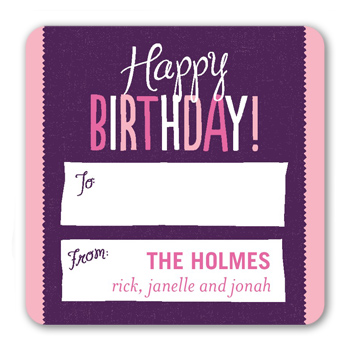 Big Balloon Wishes Girl Personalized Stickers. Customize stickers that will make you or your loved ones smile. Shop now!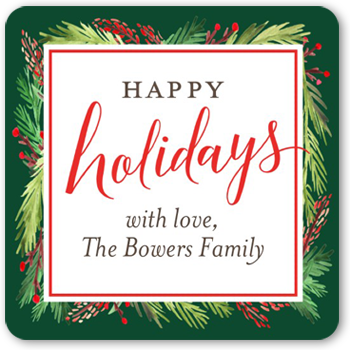 Happy Bordered Foliage Personalized Stickers. Sealed with a smile. These stickers are a great way to add a personalized touch to your greetings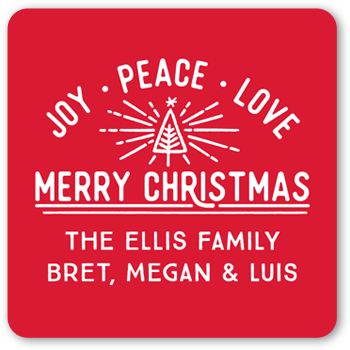 Joyous Tree Burst Personalized Stickers. Sealed with a smile. These stickers are a great way to add a personalized touch to your greetings