What customers have to say about our Holiday Cards
January 27, 2019
I highly recommend this card!!
"Absolutely love this card they came out perfect!"
January 23, 2019
good purchase
"Paper is excellent quality as is the envelope. Shipping can be high unless you are ordering a larger number of cards but I only bought one."
January 23, 2019
I will absolutely use this product again.
"The first time I have used Shutterfly for our annual greeting card. Very pleased and will use again."
January 22, 2019
Chinese New Year
"Christmas came too soon. No cards went out. New Year's came and went! Still no cards were sent out. But thanx to Shutterfly, made it for a Chinese Greeting! Beautiful cards front and back with pictures of family sent! Halleluah!!!!!"
January 22, 2019
I looved these cards and they arrived so quickly!
"Shutterfly makes last minute projects easy .. I love these holiday cards and continue to make photo books each month with their app as well as edits on desktop site. I love Shutterfly!"
Blue Holiday Cards
Everyone has his or her own take on what goes into making a good card for Christmas and the surrounding holidays. Some people put a great deal of effort into making each one by hand, personally addressing them to each recipient, while others try to save time by purchasing a box from their local retailer. If you find yourself somewhere in the middle of these two attitudes, wanting to add a personal touch without having to donate hours upon hours to the process, then you might consider investing in a set of blue holiday cards from Shutterfly.
Make Your Choices
Just because Shutterfly is an online retailer does not mean that you are held back from being able to make these blue holiday cards unique. With our stationery products, we give our customers plenty of flexibility in order to make their order a fun and eye-catching set of cards that also reflects their lifestyles and personalities.
We have designs ranging from simple holiday greetings with only words to more elaborate foil-stamped Christmas cards composed of personal photos of your choice. In addition, you can leave space on which to type or handwrite your own messages as well as choose a paper type and trim. By the time you're finished, you will have an order of holiday cards that any of your recipients will be happy to put up on their refrigerators.
Prepare for What's Next
Though the holiday season is certainly one of the most demanding times of the year from a stationery perspective, it is far from the only occasion in which you are going to need to send notifications out to your friends and relatives. Fortunately, Shutterfly has your back with a wide selection of cards and more for just about every kind of event. Whether you are throwing a bridal shower for your sister or one of your kids is graduating, be sure you get the word out in style.
Related Products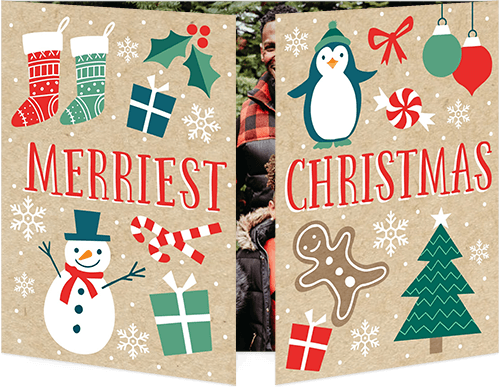 Festively Simple 5x7 Gate Fold Card by Stacy Claire Boyd. Let your story unfold with this unique card that opens up from the middle to reveal your photos like a present. Enjoy more room for photos and text than a ...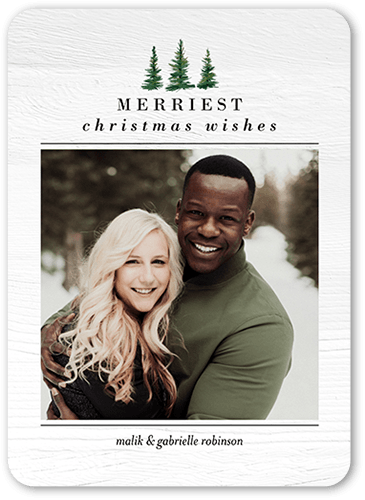 Simple Sheen 5x7 Personalized Foil Card by Petite Lemon. Send a Christmas card friends and family will love. Add your own greeting and everyone's names. There's room for more photos and wishes on the back, too.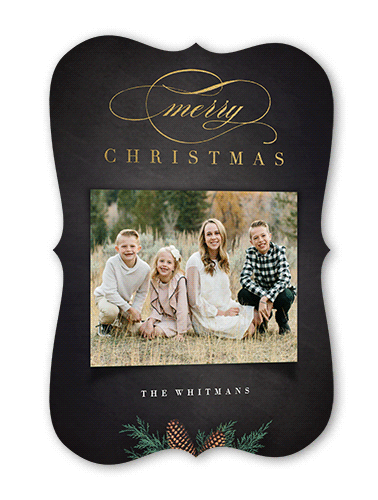 Swirling Merry 5x7 Stationery Card by Stacy Claire Boyd. Send a Christmas card friends and family will love. Add your own greeting and everyone's names. There's room for more photos and wishes on the back, too.