What customers have to say about our RSVP Cards
January 11, 2019
Almost Perfect
"Very similar response to the invitations we got. Love the style. There were three lines on the left that can't be removed. We truly had no use for them since we are having a buffet style course. So I had to get a bit creative. I used them as bullet points or spot to do check marks. So with that I love that we made our RSVP cards more unique and people will remember them (hopefully)."
November 21, 2018
So, so beautiful
"These were simple, clear, and elegant and when I needed to re-order in a rush due to my error Shutterfly's customer service was amazing and so helpful. The pearl shimmer paper is definitely a worthwhile investment by the way. The subtle shimmer added an extra touch of fancy to such a simple item."
November 17, 2018
I would definitely buy again.
"I love the way my wedding invitations, RSVP cards, and wedding shower invitations turned out. The quality was amazing. I would highly recommend shutterfly to anyone!!@"
"absolutely beautiful."
October 28, 2018
Beautiful RSVP cards
"These came in on time and looked beautiful! They were thick and I loved the silver foil. Return and recipient addressing came out great and they looked amazing with the matching invitations."
Blue RSVP Cards
A perfectly planned wedding needs the perfect wedding stationery—including that all-important RSVP card. Knowing exactly how many people will be celebrating with you ensures your reception will go off without a hitch. Whether you're inviting everyone you know or just your closest friends and family, gather your guests with blue RSVP cards from Shutterfly.
From the softest sky blue to bold aqua or rich sapphire, blue is a gorgeous choice for your wedding. With personalized wedding stationery, you can bring the blue wedding of your dreams to life.
Personalized Stationery for Your Big Day
RSVP cards are the cherry on top of your wedding invitations. They provide a simple (not to mention elegant) way for your invitees to accept or regretfully decline your invitation so you can plan for the right number of seats and meals on your big day.
With Shutterfly, you can choose from a range of stunning, contemporary RSVP cards that coordinate with your blue wedding invitations and can be completely personalized to reflect your bridal style. Our collection of beautiful blue RSVP cards includes modern designs and styles like:
Floral: RSVP cards designed with delicate flowers, blooms and bouquets give your stationery suite a soft, chic touch. Find a design that coordinates with your chosen wedding flowers for a sweet look.
Watercolor: Pops of color, artistic brushstrokes and striking watercolor flowers make your RSVP cards trendy and positively dazzling.
Foil-Stamped: RSVP cards stamped with real foil are sure to impress your guests. Choose from gold, rose gold or silver foil-stamped accents to make your stationery glow.
Classic: For the bride with classic, timeless taste, choose from a variety of traditional blue RSVP cards featuring elegant calligraphy and sophisticated color palettes.
More Wedding Stationery
Complete your blue wedding stationery suite with matching enclosure cards. Find more inspiration with our collection of wedding day stationery, including blue wedding programs, place cards and menus.
Related Products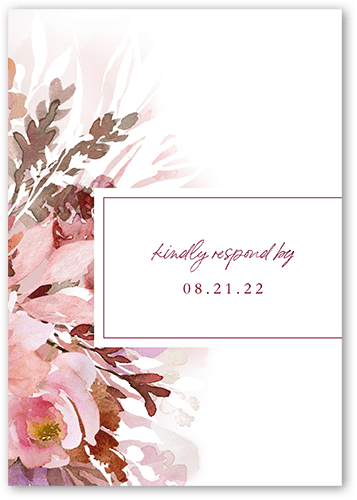 Botanical Burst RSVP Card by Lady Jae. Request the favor of their reply with a stylish response card designed to match your wedding invitations.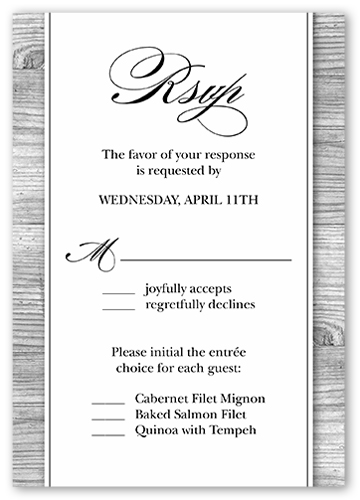 Chalk Wood Frame Wedding Response Card. Request the favor of their reply with a stylish response card designed to match your wedding invitations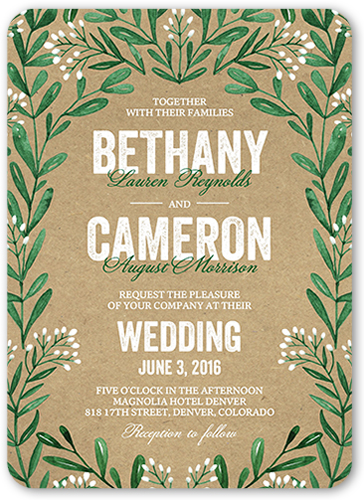 Exquisite Filigree 5x7 Wedding Invitations. Send guests a wedding invitation that perfectly expresses your style. All you need are the details of your big day