What customers have to say about our Birth Announcements
January 25, 2019
A Hit With All the Family!
"We used this card as a birth announcement and thank you card for our baby shower attendees. It's on a nice heavy cardstock, and the print was super clear. With my first order there was a smear on the return address on the back of the envelope, but no big deal. With the first order I also didn't receive the blank envelopes I ordered. The second order everything was perfect. I would highly recommend!"
January 24, 2019
Very nice cards
"Super classy cards"
January 24, 2019
Great buy
"Looks and feels great. Came so quickly and is such great quality!"
January 22, 2019
So sweet
"Easy to create!sweet design"
January 22, 2019
Love this product!!
"I love the simplicity of this birth announcement, it was easy to make and arrived on time!"
Baby Boy Birth Announcements
In a world where it easy to instantly announce big occasions such as a baby birth via social media and texts, it is easy to lose the personal touch that brings people closer together. Although it is perfectly acceptable to let your acquaintances know about your newest addition via social media, it is important to mail baby girl or baby boy birth announcements to those who are closest to you. Here are a few more birth announcement etiquette tips to help you inform your family and friends of the big news in a proper way.
Finalize Your List of Announcement Recipients
While you are most likely eager to show off your little one to as many people as possible, it might seem strange for someone who didn't even know you were pregnant to unexpectedly receive a birth announcement. For this reason, you should consider reserving your announcements for close friends, family members (even those who live in other states or countries) and colleagues.
When to Send Birth Announcements
Life suddenly becomes busier after a new baby arrives, so it is easy to get distracted and postpone putting your cards in the mail. However, the older your baby gets, the stranger it will be for your friends and family to receive a late announcement. Try to get your cards in the mail as soon as you can after the baby is born, and no later than six months after birth. While you're busy getting pictures of your little bundle of joy for the announcements, consider taking the opportunity to create a photo book starring your newest family addition.
What Information Should Be Included on the Announcements?
While you are free to get creative with the general wording of your birth announcements, they should at least include basic information about the baby, including his or her name, birth date, weight and length. The names of the parents and any older siblings should also be mentioned on the cards.
Related Products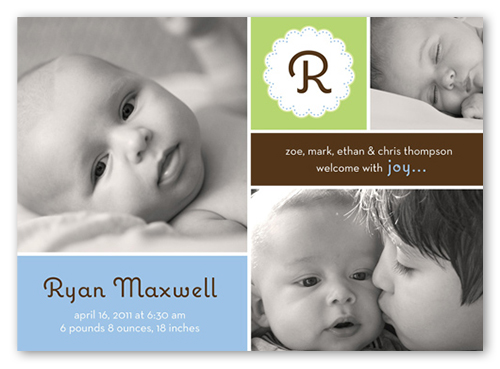 Happy Baby Boy Birth Announcement 5x7 Stationery Card by Stacy Claire Boyd. It's a happy baby boy. Show off photos of your newest arrival surrounded by his name and initial in whimsical fonts designed in chic hues of mint, sky ...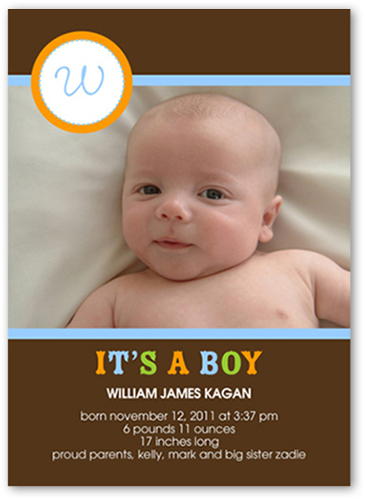 It's A Boy 5x7 Photo Card by Shutterfly. It's a boy. Let the world know it with a favorite photo and a sweet monogram initial. Colorful fonts make a statement above birth details in this modern baby announcement.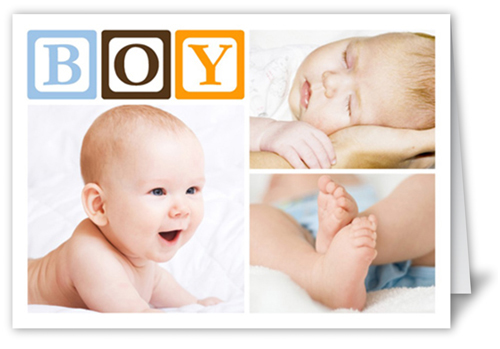 Baby Blocks Boy 5x7 Greeting Card by Stacy Claire Boyd. It's a boy! Vintage building blocks in modern colors give this buy baby announcement retro appeal. A clean design lets you add three of your favorite photos of the little ...