Chalkboard Address Labels
What customers have to say about our Address Labels
"VERY CUTE"
January 26, 2019
Delightful!
"I love the delicate design and lavender color."
"Pretty lables"
"Can't wait to use these cute adress lables!"
January 23, 2019
Love these labels!
"Cute labels, easy to read, fun to make. I have bought several different types now and love them all! Great gifts for grads, new babies, newlyweds, housewarming presents...you name it!!"
Make Your Mail Stand Out with Chalkboard Address Labels
Sending mail the "old-fashioned way" is a nice surprise for family and friends, especially if you include a unique chalkboard address label to make it more personalized. Whether you're mailing out save the date cards or thank you cards, sending out something with a custom address label by mail is a special treat. From rustic chalkboard labels to sweet floral designs, Shutterfly has options for you to design the chalkboard address label of your dreams. With so many choices, it's easy for you to create a return address label that is perfect for your personality and style.
How to Create a Custom Address Labels Template
When creating a chalkboard address label template, the first step is to decide on the text you want the custom labels to contain. While it may seem straightforward, there are actually many decorative decisions you can make when deciding how to create a chalkboard address label. You should determine how you want your name to appear, the font size, and the font style you want to use on the address label. If you're designing a chalkboard address label template that is meant to be used by the whole family, such as with a holiday card, you can decide to refer to yourselves as a family, bunch, clan, or just go simple with only your last name. You also need to decide whether you want to use a chalkboard address label with designs, like festive winter-temed return address label. Alternatively, you can go sweet and simple with return address labels that are more minimalistic.
When to Use Personalized Mailing Labels
From birthday parties to anniversaries, chalkboard address labels are great for all occasions. Create more general address labels to serve multi-functional uses or design your custom labels to be event-specific for a special touch your friends and family will adore. Regardless of the design you choose, be sure to proofread your address labels before purchasing. Address labels are a great way to simplify the process of sending out mail. If you're planning to send out many cards at once, address labels can save you time (and the aching hand) that comes with writing out your address by hand many times over. No matter what you decide, those close to you will appreciate the special touch of a custom address label from you.
Related Products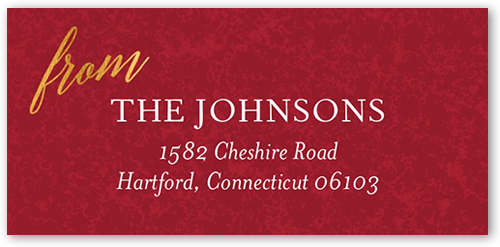 Big Merry Overlay Wedding Address Label. Address your envelopes with stylish address labels. Corresponding invitations, gift tags and thank you cards are also available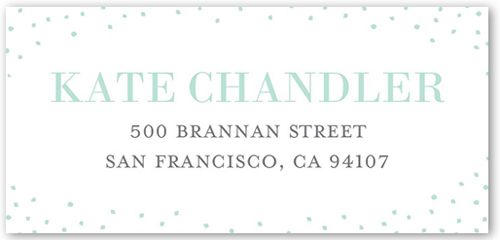 Dreamy Wedding Address Label. Address your envelopes with stylish address labels. Corresponding invitations, gift tags and thank you cards are also available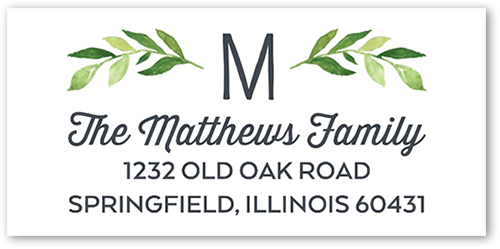 Garden Vows Wedding Address Label. Address your envelopes with stylish address labels. Corresponding invitations, gift tags and thank you cards are also available