Christmas Address Labels
What customers have to say about our Christmas Address Labels
January 23, 2019
love it!
"The picture I used, was one I took in Africa. They came out fantastic!!! Thanks Shutterfly!!"
January 23, 2019
I will absolutely use this product again.
"Very attractive."
January 22, 2019
Address Labels
"I made these to match the wedding invitations I made on Tiny Prints."
January 21, 2019
Great Quality
"I wish I bought more!"
January 21, 2019
My family looks forward to this every year!
"Each year I make a calendar for my very large family and include the 75+ birthdays and anniversaries with pictures to enjoy. It's always a holiday favorite!"
Personalized Christmas Address Labels
It is never too early to start planning your holiday time correspondence. This winter season, up your holiday card with Christmas address labels from Shutterfly. Whether your Rolodex features those who are nice or people from the naughty list, you can send them a beautiful note of season's greetings right to their mailbox this year.
Designing Your Unique Labels
Shutterfly makes it easier than ever to upload your favorite pictures and turn them into beautiful cards for Christmas, birthdays and other holidays. This Christmas, you can send your greetings in style with our one-of-a-kind mailing address labels. There are dozens of options to match your holiday greeting card, or you can pick your favorite from a variety of stylish, festive templates. From there, it's easy to customize the fonts, colors, and wording for complete holiday stationery sets that are truly unique and elegant. The easy-peel labels are professionally printed on quality paper, and Shutterfly will send your custom labels directly to your door.
Alternative Uses for Address Labels
Is your fruitcake the hit of every party? Wrap it in brightly-colored tissue and secure with an address label to guarantee your next party invite. (For an even better present to show up to a party with, wrap a bottle of wine in a similar fashion for the perfect hostess gift. Wine will ensure you remain on the nice list). Return address labels make for easy additions to RSVP cards, too, and can be included with the little ones' belongings to make sure they don't get lost when frolicking between holiday parties.
Creative Holiday Gifts
Do you have your Christmas cards ready for the mailbox but aren't sure what else to get for your loved ones? Shutterfly has dozens of unique photo gifts that make the perfect presents for moms, dads, grandparents and all the special people in your life. Choose between personalized fleece blankets and pillows for those cold winter nights, or water bottles and customized iPhone cases for the active, busy bees in your life. Shutterfly makes it super simple to create the perfect, unique gift to match every personality on your nice list.
This holiday season, step your Christmas card efforts up a notch by learning how to display Christmas cards properly. Shutterfly makes it a no-brainer (and makes it easy) for you to have elegant correspondence that reflects both your personality and the joy of the season.
Related Products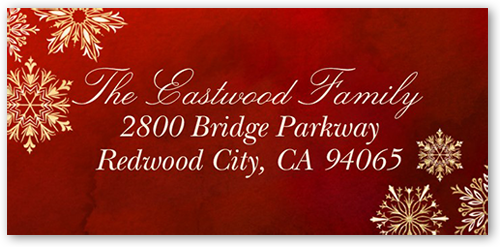 Gilded Snowflake Frames Christmas Address Labels. Address your envelopes with stylish address labels. Corresponding invitations, gift tags and thank you cards are also available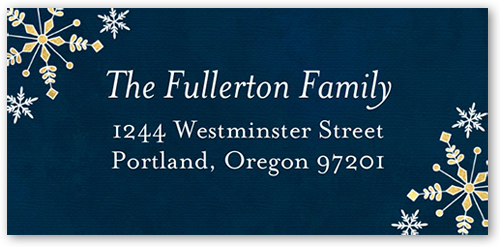 God's Abundant Love Christmas Address Labels. Address your envelopes with stylish address labels. Corresponding invitations, gift tags and thank you cards are also available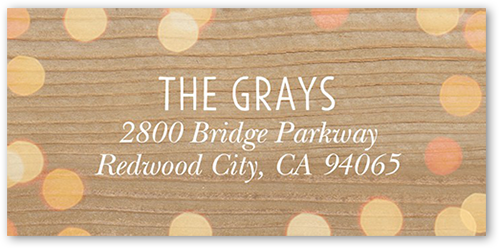 Shiny Joyful Bokeh Christmas Address Labels. Address your envelopes with stylish address labels. Corresponding invitations, gift tags and thank you cards are also available