Christmas Invitations
What customers have to say about our Christmas Invitations
January 23, 2019
good purchase
"Paper is excellent quality as is the envelope. Shipping can be high unless you are ordering a larger number of cards but I only bought one."
January 22, 2019
Chinese New Year
"Christmas came too soon. No cards went out. New Year's came and went! Still no cards were sent out. But thanx to Shutterfly, made it for a Chinese Greeting! Beautiful cards front and back with pictures of family sent! Halleluah!!!!!"
January 22, 2019
Cool Invite
"Cool design. Nice quality card. Much nicer than the cards with photos."
January 15, 2019
I have so much fun using my pictures on products.
"I have so much fun making unique gifts with my pictures. It makes me feel professional when I am very much an amateur."
January 14, 2019
Outstanding customer service
"The customer service agent who helped me with order 003086838129-9000112 was extremely helpful. I had problems making a Christmas card and she solved all of them. The Card was perfect with her changes. She was very kind and patient. I had an unavoidable interruption while we were working together and she assured me that she would wait on the phone until I could continue. She was committed to help me in every way she could. This was a unique customer service experience! Please thank her for me."
Customize Your Christmas Invitations
If you are planning on hosting a holiday soiree this winter, it is important to send out Christmas party invitations long before the stockings are hung by the chimney with care. This winter season, invite your friends, family and loved ones over with festive, custom invitations from Shutterfly. Holiday parties are a tad easier to throw with help from Santa's other helper, Shutterfly.
Designing the Invitations
Don't let finding the perfect Christmas party invitations worry you. Whether you live over the river and through the woods or in a town near the brightest lit tree, Shutterfly has the perfect option for your Christmas cards. Simply find the one you like the best and choose your favorite design elements, fonts and messaging. Some of the templates even offer the option of uploading your favorite photographs (so you can let your invitations double as your yearly Christmas card).
There are plenty of informational tidbits to include in your invitations, but don't worry—Shutterfly has the basics covered with a place to put all of the important details. Make sure you include important information like the date, time and address of your holiday party on your invitations. Be sure to order your invitations with plenty of time to mail out, too. Including an RSVP-by date and contact can be very helpful with your holiday party planning. Step your holiday party invitations up a notch with corresponding Christmas address labels in a variety of festive styles.
Throwing the Party
Christmas is a time for love and cheer and your party should be no different. Whether you are hosting an elegant, holiday-themed brunch or planning to rock around the Christmas tree, party planning shouldn't be stressful. Once you know how many people to expect, you can easily plan the menu, decorations and even think about playing festive games. Consider a special area for the little ones to eat sugarplums and play their own special holiday games like "pin the red nose on the reindeer." If you are stumped with decoration ideas, Shutterfly has plenty of customizable home decor options to help your holiday shine bright.
The holidays are a wondrous and magical time. Shutterfly makes it easier than ever to throw the perfect holiday gathering, whether your guests are enjoying a festive brunch or coming to trim the tree. From the first Christmas party invitation to the finishing decorative touches, you are sure to be the hit of the season.
Related Products
Sparkle Party 5x7 Stationery Card by Clover. Another year older. Another year of fun. Invite all the guests with this stylish birthday invitation. Just add your favorite photos and all the event details.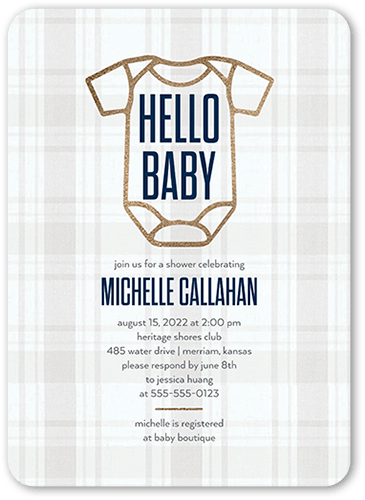 Onesie 5x7 Stationery Card by Éclair Paper Company. Shower her with love and a stylish baby shower invitation. Personalize it with the party details.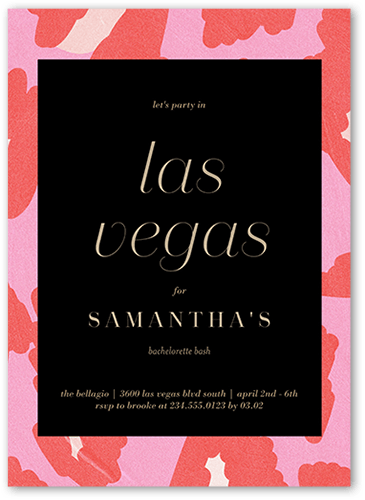 Party Destination 5x7 Stationery Card by Kelli Hall. Ready to party? Invite all the girls to a fabulous fete with bachelorette party invitations.