Christmas Photo Cards
What customers have to say about our Christmas Photo Cards
January 23, 2019
good purchase
"Paper is excellent quality as is the envelope. Shipping can be high unless you are ordering a larger number of cards but I only bought one."
January 22, 2019
I looved these cards and they arrived so quickly!
"Shutterfly makes last minute projects easy .. I love these holiday cards and continue to make photo books each month with their app as well as edits on desktop site. I love Shutterfly!"
January 20, 2019
Super fast turnaround time
"I was swamped over the holidays and logged in to Shutterfly in early January to see I was not alone. New Year's card styles were great! I used a coupon and ordered them. Shutterfly had them done and delivered by the end of the week, 3 days before anticipated! Thank you!"
January 18, 2019
Perfect new years card!
"I LOVE all my shutterfly holiday cards - but sometimes need a less expensive one with same quality and this is perfect! LOVE shutterfly"
January 16, 2019
Just the Right Thing!
"Because the family could not be together before Christmas, we chose to send a New Years card this year. My husband and I have only been married for four years and we wanted to send a "blended family" greeting this year. The layout provided by Shutterfly was perfect for our needs."
Christmas Photo Cards
This year, make Christmas photo cards to share with friends and family that update them on your holiday season. Whatever your holiday traditions may hold, we have the perfect Christmas card for you! If you're searching for Merry Christmas sentiments, we have those. How about Happy Holidays? Got those too! This year are you sending out joyful tidings with a Feliz Navidad sentiment? Check, check and check! When you make your Christmas photo card or your Christmas invitations list this year, using Shutterfly means you won't have to check it twice. From modern and whimsical, to specific themes including just married, iconic Christmas and religious, our custom holiday cards make it easy for you to find what you're looking for.
How to Make Christmas Photo Cards
Our Christmas cards can feature all of your family's special memories and favorite photos this winter season, with the number of photos per card varying from 0 to 4+. Your loved ones won't miss out on any of the festive cheer, and you will show off the wintertime spirit in style thanks to our other features, which include a variety of trim options as well as design hues to choose from to make your Christmas photo card stand out. Our new collection of holiday card designs are fresher than a crisp layer of snowfall and will complement your family photos to their full potential. We pride ourselves on the fact that you get to personalize your Christmas cards and Christmas thank you cards for being true to you.
Create Personalized Christmas Cards That Stand Out
Stand out from every other holiday card this year, whether you're sending company Christmas cards or Season's Greetings for friends and family. No one wants to receive or send out the same old, run-of-the-mill Christmas greeting cards and Shutterfly helps you avoid just that. With premium cardstock offerings including; photo paper, signature and pearl shimmer and an option of paper finishes, your Christmas photo card may be the best one unwrapped this Christmas. Add a touch of glamour to your season's greetings with personalized foil cards that are sure to impress your recipients. If you're looking for something more traditional, matte photo cards are a fantastic way to say Merry Christmas to your loved ones.
Upgrade Your Christmas Photo Cards
One thing we all dread about Christmas cards is addressing the envelopes and guess what, we are here to help with that. Save time with mailing services and allow us to address those pesky envelopes while you wrap gifts in front of the fire with a tall glass of eggnog. No matter what type of holiday sentiment you are looking for this year, we have got you covered. This year's personalized Christmas card will be so great that it ends up on the refrigerator next to the report cards. If you missed Christmas, you can always send custom New Year's cards to ring in the new year with your loved ones! And if you need something special to leave under the Christmas tree, be sure to create personalized gifts, kids gifts, or personalized Christmas ornaments your friends and family will cherish forever.
Related Products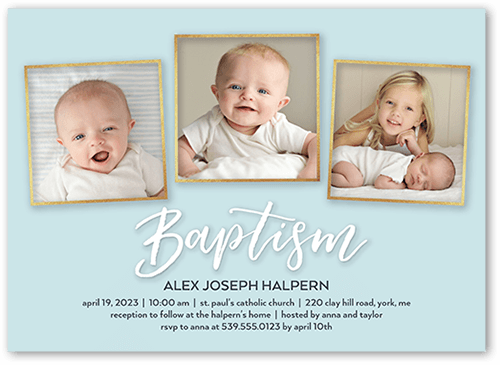 Bright Twinkle Boy 5x7 Photo Card by Shutterfly. Invite everyone to this memorable and blessed occasion. Personalize this baptism invitation with all the event details.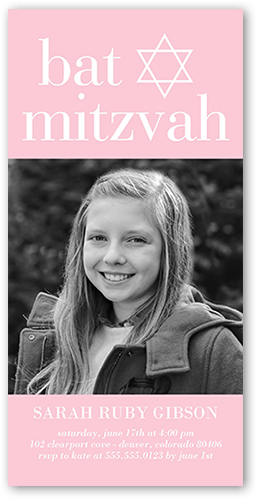 Bright Block 4x8 Photo Card by Shutterfly. Mazel Tov! Celebrate your daughter's Bat Mitzvah with a personalized Bat Mitzvah invitation. Just add her photos and event details.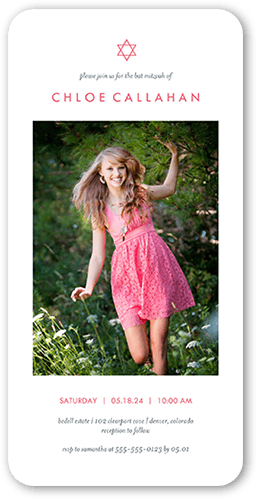 Minimal Star 4x8 Photo Card by Shutterfly. Mazel Tov! Celebrate your daughter's Bat Mitzvah with a personalized Bat Mitzvah invitation. Just add her photos and event details.