What customers have to say about our Christmas Cards
January 27, 2019
I highly recommend this card!!
"Absolutely love this card they came out perfect!"
January 23, 2019
good purchase
"Paper is excellent quality as is the envelope. Shipping can be high unless you are ordering a larger number of cards but I only bought one."
January 23, 2019
I will absolutely use this product again.
"The first time I have used Shutterfly for our annual greeting card. Very pleased and will use again."
January 22, 2019
Chinese New Year
"Christmas came too soon. No cards went out. New Year's came and went! Still no cards were sent out. But thanx to Shutterfly, made it for a Chinese Greeting! Beautiful cards front and back with pictures of family sent! Halleluah!!!!!"
January 22, 2019
I looved these cards and they arrived so quickly!
"Shutterfly makes last minute projects easy .. I love these holiday cards and continue to make photo books each month with their app as well as edits on desktop site. I love Shutterfly!"
Craft Christmas Cards
Spread the holiday cheer with creative and festive DIY Christmas cards. A thoughtful, custom Christmas card made by you will show your family and friends that you genuinely care. From quick and simple Christmas card crafts to more detailed Christmas card ideas, it's easy to make your perfect holiday greeting with Shutterfly. Get your kids involved and make holiday cards together as a fun and creative Christmas craft. Let them choose the designs for your cards and spend quality time together with this DIY kids craft project. Whether you're prioritizing time with family above shopping or choosing Christmas photo cards to personalize, there are plenty of ways to make this holiday season a meaningful time for you and all of your loved ones.
How to Make DIY Christmas Cards
Shutterfly makes it easy to personalize your DIY Christmas cards with an intuitive card helper that walks you through all customization settings. The process of Christmas card making is fun Christmas craft you can do online. Simply select a craft Christmas card template you like, then choose your preferred color and size from the options listed on the page. Click the "Personalize" option, and then select photos or art that you want to include on your holiday card. You can upload photos directly from your computer, or choose to import them from various social media sites. Most templates also give you the option of including a short personal Christmas greeting on the front of the card. Making Christmas cards together is one of the best ideas for your family members who are creative and love showing their artistic side. Together, choose the photos you want to feature this year so you can send a festive card to loved ones this holiday season. If they enjoyed creating DIY Christmas card, start another holiday craft by making Christmas ornaments for the tree or personalized Christmas gifts for friends and family members.
DIY Christmas Card Craft Ideas
Our Christmas photo cards come in a wide range of fun and festive designs. Each Christmas and holiday card template comes with several color and size options so you can customize cards before you buy them and make them uniquely yours. Get creative with fun embellishments, glittery and foil card designs, and the photos you choose for your Christmas cards. For inspiration on a fun kids project and unique photo cards, consider these DIY Christmas card ideas:
Family photo cards: Use a festive snapshot of your household to make your own Christmas cards that your loved ones will want to hang on the fridge year-round.
Pet Christmas cards: Make your four-legged friend the star of this year's card with a custom holiday card to send pawliday greetings to your fellow animal lovers.
Festive card designs: Adorn your kids craft Christmas cards with traditional holiday images like Santa Claus, reindeer, snowflakes, or a snowman.
Handmade Christmas cards: Send a homemade Christmas card along with your personalized Christmas cards. Your family and friends will adore seeing the hard work your family put into your Merry Christmas greeting.
Once you've made a Christmas card craft you love, it's time to send them off to your family and friends. For extra customization, add some Christmas personalized address labels to your order. After completing your order, you can choose if you want your DIY Christmas cards sent to you, or let us take care of it. We'll stuff, print, stamp, and mail your cards straight to your recipients for you!
Related Products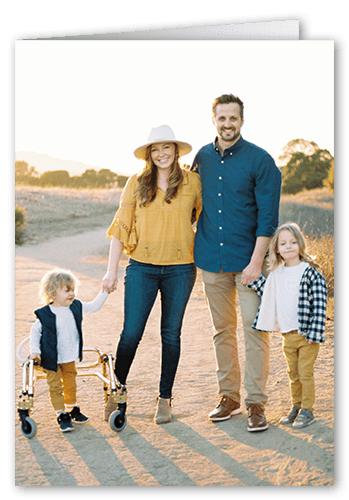 Picture in Portrait Religious Christmas Cards. Celebrate any occasion with this classic greeting card. You can add pictures on the front cover and place photos on the inside panels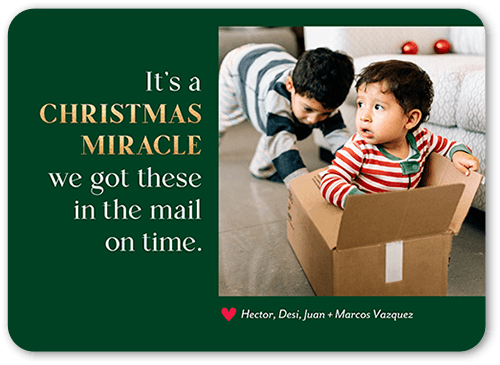 Christmas Miracle 5x7 Stationery Card by Jill Smith. Send a Christmas card friends and family will love. Add your own greeting and everyone's names. There's room for more photos and wishes on the back, too.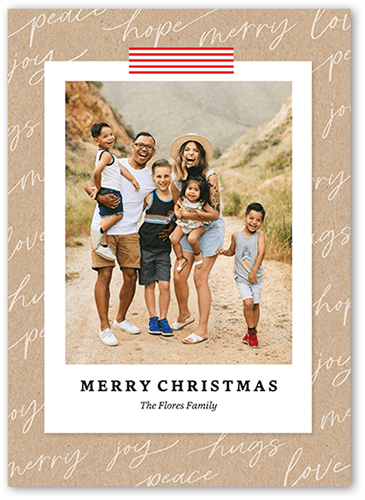 Christmas Polaroid 5x7 Stationery Card by Yours Truly. Send a Christmas card friends and family will love. Add your own greeting and everyone's names. There's room for more photos and wishes on the back, too.