What customers have to say about our Stickers
January 24, 2019
Turned out Great!
"I had made some labels with my various forms of contact info. I decided that if the print was diagonal, it would show up larger. So I wrote out the info on several lines, then turned that into a .jpeg format. I was happy to find that the print was centered perfectly & no print ran outside or off the labels, and was very clear to read."
January 23, 2019
Just what I wanted
"Very good quality and came earlier than expected. Love them! Good price too."
January 23, 2019
Cute stickers
"Stickers of my kitty. Fun for teens."
January 14, 2019
Just Lovely!
"A nice elegant look. Customization is convenient However, I did not receive my free new user items. Please make sure my account is secure. I am a good customer and there are some recent errors that have never been experienced before. Thank you."
January 14, 2019
Beautiful
"These stickers are so nice but only the sale price makes them affordable."
Seal it With Custom Color Stickers
Give your stationery collection a beautiful and versatile finishing touch with custom color stickers from Shutterfly. Whether you're looking for that perfect finishing touch to put on holiday mailers or a little all-year flair for gifts, these custom stickers make a great choice. Check out the entire collections of designs to find the one you'll make your own with the personalization process.
Giving Custom Color Stickers a Personal Touch
Shutterfly offers a creatively rewarding design process that's guided. A series of prompts help you choose your favorite hue from the custom color palette. Once you do, the design you chose will dictate whether you add photos, text, or both. The stickers you design come in sheets of 24, making them perfect for invitation mailing, gift labels, and more. Rounded corners help soften the look and provide a contemporary finishing touch.
The Many Uses of Custom Color Stickers
Sure, they are stylish, but the custom color stickers from Shutterfly are also incredibly useful. Use them to:
Label Packages: Custom stickers make a great gift tag. Stick them on the outside of presents, gift bags, or even on the side of a wine bottle.
Envelope Seal: Give your envelope a chic finishing touch by sealing the flap with a decorative sticker. This modern take on traditional wax seals makes an instant impression.
Labeling Items You Loan: Do you loan out movies, games, and other items to friends and family members? Label the item with a custom sticker and the borrower will remember where it came from.
Label Children's Items: Place a custom sticker on the inside of a backpack or lunchbox and it will never end up in the lost and found again.
Coordinating Custom Stickers with Your Stationery
If you had fun designing your custom stickers, check out the rest of the stationery items offered by Shutterfly. The same guided design process allows you to coordinate each of the items to look great with one another. Custom folded note cards and gift tags are great go-to items to have on hand any time you need to write a quick note or send a message of appreciation.
Related Products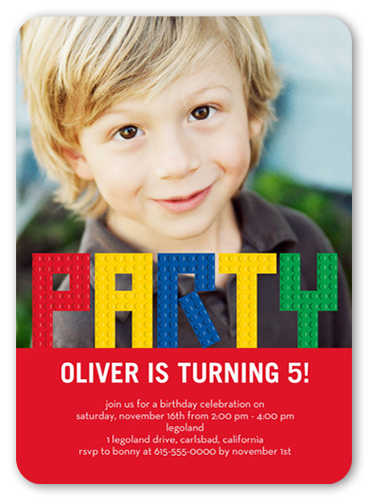 Lego Party 5x7 Boy Birthday Invitations. Invite all the guests with this stylish birthday invitation. Just add your favorite photos and all the event details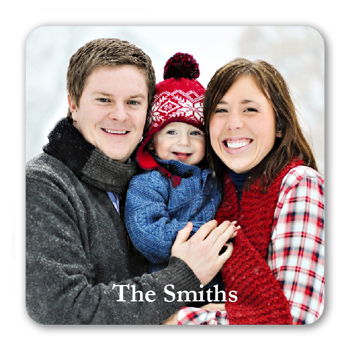 Basic Custom Stickers. Customize stickers that will make you or your loved ones smile. Shop now!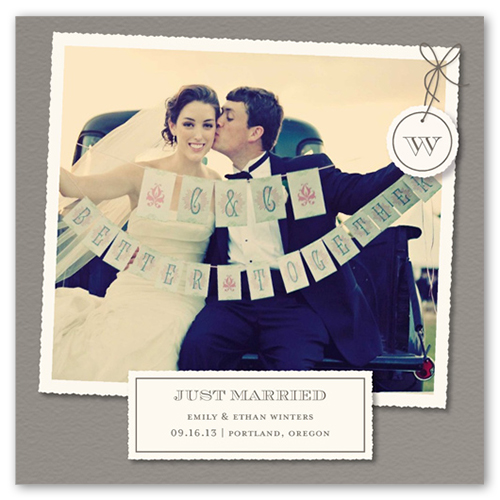 Just Got Married 5x5 Flat Wedding Announcements. I thee wed. Announce your wedding in style with a favorite photo and the celebration details on this wedding announcement