Discount Baby Shower Invitations
What customers have to say about our Baby Shower Invitations
January 26, 2019
I would buy this again definitely!
"This invitation is beautiful I just wish the liners that came with it stuck better"
January 25, 2019
Perfect invite
"These are so cute and came exactly as I expected. Love them!"
January 24, 2019
In love with the shower invites
"These invites are so cute. They came just as ordered. I love shutterfly. They never disappoint."
January 22, 2019
I would buy this product again.
"Bought this for my baby shower invitations and it exceed my expectations."
January 21, 2019
I really liked my purchase experience
"I needed to order baby shower invites. I was pleasantly surprised to find out I could have Shutterfly take care of the invitees addresses, return addresses, and stamps! What a time savor! And the invitations are adorable!!"
Discount Baby Shower Invitations
Hosting a baby shower on a budget? You don't have to settle for generic boxed invitations. At Shutterfly, you can create custom invitations that are both affordable and adorable. Whether you need invitations for a girl or a boy, we offer a great selection of discount baby shower invitations you'll love.
Save Money in Style with Discount Baby Shower Invitations
Featuring classic styles to whimsical designs, discount baby shower invitations from Shutterfly give an elegant look without the extravagant cost. Our affordable cards provide space for both a photo and text atop vibrant colors and patterns. Celebrate the mom-to-be with a maternity photo, or let the baby steal the show with a recent sonogram image. Keep it simple with a traditional polka dot design, or choose a modern look featuring a trendy baby banner or stripes. You could even have some fun with one of our darling animal-themed invitations. Choose from zoo babies, woodland creatures, or safari friends.
We print all of our discount baby shower invitations on quality photo paper in your choice of size. Choose a glossy or matte finish or soften the look with rounded corners. Customize your invitation with a different font or change the wording to match your personal style.
Complement Your Discount Invitations with a Custom Gift
When deciding what to write on your baby shower invitations, you can choose to stick to the basics or add a cute rhyme. Feel free to use our baby shower invite wording ideas, or write your own! Don't be afraid to get creative. Baby shower invitations can be casual or formal and usually set the tone for the party. Traditionally, you'll want to include the mom's name, date, location, and RSVP information on your invitation. If room allows, you could also include registry information or specific instructions for your guests.
With Shutterfly's easy personalization, cheap baby shower invitations are anything but boring. You can get a unique look no matter what your budget is. You may even have enough leftover for a fabulous custom gift for your guest of honor, like a personalized frame or photo cube for the nursery.
Related Products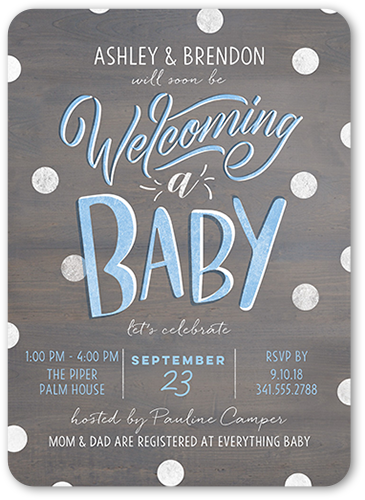 Amazing Type Boy 5x7 Baby Shower Invitation Cards. Shower her with love and a stylish baby shower invitation. Personalize it with the party details.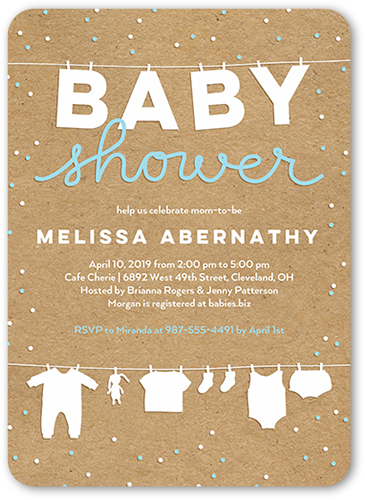 Cute Linens Boy 5x7 Baby Shower Invitation Cards. Shower her with love and a stylish baby shower invitation. Personalize it with the party details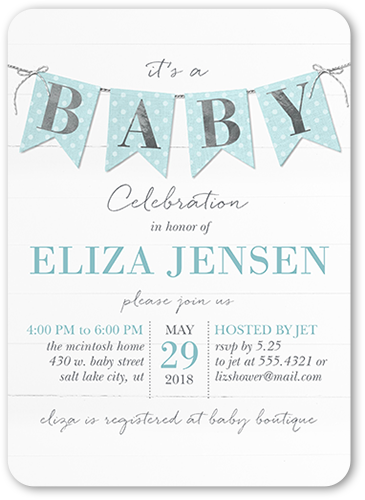 Cute Pennant Boy 5x7 Baby Shower Invitation Cards. Shower her with love and a stylish baby shower invitation. Personalize it with the party details