Address Labels for Him
What customers have to say about our Address Labels for Him
January 21, 2019
My family looks forward to this every year!
"Each year I make a calendar for my very large family and include the 75+ birthdays and anniversaries with pictures to enjoy. It's always a holiday favorite!"
January 19, 2019
I would order more labels if needed
"To mail out letters or cards to family & friends. Like the color & font"
January 16, 2019
Address Labels
"I love these address labels, they are so pretty. Everything was correct on the order and it came really quickly!"
January 15, 2019
Outstanding Holiday Cards
"Announcing our new address, retirment to Family & Friends - Wishing All a Happy New Year! Loved the full page text box for announcing big changes in our life and summary of year 2018."
January 5, 2019
Good quality, time saving
"It was extra but came in handy when my cards needed to go out in a timely manner"
Give Dad the Gift of Personalized Address Labels for Father's Day
Have you been searching for a classy, simple gift for your father, grandfather or another male role model in your life? This Father's Day (or birthday or Christmas) give your favorite man a gift he can really use. Personalized mailing address labels are a unique and masculine gift that show how much you care and help make his life easier at the same time.
Designing the Label
Shutterfly makes it easier than ever to create one-of-a-kind gifts that are personal, stylish and uniquely you. Select your favorite template and choose from a variety of font colors, sizes and design elements to create a one-of-a-kind label. Pair your custom labels with mix-and-match thank you cards to help your favorite man correspond in style. Shutterfly takes out the hassle of fighting the crowds for the perfect gift and ships everything directly to your door.
Turn Your Memories into Framed Prints
Are you finding gift-giving to be a chore for the man in your life? With Shutterfly, you can turn your favorite photos, memories and artwork into beautifully framed prints. These thoughtful gifts will arrive ready to be hung. Your special memories make elegant photo products that will really remind him how much you care every time your father, grandfather or favorite man looks at them.
For a fun, interactive gift, give a set of pre-addressed stationery to a loved one. Write a letter explaining that each time they write you, you will return the correspondence with a letter of your own. Chances are, both of you will enjoy receiving mail long after you run out of stationery. Good thing Shutterfly makes printing new, custom stationery easy as pie.
It is easier to keep in touch when it is easy. Personalized address labels make great gifts for your little ones to give to grandparents, especially when paired with some stylish, custom stationery. This Father's Day, give the leading man in your life something he can actually use, instead of another ugly tie that he doesn't really need.
Related Products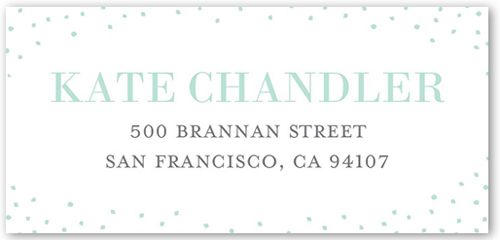 Dreamy Wedding Address Label. Address your envelopes with stylish address labels. Corresponding invitations, gift tags and thank you cards are also available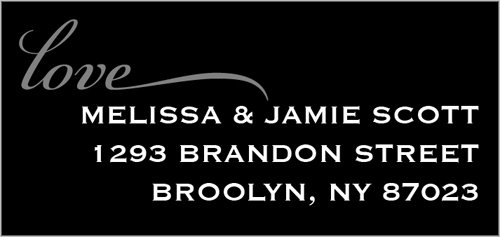 In Script Wedding Address Label. Address your envelopes with stylish address labels. Corresponding invitations, gift tags and thank you cards are also available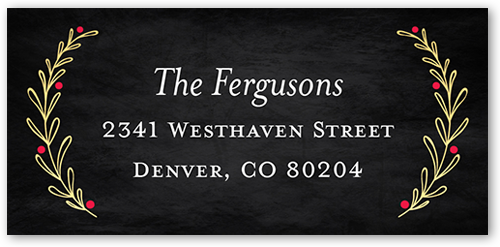 Merrily Ever After Wedding Address Label. Address your envelopes with stylish address labels. Corresponding invitations, gift tags and thank you cards are also available