Flat Baby Shower Invitations
What customers have to say about our Baby Shower Invitations
January 26, 2019
I would buy this again definitely!
"This invitation is beautiful I just wish the liners that came with it stuck better"
January 25, 2019
Perfect invite
"These are so cute and came exactly as I expected. Love them!"
January 24, 2019
In love with the shower invites
"These invites are so cute. They came just as ordered. I love shutterfly. They never disappoint."
January 22, 2019
I would buy this product again.
"Bought this for my baby shower invitations and it exceed my expectations."
January 21, 2019
I really liked my purchase experience
"I needed to order baby shower invites. I was pleasantly surprised to find out I could have Shutterfly take care of the invitees addresses, return addresses, and stamps! What a time savor! And the invitations are adorable!!"
Flat Baby Shower Invitations
Design your own flat baby shower invitations to welcome your little one into the world with Shutterfly. Celebrating the upcoming arrival of a precious baby is a joyous occasion and one of life's most cherished milestone events! Set the stage for your baby shower by sending out a stylish, flat baby shower invitation that will delight your invitees as soon as they open it. Shutterfly's flat baby shower invitations offer an elegant and personalized way of inviting all your loved ones to your upcoming baby shower. Family members and friends will be delighted to receive your unique invitations and will be excited about sharing this milestone event with you!
Design a Custom Flat Baby Shower Invitation
Shutterfly offers a wide array of flat baby shower invitation designs, so, no matter which one you choose, you're guaranteed to make a memorable statement about your event. You'll discover numerous ways to customize your invitations, making it easy to create an invitation that perfectly suits the mom-to-be's personality and style. Choose from a variety of gorgeous colors, font styles, trim designs, card sizes and more. You'll find designs especially made for girls and for boys, as well as gender neutral palettes and cards that are perfect if you're expecting twins or multiples – or if you don't prefer a gender-specific baby shower invitation design. Want to upload a picture? Friends and family members are always touched when baby shower invitations include a picture of the parents-to-be that showcases your baby bump or a special photo of a sonogram. Whether you go with a non-photo invitation or upload a special photo, your flat baby shower invitations will be one-of-a-kind. Of course, you'll want to remember to add a custom message that includes all the important details about your event that your guests need to know, such as the time, location and dress code.
Add Style to Your Personalized Baby Shower Invitations
Ensure your flat baby shower invitations stand out in the mail by adding style and color to the envelopes with our personalized address labels, self-inking rubber stamps, and stickers. When you style your envelopes with these simple additional touches, your invitations will be sure to grab the attention of your invitees before they even open them! After the baby is born, don't forget to send custom birth announcements with a photo of your newborn to celebrate their arrival. You'll also want to create thank you cards to send to loved ones that attended your baby shower and sent well wishes or gifts after your little one was born.
Related Products
Cute Cradle Boys 5x7 Stationery Card by Hello, Kelle. Shower her with love and a stylish baby shower invitation. Personalize it with the party details.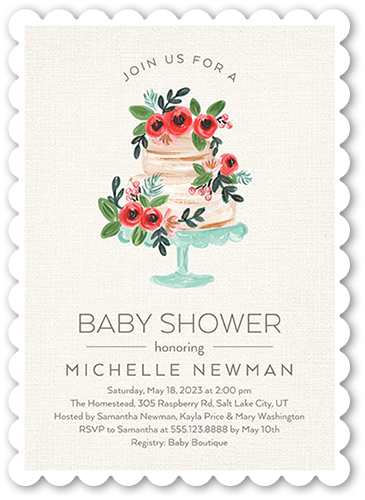 Floral Sweets 5x7 Stationery Card by Stacy Claire Boyd. Shower her with love and a stylish baby shower invitation. Personalize it with the party details.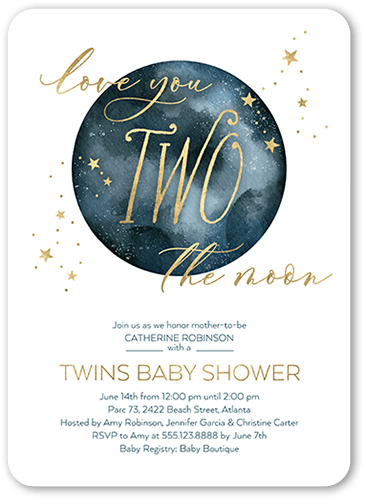 Moonlight 5x7 Stationery Card by Stacy Claire Boyd. Shower her with love and a stylish baby shower invitation. Personalize it with the party details.