What customers have to say about our Birth Announcements
January 25, 2019
A Hit With All the Family!
"We used this card as a birth announcement and thank you card for our baby shower attendees. It's on a nice heavy cardstock, and the print was super clear. With my first order there was a smear on the return address on the back of the envelope, but no big deal. With the first order I also didn't receive the blank envelopes I ordered. The second order everything was perfect. I would highly recommend!"
January 24, 2019
Very nice cards
"Super classy cards"
January 24, 2019
Great buy
"Looks and feels great. Came so quickly and is such great quality!"
January 22, 2019
So sweet
"Easy to create!sweet design"
January 22, 2019
Love this product!!
"I love the simplicity of this birth announcement, it was easy to make and arrived on time!"
Foil Stamped Birth Announcements
Have you always wanted to announce your baby's birth in a creative way? Thankfully, there are some unique and fun things you can do to make your announcements extraordinary without spending a lot of money. Here are a few of our favorite ideas.
Pregnancy Photo Series
A pregnancy photo series announcement is easy to make as long as you prepare in advance. Choose a spot in your home or outdoors where you want to take your photo series, then begin with a picture of yourself holding a pregnancy test. Next, when you are 6-9 months along in your pregnancy, take another photo in the same position, in the same location.
Finally, conclude your photo series with a picture of yourself holding your new arrival. Arrange your photos in succession on a customized birth announcement. Foil birth announcements are a good choice because they help add visual interest and bling.
Sibling, Meet Sibling
One of the most precious photo op moments you will ever encounter is when your older children meet their new sibling for the first time. Capitalize on this once-in-a-lifetime occasion by taking plenty of pictures of this first meeting. Choose one of your favorite pictures and arrange it on foil birth announcements, or choose several pictures and create a photo collage card.
Mug Shot
A very unique way to announce your baby's birth is to send your closest friends and family a customized mug with photos of your new addition. Not only is this a fun way to announce a new birth, but it also makes a useful gift.
Special Delivery!
This adorable idea is perfect if you have a toddler at home. Purchase a cute wicker basket, line it with a soft blanket and place the new baby inside. Set the basket on your doorstep and have your toddler answer the door. Snap your photo the moment the toddler sees his or her sibling on the doorstep.
Taking unique photos for birth announcements doesn't have to be expensive or complicated. These simple ideas are easy to recreate and will be adored by your friends and family.
Related Products
Happy Baby 5x7 Girl Birth Announcements by Stacy Claire Boyd. It's a happy baby girl. Show off photos of your newest arrival surrounded by her name and initial in whimsical fonts designed in chic hues of mint, rose and cocoa ...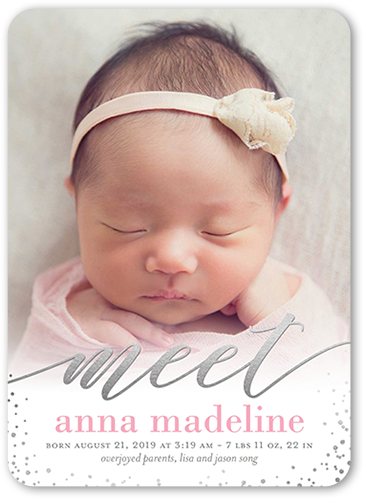 Delicate Introduction Girl 5x7 Birth Announcement Cards. Announce your newest arrival with this stylish birth announcement. Add your baby's name, a favorite photo and the news everyone's been waiting for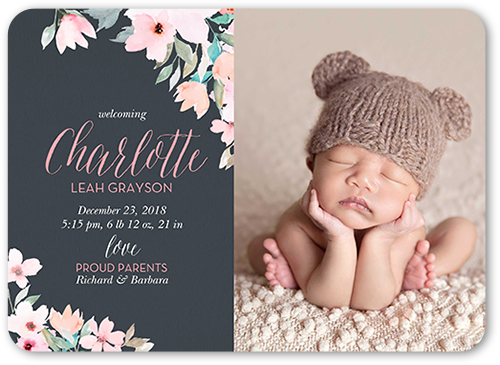 Fabulous Floral Girl 5x7 Birth Announcement Card. Announce your newest arrival with this stylish birth announcement. Add your baby name, a photo with the news everyone waiting for