Folded Birth Announcements
What customers have to say about our Birth Announcements
January 25, 2019
A Hit With All the Family!
"We used this card as a birth announcement and thank you card for our baby shower attendees. It's on a nice heavy cardstock, and the print was super clear. With my first order there was a smear on the return address on the back of the envelope, but no big deal. With the first order I also didn't receive the blank envelopes I ordered. The second order everything was perfect. I would highly recommend!"
January 24, 2019
Very nice cards
"Super classy cards"
January 24, 2019
Great buy
"Looks and feels great. Came so quickly and is such great quality!"
January 22, 2019
So sweet
"Easy to create!sweet design"
January 22, 2019
Love this product!!
"I love the simplicity of this birth announcement, it was easy to make and arrived on time!"
Folded Birth Announcements
Pregnancy and birth carry with them a great deal of emotional baggage. The combination of anticipation, anxiety, stress and excitement ultimately culminates in a new bundle of joy being introduced into the world. While you and your significant other are no doubt going to be quite busy in the coming weeks as you get settled into this new stage of your lives together, you owe it to yourselves and your new baby to share that joy with those closest to you. If you are looking for a method of doing this without having to spend time on the phone instead of with your newly-expanded family, consider investing in a set of Shutterfly's folded birth announcements.
Let Your Baby Stand Early
Though it is likely going to be a while before your newborn starts standing and walking independently, it is possible for a lovely photograph of him or her to stand on the tables and counters of your friends and family much sooner if you send them one of our folded birth announcements. Because we offer cards in portrait and landscape orientations, you can easily select whichever photograph of the baby that you want people to see. Additionally, it is possible for you to craft a folded card design that is totally unique.
Ready for Anything
While the birth announcements are great for getting the word out about your newest family member, there are going to be plenty of holidays and other events in the coming months for which you are going to require stationery support. Fortunately, Shutterfly has you covered for just about every situation in this regard. If one of your best friends or relatives decides to tie the knot in the near future, make sure people save the date for the big day with high-quality wedding invitations and celebrate the occasion with the bride-to-be by sending some bridal shower invitations to organize a get-together.
Related Products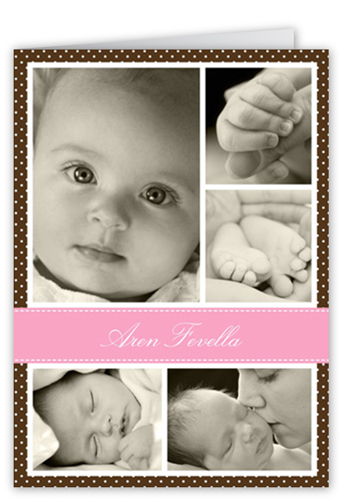 Chic Screen Pink 5x7 Greeting Card by Stacy Claire Boyd. Create a collage of your daughter's first moments. Featuring a dotted brown frame and pastel-pink band, this baby announcement is sure to melt hearts.
Triple Play Blue 5x7 Greeting Card by Stacy Claire Boyd. Fashion-forward blue and cocoa-brown colors make these address labels a stylish finish to all your letters. Corresponding baby boy birth announcements and thank you cards are also available.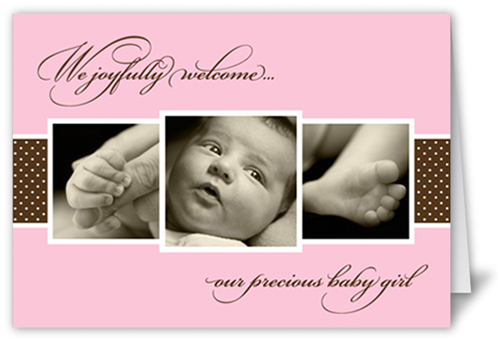 Triple Play Pink 5x7 Folded Baby Girl Birth Announcement Greeting Card by Stacy Claire Boyd. Simply charming with a dotted brown ribbon against a blushing pink background, this baby announcement is the perfect choice for your baby girl's debut.