What customers have to say about our Holiday Cards
January 27, 2019
I highly recommend this card!!
"Absolutely love this card they came out perfect!"
January 23, 2019
good purchase
"Paper is excellent quality as is the envelope. Shipping can be high unless you are ordering a larger number of cards but I only bought one."
January 23, 2019
I will absolutely use this product again.
"The first time I have used Shutterfly for our annual greeting card. Very pleased and will use again."
January 22, 2019
Chinese New Year
"Christmas came too soon. No cards went out. New Year's came and went! Still no cards were sent out. But thanx to Shutterfly, made it for a Chinese Greeting! Beautiful cards front and back with pictures of family sent! Halleluah!!!!!"
January 22, 2019
I looved these cards and they arrived so quickly!
"Shutterfly makes last minute projects easy .. I love these holiday cards and continue to make photo books each month with their app as well as edits on desktop site. I love Shutterfly!"
Make it Even Brighter This Christmas
When you're looking for a way to upgrade your typical Christmas card this season, folded holiday cards may be a great choice. While flat cards can be a great way to get across the holiday spirit, you can personalize your message even more with the extra space that a folded card can offer. The tradition of Christmas cards is to send an individual message to each and every person on your contact list. Shutterfly makes it easier to access cards that allow you to write your own unique note and show everyone how much you care this holiday season.
Give Your Friends an Extra Surprise
During the holiday season, it's the best time to express to each and every one of your loved ones how much you care about them. You can order something sweet and festive for this year's season's greeting, like these pearl paper holiday cards. Then, once your cards are shipped to you, you can give everyone a message you customize by writing an individual note to each recipient.Little details like this can help make your relationships across the miles even more special.
While you're cozy in your pajamas next to the fireplace, your favorite cousin in Hawaii can still feel your holiday spirit.If you want to try your hand at designing, you can even upload your own creation on the front of a square holiday card. Maybe your best friend and you have a funny inside joke that would make a great holiday message.
Add Your Favorite Sentiment
Once you've narrowed in on the design of your card's front and the style you're going for, you then have to decide on the perfect wording for your individual messages to everyone. If you're not sure what to write, think about your relationship with the person or family, what activities or interests you've shared together and some memorable moments that have happened in life during the year. Still having trouble deciding on what to say on your Christmas cards? View Shutterfly's page of more than 100 Christmas sayings and messages. It's always appropriate to wish someone good cheer for the upcoming new year if you're stumped.
Related Products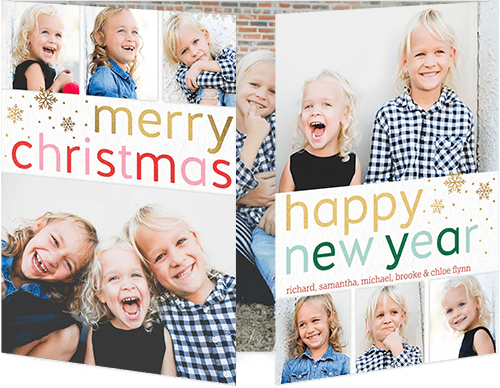 Lively Flurry 5x7 Gate Fold Card by Petite Lemon. Let your story unfold with this unique card that opens up from the middle to reveal your photos like a present. Enjoy more room for photos and text than a standard ...
Memorable Cheer 5x7 Tri-Fold Stationery Card by Petite Lemon. Send a Christmas card friends and family will love. Add your own greeting and everyone's names. There's room for more photos and wishes on the back, too.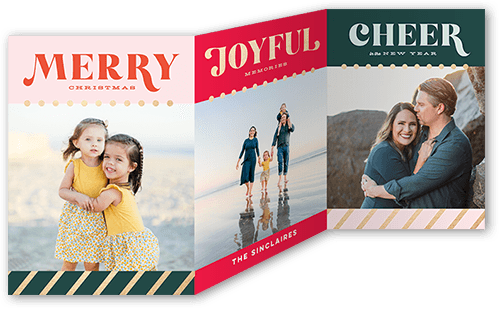 Cheerful Memories 5x7 Tri-Fold Stationery Card by pottsdesign. Send a Christmas card friends and family will love. Add your own greeting and everyone's names. There's room for more photos and wishes on the back, too.