What customers have to say about our Folded Greeting Cards
January 23, 2019
good purchase
"Paper is excellent quality as is the envelope. Shipping can be high unless you are ordering a larger number of cards but I only bought one."
January 21, 2019
Turned out GREAT
"We got so many compliments on our New Year's card this year. I loved that pictures and writing were on the front and back of the card!"
January 19, 2019
Amazing card
"Very nice quality, loved the barn door. This card was perfect so I can let everyone know all that was going on in our lives without writing a boring newsketter"
January 17, 2019
Really nice quality
"The cardstock was very hefty, nice and thick. I asked for the special sheen, and maybe next time I would just get regular, as it seemed to sort of dull or muffle the photos, but it was still a nice effect. The cards folded perfectly at the perforations. Very pleased overall. Would buy again."
January 15, 2019
Beautiful Card!
"Great quality, able to really customize with words and pictures."
Folded Greeting Cards
Sending a greeting card is a great way to show someone you're thinking of them, whether it's for a special occasion like Christmas or New Year's or just because. Shutterfly has a wide selection of festive folded greeting cards that are perfect for any time of year or any relationship. With bright colors and fun designs, these cards are sure to put a smile on the recipient's face. And, with Shutterfly's easy-to-use online design tool, you can personalize your folded greeting cards with photos, messages, and more.
Tri-Fold Greeting Cards
Looking for a festive way to send Christmas or holiday greetings this year? Shutterfly has a great selection of folded, tri-fold, and gate fold greeting cards that are sure to put a smile on your friends and family's faces this December. With our easy-to-use online interface, creating your custom cards is a breeze. Tri-fold greeting cards offer an expanse of space with which to share your holiday news and your photos. In fact, these types of cards (and the gate fold cards as well) are perfect choices for newsletter Christmas cards or photo gallery holiday cards. Simply pick out a tri-fold template that speaks to you, upload any number of favorite photos, add a personal message, and hit send. It's that easy.
Gate Fold Greeting Cards
Another folded greeting card option for holidays or any time of the year is our gate fold design. These cards feature a left and right side that open up like gates, revealing a longer, center part of the card. This is a playful, fun, interesting style of folded greeting card that your recipients are sure to love. A dimension of the appeal is the reveal: opening up the two "gates" to see what's behind them. It's also interactive, in that your friend or family member—your mom, dad, son, daughter, sister, or brother—opens the gate fold themselves. They'll be delighted.
Design Templates For Folded Greeting Cards
Shutterfly folded greeting cards allow you to add your own greeting in a fun and cheerful way. Beyond your choice of cardstock material and several trim styles, you get to choose a creative design template that suits your personal style or whim. Folded greeting cards allow you a plethora of options, so you're sure to find one that captures your imagination. By the way, folded greeting card designs from Shutterfly are available in both portrait and landscape orientations.
Additional Greeting Card Ideas
We're here to help you connect with your loved ones year 'round. Explore our wide selection of stylish, unique cards, including birthday cards, thank you cards, Christmas cards, and more. Stay in touch with Shutterfly.
Related Products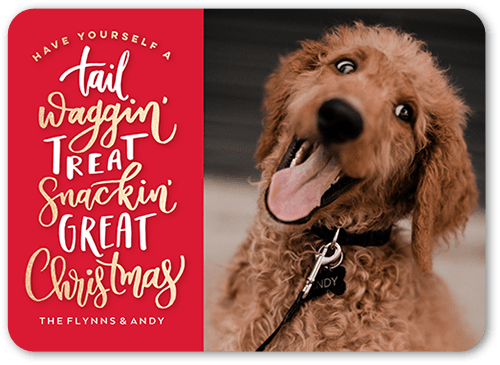 A Tail Wagging Time 5x7 Stationery Card by pottsdesign. Send a Christmas card friends and family will love. Add your own greeting and everyone's names. There's room for more photos and wishes on the back, too.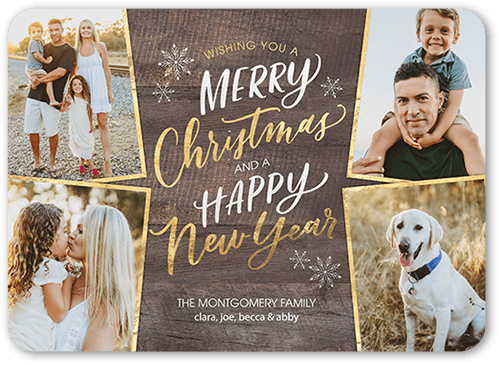 Rustic Glam Greetings 5x7 Stationery Card by Petite Lemon. Send a Christmas card friends and family will love. Add your own greeting and everyone's names. There's room for more photos and wishes on the back, too.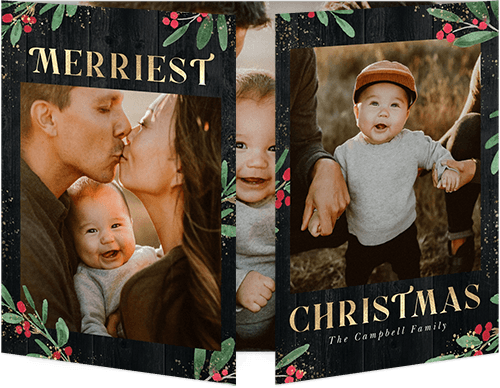 Merriest Berry 5x7 Gate Fold Card by Yours Truly. Let your story unfold with this unique card that opens up from the middle to reveal your photos like a present. Enjoy more room for photos and text than a standard ...