What customers have to say about our Birth Announcements
January 25, 2019
A Hit With All the Family!
"We used this card as a birth announcement and thank you card for our baby shower attendees. It's on a nice heavy cardstock, and the print was super clear. With my first order there was a smear on the return address on the back of the envelope, but no big deal. With the first order I also didn't receive the blank envelopes I ordered. The second order everything was perfect. I would highly recommend!"
January 24, 2019
Very nice cards
"Super classy cards"
January 24, 2019
Great buy
"Looks and feels great. Came so quickly and is such great quality!"
January 22, 2019
So sweet
"Easy to create!sweet design"
January 22, 2019
Love this product!!
"I love the simplicity of this birth announcement, it was easy to make and arrived on time!"
Baby Girl Birth Announcemnets
Your new little princess has finally arrived, and you can't want to share the news with the people you care about most. Should you immediately call your friends and family or should you wait and send out adorable customized baby girl birth announcements in the mail? There is no single right way to announce a baby's birth, and here are six ideas to get you started.
Make a Few Phone Calls
Those who are closest to you deserve to be the first to hear the good news. That means parents, siblings and close friends should get a phone call from you soon after the baby is born. Just make sure you don't call in the middle of the night and wake them up unless they have specifically asked you to do so. If you know that extended family would like the courtesy of a phone call as well, but you don't have the time to call them all, delegate other family members to do the calling for you.
Create a Baby Blog
Creating a baby blog documenting your little one's arrival and first days is a fun way to let more distant friends learn about the exciting news. A blog is also a fun way to keep close friends and family members updated on your baby's exciting progress and milestones.
Send Traditional Paper Announcements
Nothing beats sending traditional paper birth announcements to the people you love. Not only are birth announcements fun to create, but they also double as adorable mementos that can be easily scrapbooked to provide endless memories. Double the cuteness factor with customized baby address labels and personalized postage stamps that complement your announcements.
Send a Photo Text
Sending a text is one of the quickest and easiest ways to announce your baby's birth. Just remember to include a photo of the new little lady so your family members can admire her and argue about which relative she resembles the most.
Related Products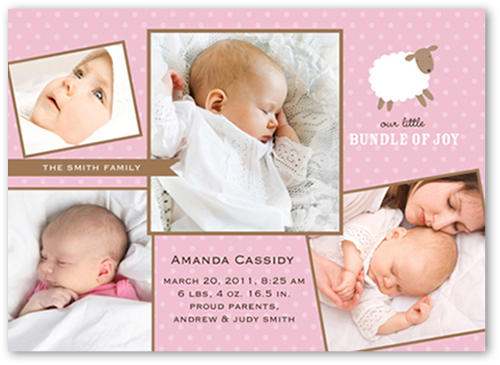 Little Lamb Pink 5x7 Photo Card by Shutterfly. Welcome your little lamb with four favorite photos surrounding her birth details in this adorable baby announcement. There's room for your family name on a cafe brown ribbon.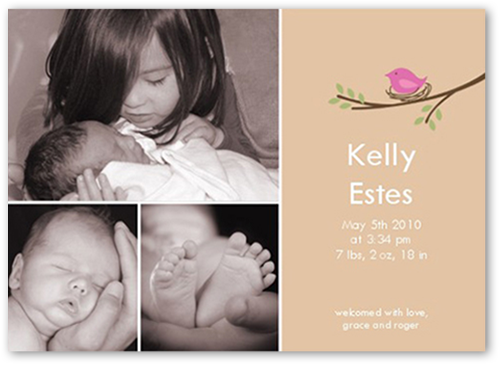 Little Birdie 5x7 Photo Card by Shutterfly. A new baby bird is sharing your nest. Welcome your little angel with this sweet and simple birth announcement and share your happy news with loved ones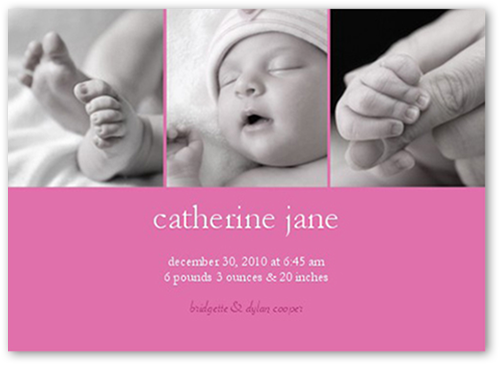 Lucent Gallery Pink 5x7 Photo Card by Shutterfly. She's everything you've ever imagined and she's finally here. Celebrate your baby girl with this classic rosy pink gallery style birth announcement.