Girls Note Cards
What customers have to say about our Folded Note Cards
January 26, 2019
These turned out so CUTE!!!
"The card stock is very heavy and makes it a nice writing experience. Quality, thick, great bright colors on the card. This is a great product and a wonderful purchase."
January 21, 2019
Great Quality
"Thank you notes are a nice idea and shutterfly makes it easy. The ability to personalize each side of the card is nice as well. Now its not just some cheesy card but a photo update on how life is going."
January 14, 2019
I love the cards.
"Shutterfly products are excellent! I love them very much."
"I had made and ordered the note cards once before and everyone liked them."
January 12, 2019
Amazing quality!
"Easy to make, edit & personalize these high quality cards! This was actually a reorder - changed a bit this time around after the 1st set were all sent! I Love Shutterfly!"
Say Thanks with Custom Girls Note Cards
Whether you have a brand new baby or a growing girl, note cards designed for her make an excellent way to say thank you. Friends and family are sure to present your little one with gifts throughout the year. Show your appreciation by writing a sweet message on a girls note card designed for her. Shutterfly makes it easy to create personalized stationery at affordable prices. Begin by browsing the full collection of feminine designs to find the one that speaks to your little one's personality.
Designing Custom Girls Note Cards
The initial design is a chic starting point for your custom creation. Make it your own by personalizing it using the guided process at Shutterfly. A series of prompts will help you upload your favorite images, arrange them within the framework of the design, and complete the look with a name, initial, or monogram.
The note cards you create are constructed from luxurious card stock. The convenient ordering process helps you determine how many note cards you need. Order as few as a dozen or stock up and keep them on hand for all those last-minute uses.
How to Write A Thank You Card
There is a certain etiquette to writing a card of appreciation. Check out the Shutterfly ideas page to learn how to write a proper thank you card and show your friends and family how much you love all the gifts they have purchased for your little one. Do you have a daughter old enough to write? Teach her the basics of writing a thank you card and begin the habit at an early age. Present her with a set of note cards designed just for her. Add a pen featuring ink in her favorite color, and the process will seem less like a chore.
Add Coordinating Custom Stationery Items
Personalized note cards are just the beginning. Complete her stationery set by adding other great items from the collection. Custom stamps, return address labels, and stickers are all items you can design to match the note cards. Stock up on all your favorites and give them together in a gift basket for a fun presentation.
Related Products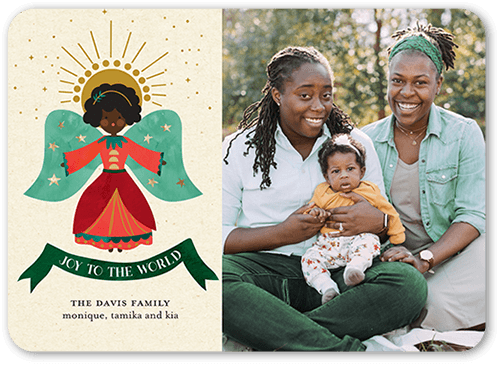 Angel Girl 5x7 Folded Card by Hello, Kelle. Make your photos shine in this holiday card. Add photos and holiday wishes on the front, back and inside, too.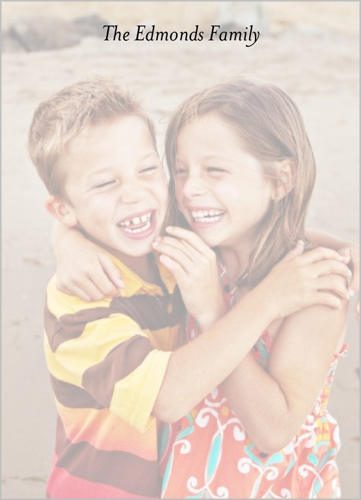 Front And Center 5x7 Notepad at Shutterfly. Make a stylish, personalized notepad for everyday use. 5x7. 75 sheets. Create yours now.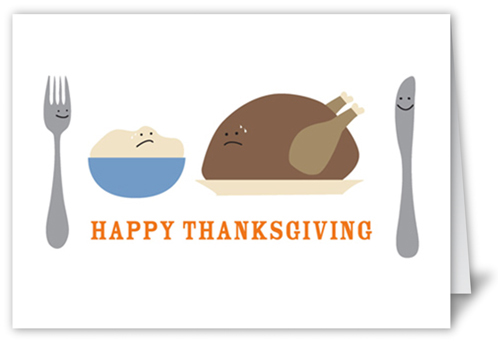 Fearful Foods 5x7 Folded Card at Shutterfly. Invite family to celebrate with warm holiday notes. Add your photos & greetings. Shop now!